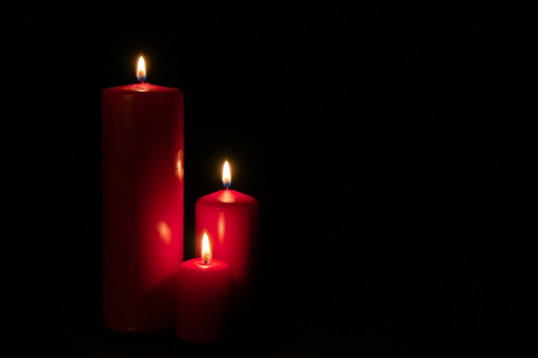 What stockings there are in this house are hung, and most all of the Christmas decorations are out and up for this most unusual of Christmases – one in which we are anticipating the birth of a grandson.
In the kitchen alone, the candles and stuffed carolers next to the miniature street lamp sing in inaudible celebration that it's Christmas.  Five trees of some size or shape adorn the china hutch and island.  Candles and ribbons grace the table, and the Santa hat makes a nice addition to the ceramic pig that keeps watch over all things kitchen.  A stuffed snowman (that lights up, of course) perches on a chair in the corner.  And a healthy collection of Santa-and-the-Missus salt and pepper shakers give new meaning to that cliché of all Christmas clichés – 'Tis the season.
But what most catches my eye is a little string of letters hanging down from the upper cabinet, next to the stuffed snowman.  Those four letters spell the word, H-O-P-E.
Isn't that the renewable resource that is Christmas – the celebration of the birth of the Hope of the Ages?  That however sorry or desperate the world looks (have you read the news lately?), there still is hope?
We live in an age where linkin' stinkin' thinkin' together has become an art form, and the cynics seem to be winning.  But this Christmas can be a reminder to me and to you that we're not done hoping. [click to continue…]
{ Comments on this entry are closed }