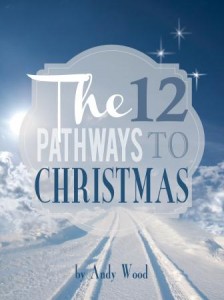 Dear Friends,
I am very excited to announce that for the next five days, The Twelve Pathways to Christmas, available exclusively through Amazon.com as a Kindle book download, will be available to you and 5,000 of your closest friends absolutely free.
For the next five days, Friday, November 29 through Tuesday, December 3, interested readers may download this title from Amazon absolutely free.  Click here to download.
The Twelve Pathways to Christmas describes how the lives of twelve different ordinary people are forever changed when they embark on their own unique pathway to the true meaning of Christmas. Through stories that are part autobiographical, some reflections of others I have known, and some made up to make a point, you will find your own unique pathways to the meaning of Christmas in the brief encounters you have with these characters.
This book will help you discover in a fresh way why God invaded history in the person of a helpless baby in Bethlehem. Just as the first Christmas was experienced by real, excited, hurting, stressed-out, frightened, faith-filled people, so is yours. But those life circumstances – good or bad – can be pathways to breathtaking joy as you discover how greatly loved and desired you are.
The Twelve Pathways to Christmas is the first of a three-part series called the Twelve Joys of Christmas. And what greater joy can there be than to discover that your life is all part of a larger plan to give you a future and a hope?
Why are you giving this book away for three days?
Two reasons.  First, I want to share it as a gift to you for you to enjoy and be blessed by.  Honestly, this isn't the kind of book you'd take to read at your next Christmas party.  But it's a good resource for those times when you want to be still.  To reflect.  To hear the gentle whisper of God's voice again.
Second, I am sharing this as an investment. I believe (and hope!) that when you read it, you'll tell somebody else about it.  And even when the book returns to its (very modest) price of $2.99 next week, people will still want to download a copy of their own.
What if I don't have a Kindle reader?
I don't either!  But I read Kindle books all the time because I downloaded the apps for my iPhone and iPad, as well as my laptop.  You can find free download readers at the Amazon site by clicking here.
When I download a Kindle book, it goes straight to my iPad, where I do most of my reading.  But I can easily pick up where I left off if I'm reading on my iPhone or laptop – the Kindle apps give me the option of jumping ahead to where I last left off in a different app.  It's an awesome, convenient way to carry an entire library with me wherever I go.
Okay, nothing's FREE!  What's this really going to cost?
Nothing.  I only have one request.  Please share this with as many people as you can, as soon as you can.  My goal, truly, is to give away 5,000 copies of this book in three days.  For most of you, that means social media such as Facebook or Twitter.  That's what one group has already done here.  Or if you're a blogger, I would greatly appreciate a review or link, as my blogging friend Martha Orlando did here.
Of course, you can also leave a review on the Amazon site, or simply click a "like" there.
But none of that is required to get your free copy for yourself.  Also, there are no limits-per-household.  If you and other members of your family have an Amazon account, anybody and everybody can download their own copy.
What Happens After December 3?
The price of the book returns to its regular price of $2.99.
What Other People are Saying:
The 12 Pathways to Christmas is a very thought provoking and inspiring book. Right in time for Christmas! I really enjoyed how Andy wove the true Christmas story from the Bible into the lives of the 12 people. Definitely a book to share!
The 12 Pathways of Christmas by Andy Wood encompasses excellent, revealed insights! It enagages the imagination to initiate a personal quest for the mystical discovery of the possibilities of newness. The truth of Christmas is unveiled as the joys of "expectancy, peace, sharing and wonder." However,as stated by the author, the unique path to these available "treasures" affirms that "we have some walking out to do." This requires the will to surrender and move beyond the familiar. Therefore, as stated by the author, "Surrender is no place for cowards." Great work and I will share this joy with others!!!
Great reading…great insight. Highly recommend. So encouraging . Wonderful gift for family and friends. A very unique approach to understanding the wonderful season of Christmas.
Incredibly relevant and effective story-telling connecting all who first came to Christ with those who wisely still seek Him. Dr. Wood is a most gifted writer and communicator. Don't miss the powerful messages of The 12 Pathways to Christmas.
Like 12 mini cliffhangers; this book is a fast read and a well-stocked compilation of (at first unrelated) character vignettes. Andy Wood is a skilled story-teller; somehow within a matter of a few pages of each chapter, he gets you genuinely interested in each character and the "path" they are beginning to walk to their personal Christmas meaning. I will say this, too: When I suddenly saw what the author was up to, I happened to be sitting under the red lamps at the salon with no Kleenex. (If you're a cry-baby like me, don't get caught reading without a Kleenex in public. Just sayin.)
How can I read the preview or download the book?
This link will take you straight to the book's page on Amazon.  Remember, you only have until Tuesday night to download it for free.
Please share this to anyone you think would be interested.  And thank you in advance for your support.