(The Twelve Names of Christmas, Part 1)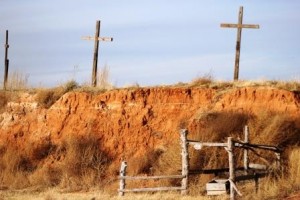 As you may have detected from one of the previous posts, we spent last week in the magical confines of Disney World in Florida.  "We" means all 15 of us – kids, spouses, and grandkids from age 5 to age 11 weeks. And, of course, about 12 thousand of our closest friends.
Every once in a while in this sea of strangers, about half of whom weren't speaking English, I'd see somebody with that familiar cursive "A" on a cap or shirt, and out it would come – that instant bond forged among strangers as the result of two simple words:  Roll Tide!  And brother, it was instant.  Truth be told, I did see a few people wearing blue and orange and was tempted to say "War Eagle!" to them, but just couldn't get words to form in my mouth.
And if you have no idea what any of that last paragraph means, never mind.
There is another rallying cry, however, I do want to tell you about.  In times of trouble in ancient Israel, including times of going into battle, they would summon courage and unity with one simple word:
Immanuel!
Immanuel was their way of expressing confidence that God was present with and fighting for the cause of his people.  And it was no accident that when Jesus arrived on the scene in Bethlehem at that first Christmas, one of his biographers made mention of it:
So all this was done that it might be fulfilled which was spoken by the Lord through the prophet, saying:"Behold, the virgin shall be with child, and bear a Son, and they shall call His name Immanuel," which is translated, "God with us" (Matthew 1:22-23, NKJ).
Literally, from Hebrew, the word translates: with… us… God.
He's The With-us God!
And lest you think that this was all about rag-formed Snuggies and some frankincense, let me be clear as I mentioned here:  the birth of Jesus was an invasion from heaven, complete with sword-drawn angel armies and a rallying cry to people who believe:  Immanuel!  On the Night Before Christmas, you may go to sleep.  God went to war, and people like Herod obliged.
Let's talk about God.
Right now, in some form or fashion, you are operating and living based on an image you have of God's relationship with you.
You may see him as "God above us." He is your creator, who rules the universe, and next to Him you're nothing. That's what my three-year-old grandson thought when our plane pierced the clouds and flew above them.  "Where is God?" he wanted to know.
You may "see" Him, if you see Him at all, as "God behind us."  He is invisible and quiet, even as you, like the Prodigal Son, turn your back on him and pursue your own way. You may remember him on special occasions or in desperate moments, but otherwise, He's out of sight and out of mind.
You may relate to Him as "God against us."  He said "the soul that sins shall surely die" (Ezekiel 18:20-21), and make no mistake – had Jesus never come to this earth, we would live and die in a position of having God against us.  Why? Because we have by nature set our will against the will of God and declared our independence from Him.
But the testimony of that first Christmas is that He is Immanuel, God with us.  Something changed when Jesus was born.  God revealed a different perspective of His heart.  He came with the heart of a redeemer – "to save His people from their sins" (Matthew 1:21).
Let's talk about us.
There's a part of us that was made to exercise dominion. We are made in His image, put on the earth to subdue it.  But our rebellion has made us small in our own eyes, and left us with an image of a God who is distant – too busy running the universe to be bothered with our little issues.
There's a part of us that was created to connect.  We are relational by nature, but because of our sin we are completely isolated. We live in this state of epic, cosmic loneliness. We're "like sheep without a shepherd," and when Jesus caught the full force of that it tore His heart out.
There's a part of us that was completely broken and judged by our sin.  By right we had no claim to any merit before God whatsoever. That's what makes Immanuel such an extraordinary declaration…
There's a part of us that is worth it to God to enter into our broken world.  And if you don't remember anything else about Christmas, remember this: You matter! Regardless of your merit or your mixed-up ideas about God, you matter enough to Him to take on flesh and all that implied.
Let's talk about "with."
To say that Jesus changed the course of history is a profound understatement. His birth, death and resurrection rewrote the contract between God and his covenant partners.  "God with us" became "God in us."
He is with us at a price.  When the angel told Joseph that he would save His people from their sins, what he didn't say is that it would come at a great sacrifice. It cost the son of God His life in order to "be with" you.
He is with us as a promise.  He understands what it is like to face what you face. He took on flesh. He came to us when we couldn't go to Him.  And the same gospel that opens with the promise closes with it – Jesus said, "Lo, I am with you always, even to the end of the age."
He is with us as a practice.  He associated with the likes of you and me.  He still does.  He enters your world every single day – your pain, your sorrow, your questions, your dreams, your frustrations, your challenges.  Nothing is too ordinary, too big or too small. And the message of the first Christmas is the same message God wants you to hear today – He's knocking on the door of your life and He wants to be a part of it. Not just your Sunday life. Not just your "spiritual life." All your life.
In that Christmas carol with the bad theology in the first phrase, there is another line that nails it:
Pleased as man with men to dwell,
Jesus, our Emmanuel.
Immanuel.  With-us God. It's more than a quaint phrase we use at Christmastime and then tuck away with the Christmas ornaments and save for next year.  "God with us" is a reality that knows no season.  It's what He has invested all in for you to experience.
Let every heart… yours… mine… prepare Him room.
Related articles across the web