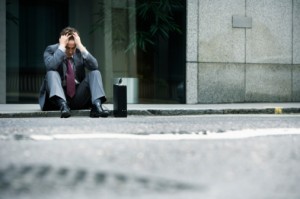 Janie had an appointment with God.  And the Lord didn't show up.  He'd always been pretty good at keeping the times Janie had set for Him – mostly in the little things like daily blessings and answered prayer.  But this was a big one, and the Lord didn't keep His end of the bargain.
See, Janie just knew that God was going to give her a husband, and she knew who it would be. Chuck was obviously God's choice for her… how else could she explain all the little coincidences, the magic feeling in her heart, and even those confirming verses she read in scripture.
Apparently, however, the Lord forgot to clue Chuck in on the plan, and the big guy had plans of his own.
Janie was devastated.  And more than that, she was bewildered. She had been so sure in her heart.  But somebody missed God, or God missed somebody.  And the result?  Janie's appointment with God ended up as a dis-appointment.
Same thing happened to Chuck with regard to his career, though he wouldn't call it that. To Chuck it was more of a calling. He knew the Lord had called him to start his own remodeling business. He had the natural ability and the desire to serve the Lord as Jesus had in his early years – as a carpenter for Christ. He believed he would succeed as a demonstration of what the Lord did with people who trusted and obeyed Him. In fact, Chuck's revenue and profit projections on his five-year business plan were nothing short of prosperous.  But that's what God's children can expect from a Father who "owns the cattle on a thousand hills" and "teaches His servants to prosper."
Right?
Didn't work out that way for Chuck. First his business partner Terry was tragically killed in a boating accident. Then the recession hit and Chuck's business nearly evaporated. What's more, the projects he did get were never – not once – as profitable as he projected in his estimates.
Finally, to put food on his family's table, Chuck had to give up his dream of owning his own business.  Fortunately his former employer was hiring and welcomed Chuck back.
But Chuck still doesn't know what to do with the calling.  The faith steps.  What he thought was obedience to God.  What had gone wrong?  Who's fault was this?  Why didn't God show up for His appointment?
Few of us are arrogant enough to consciously treat God that way – as if we can order God around like room service.  But let one of us get slapped by an "appointment" that was "dissed" by God – especially if it was something really important to us – and emotionally we can be like a deer in headlights that never got out of the way of that oncoming truck.
One of the reasons for that is that we're trained to treat disappointment as a small thing.  Ever hear somebody say something like, "I'm not upset – just disappointed?"
Ain't no "just" to disappointment, friends, and becoming a grownup doesn't make it easier to handle.
So what's this about an appointment with God?  Simple.  "Disappointment" is just what it sounds like – a reversal of an appointment.  And truth be told, the place where we assign most disappointments  is to the Lord – after all, He's the One who can actually do something to stop them.
So when you're faced with those situations where He didn't seem to come through like you knew He would and got really excited (I mean, faith-filled) about, here are some suggestions.
1.  Check who made the appointment in the first place.
Often we experience the faith to believe a promise from God about a specific situation. And before we know it, we have it all figured out how it's all going to happen, complete with details, times, and candy-coated images of how it's going to look and feel.
We're making appointments for God.
And get this – I don't really think He's offended by all that.  But I also have learned the hard way that he is not obligated to keep all the appointments I've made for Him. He has this crazy idea of reserving the right to be God. Imagine that!
2.  Be honest about your feelings.
That includes the disappointment and whatever its emotional companions are. And disappointment nearly always has companion feelings, such as grief, fear, or anger.  You can see some expressions of that here in Psalm 44.  My paraphrase:  God, you did it for everybody else, but you're not doing it for us!
God is big enough to handle the rawest of your feelings, so long as you aim them toward Him.  So get honest.  But while you're at it…
3. Be just as honest with yourself about what your expectations were.
Some people stop with hurling their disappointments at God. But they don't accept responsibility for their magical thinking or unrealistic, demanding expectations.  There's a lot of talk these days about entitlement, as if we deserve the dreamy scenes we imagine in our hearts.
The crazy thing is that sometimes our expectations are actually exceeded. We serve a God who delights in blowing our minds with what He can do.  But sometimes if we have the courage to admit what our expectations actually were, we may find that they're uncomfortably ridiculous.
4. Invite the Lord into your disappointment. 
The worst time to push God away or go into a corner and pout is when you're dealing with the sting of disappointment.  You're dealing with an open wound that can fester into something a lot worse – addictions, stupid choices, or deeply regrettable moments.
Instead, invite the Holy Spirit to be your Healer, Comforter, and Restorer of your soul.  Ask for His help. Ask for His understanding.  Offer up the same obedient heart that you did when you just know how awesome everything was going to be.  Dare to run the risk of letting Him make the appointments… even when you aren't sure how it's all going to turn out.
As a recovering magical thinker, I completely understand what it's like to have it all figured out, only to be left wondering what happened. But I've seen the faithfulness of God enough to know that He can be trusted, even when He doesn't feel obligated to keep our appointments or follow our instructions.
If you're dealing with the unique sting of disappointment with God, I want to invite you to discover that same faithfulness. Just let Him keep the appointment book.
Related articles across the web