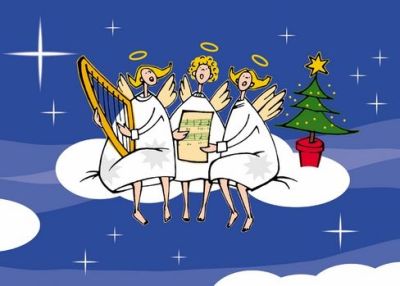 Sorry to be the latest to assault your traditional Nativity scene. But this isn't just an exercise in historical trivia. Something happened near Bethlehem that, in my 50 years, has gone unnoticed or ignored.
Have you ever had times when, for a split second, it seems that God has "parted the curtain" between the seen and unseen world, and given you a glimpse of the Larger Story? You can find one of those in Luke's account of the birth of Jesus.
Setting the Scene
Joseph and Mary, both descendants of King David, had returned to their ancestral home town for census and taxing purposes. This shuffling of the population of Israel was a massive undertaking, and caused some serious housing shortages for months. But somebody in Bethlehem (possibly a distant cousin, who knows?) offered them shelter in the place where they kept their animals. This was probably a cave. We don't know how long they were there before Jesus was born, but it was probably a little time. It doesn't seem as though ol' Joe was banging on doors at midnight, hollering, "My wife's in labor!"
On the day (yes, day) Jesus was born, Mary and Joseph were still in the cave. The animals' feeding trough became the infant's first bed.
Then the sun went down, and the drama began.
Meanwhile, Out in the County
Somewhere out in "the county" – some distance form the town – a band of shepherds was doing what shepherds do – 99% boredom, interrupted by 1% sheer terror. Literally minding their own business, their night was interrupted by a different kind of fear.
Unprecedented.
Audacious.
Mind-blowing.
A messenger from God – an angel – appeared to them as they were washed in the light of the glory of God.
Let me say that again.
Their night turned bright with the glory of God, and they're standing face-to-face with an angel, who has to tell them, "Don't be afraid."
Uh huh.
The angel gives them the front row seat to the good news of great joy for all people. In the city of David (there's that name again!), somewhere up the road, a Savior has been born – the Messiah King ("Christ the Lord").
Then the curtain parts.
Suddenly, the angel was joined by a vast host of others—the armies of heaven—praising God and saying, "Glory to God in highest heaven, and peace on earth to those with whom God is pleased." (Luke 2:13-14, NLT).
Here's the thing. Somehow over the years, we've turned an army into a choir.
"Hark! The herald angels sing, Glory to the newborn King."
"Angels we have heard on high, Sweetly sing o'er the plain."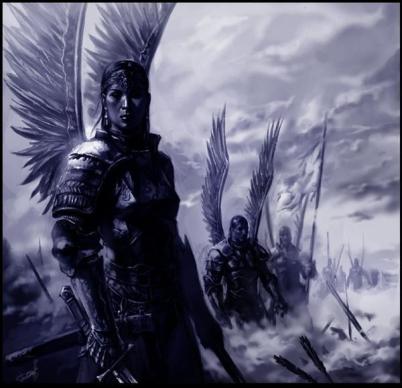 Love the carols – I really do. But that's not what Luke says. They weren't necessarily singing, and that this wasn't a choir!
The word for "heavenly host" was stratia. It means, "army." It comes from a root word that means "array," and I don't think it's an accident that it has similar roots to "strategy." These hosts were strategically placed in an orderly manner.
The Amplified Translation calls them the "Knights of Heaven." I love that.
Not a singing band of troubadours, but a shouting army, swords drawn, dressed in battle array.
We also know from the many references to God as the "Lord of Hosts" that this army wasn't there on its own initiative. They were sent by God, and for a reason.
Angels? Certainly, but Luke doesn't use the word aggelos, as he did for the announcing angel. These aren't just angels sent as messengers; they're organized for battle.
And what's their weapon? Praise.
Group, Impetus, Difficulty, Force
The word "host" is used in both the Old and New Testaments as a marshaled army of some sort, though not always military. The Old Testament word, according to Vines, involves four interrelated ideas: a group, impetus, difficulty, and force.
That there was a group of angels announcing the birth of Jesus is understood. But why an ordered group?
"Impetus" means the force or energy associated with a moving body. Translation: these hosts of heaven were in motion. They were moved – compelled, ordered – to action. I don't think this was just a concert.
"Difficulty" suggests that something in this series of transactions was not easy, and not merely limited to human frustrations of travel to and housing in Bethlehem. Something required the marshaling of an army – something on a cosmic level. This is fleshed out in Matthew as Herod goes on a ruthless rampage to kill all the babies in Bethlehem. Is this just the action of an insecure and jealous king? Hardly. The glory the shepherds were exposed to was an advance parade of an army going off to war in heretofore unprecedented ways.
"Force" suggests that this heavenly army was dressed for battle. "Swords drawn," trained and ready for an unprecedented war against the minions of hell.
A song, sweetly sung over the plain? I don't think so.
This was the shout of victory… from an organized army… sent into battle array… against a vicious foe… and they were taking no prisoners. They were coming to set prisoners free.
That battle surely came. And I was one of those prisoners.
I hate to cheapen this with a quote from a movie, but there is one that, to me, captures the heart of all this. In Kevin Costner's Robin Hood, Prince of Thieves, the evil Sheriff of Nottingham realizes what he's up against in Robin of Loxley.
"Loxley!" Nottingham raged. "I'm going to cut your heart out with a spoon!"
"Then it begins," says Robin Hood.
Bethlehem was God's version of D-Day.
Peace on Earth? Yes. And these were the peacekeepers. Sent to defend – and worship – the Peacemaker.
Glory to God in the Highest!