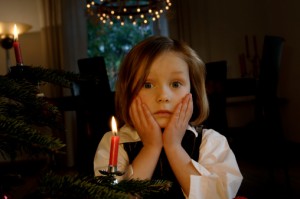 It isn't "Peace on Earth."
It isn't "Good will to men."
It isn't "Wise men still seek Him" or "Joy to the world," true and wonderful as all those things are.
Read through the different accounts of the first Christmas, and the most common thing you will find is a variety of ordinary people like you and me coming to grips with their fears. And the message of Christmas again and again is, "You don't have to be afraid."
It happened to Mary:
The angel said to her, " Do not be afraid, Mary; for you have found favor with God. And behold, you will conceive in your womb and bear a son, and you shall name Him Jesus (Luke 1:30-32).
It happened to Joseph:
…an angel of the Lord appeared to him in a dream, saying, "Joseph, son of David, do not be afraid to take Mary as your wife; for the Child who has been conceived in her is of the Holy Spirit. She will bear a Son; and you shall call His name Jesus, for He will save His people from their sins" (Matthew 1:20-21).
It happened to the shepherds:
…an angel of the Lord suddenly stood before them, and the glory of the Lord shone around them; and they were terribly frightened. But the angel said to them, " Do not be afraid; for behold, I bring you good news of great joy which will be for all the people; for today in the city of David there has been born for you a Savior, who is Christ the Lord" (Luke 2:8-11).
Anytime you read the Bible you have to decide – either these people were an isolated group of super-saints who are irrelevant to you, or that somehow their story is your story. I choose to believe that they matter because I matter and that God's plan for my life is just as relevant as it was for theirs.  In other words, what the angels said to Mary, Joseph and the shepherds speaks to you and me as well.
The greatest Christmas celebration you can have is on the day you decided to say no to your fears.
What are we afraid of?
The issues that these participants in the first Christmas faced are representative of what we face as well. Just like Mary, for example, we're afraid of the realities we can't understand. Mary was a ponderer. She found her safety in figuring things out. But the day came when life and God handed her a set of circumstances that were beyond her understanding.  Sooner or later you will face the same kinds of issues. And the fear comes when you can't figure it all out to your satisfaction.
Like Joseph, we fear the problems we can't fix.  Here was a man who spend his life building and fixing things… until he couldn't. He was face to face with an awkward mess, and no amount of reasoning could fix it.  Can you relate?
Like the shepherds, we fear the battles we can't win.  Imagine your doorbell ringing in the evening and an impressive man in uniform asks you to step outside. Suddenly you see yourself surrounded by tanks and missiles and a whole bunch of people with guns and explosives. Now multiply that times God and that's a bit of what the shepherds saw. This was no choir, but an army headed to battle, and these guys figured out pretty quickly this was above their pay grade.
So why not be afraid?
Understand that every truth spoken to Mary, Joseph and the shepherds is part of the birthright of a believer. In fact, multiply their blessing many times over when you consider that however blessed Mary was for having Jesus in her womb, a believer has Him in her or his heart forever!  So with the message to "fear not," what reasons do the angels give to them and us?
The Lord has favored you with His presence (Luke 1:28).  That's what the angel told Mary. That's just as true of every believer today. He has promised never to leave or forsake you. Wherever you find yourself, whatever changes are staring you in the face, however marginalized or isolated you may feel, you are not alone.  And that is the message of Christmas.
The Lord has included you in His plan (Matthew 1:20-21).  That's what the angel told Joseph.  As he planned and pondered his own response to a scandalous situation, God had other ideas.  "Joseph," he said in essence, "what looks like a moral and public disaster is actually My doing."  And the same is true no less for you.
The Lord has saved you with His power (Luke 2:11).  Why shouldn't the shepherds have been terrified? Because that army wasn't there to fight with them, but for them.  What he offered them is what he offers us… Good news (we call that the Gospel)… Great joy (that's the result of experiencing the truth of the Gospel)… All people (that's who the Gospel is intended for).  This was the birth of a Savior!  And that's Good News because we all need one!  So what does that have to do with fear? Everything. The same God who can marshal an angel army to protect His son can still protect you from any weapon formed against you in life and in death.
So how do we respond?
Fear not. Sounds easy when you're not facing pain or grief or loss.  But what, specifically did these people do in the face of their fears?  The same thing you and I can do in the face of ours.
Like Mary, make yourself available.  Mary said, "Behold the handmaid of the Lord."  She was saying, "If this is your plan, I'm in."  Is it OK with you if the Lord takes you through a harrowing journey of faith that's beyond your ability to logically define it?  Is it OK with you if He stuns you with an opportunity to experience Him in ways you never conceived possible? Are you available to experience Him in ways that aren't predictable?  That's what Mary agreed to. How about you?  Don't be afraid. Make yourself available.
Like Joseph, follow the directions.  Joseph didn't have all the answers.  He had just enough light for the next step.  In fact, three times an angel had to come to Joseph and give him further instructions – all in dreams. I guess that's because when he was awake he was still trying to fix things in his own head.  But when he received further instructions, Joseph obeyed the light that he had.  How about you?  What directions, however limited, has the Lord given you to this point?  Want to say no to your fears?  Start by choosing to obey the instructions you've been given to this point.
Like the shepherds, look for where Jesus is.  The angels gave the shepherds a little clue. "Here's how you'll recognize Him," they said, then they were off to enforce a victory.  The shepherds said, "Let's go find Him."  The number one question in every fearful situation is, "Where's Jesus in all this?"  And the greatest thing you can do this Christmas or anytime is to find Jesus in the midst of your fear.  If it's true that He'll never leave or forsake you, it's also true that whatever you're facing has yet to catch Him by surprise.  Wouldn't you rather be with Him in the "valley of the shadow" than without Him anywhere else?
Find your greatest sources of change or potential change.  There you will find your greatest temptation to face fear.  When you do, remember the eternal message of Christmas… Don't be afraid.  Instead, give your fears to the One who still holds you in the palm of His hand.
Related articles across the web