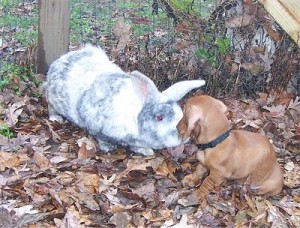 A good friend and I were talking the other day and he told me about an experience he had in Hong Kong. First I'll tell you what he saw. Then I'll tell you a story based on that.  Then I'll apply it in one of many, many ways you can apply the story.
What My Friend Saw
As he and his group were traveling through the market in Hong Kong, he noticed someone selling rabbits. (Note:  I'm pretty sure they weren't  being sold as pets.)
There was a cage full of rabbits.  Then on top of the cage there was a single rabbit, just sitting there, motionless.
My friend asked, "Why doesn't that rabbit run away?"
The answer: Because he's been in the cage so long he's forgotten what life outside the cage is like. He assumes there is nowhere else to go.
My Little Rabbit Fable
Once there were two rabbits. Both were raised in captivity.  Both had only known a life within the confines of a cage or pen. But that wasn't all bad. [click to continue…]
{ Comments on this entry are closed }