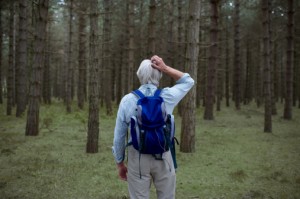 If you just read the title of this and are still reading, you don't have time for cute stories or complicated formulas, so I'll just get to the point, if that's OK.
If you are in a situation where you are at a complete loss as to what to do, it's because you need to reset your glance and your gaze.  You have allowed your gaze – your long-term focus – to become set on your circumstances, your prayer request, your frustration, your pain, your desperate desire for change, or something other than the Lord.  You're glancing at God, asking Him to fix whatever you're gazing at.
Nice try.  I understand why.  But it doesn't work that way.  Reset your gaze on God, and your glance on the world around you.
That's what it means to wait on the Lord.
That's what it means to praise, or to worship
Yes, that's in the Bible.
Want More Detail?
Okay.
At any given time your perspective has two possible ends – your glance and your gaze.  Walking in the Spirit means keeping your gaze on Him, and your glance on the world around you.  As a result, you are free to respond to the world around you without reacting.  That's exactly how Jesus described his life:
So Jesus answered them, "I tell you the solemn truth, the Son can do nothing on his own initiative, but only what he sees the Father doing. For whatever the Father does, the Son does likewise (John 5:19, NET).
For I have not spoken from my own authority, but the Father himself who sent me has commanded me what I should say and what I should speak. And I know that his commandment is eternal life. Thus the things I say, I say just as the Father has told me" (John 12:49-50, NET).
For Jesus, it was all about the gaze.  His gaze was on the Father.  His glance was on the circumstances.
Waiting on the Lord
I have never known anyone who was serious about their relationship with Christ who didn't go through seasons where their only recourse (other than howling at the moon) was to wait.  Specifically to wait on the Lord.
Care to guess how those seasons come advertised?  Situations where you just don't know what to do.
You know what you want.  You're clear as day about what you want to see happen.  But it ain't happening.
You'd settle for a little progress.  That ain't happening, either.
You'd even settle for a little sign from God that's He's awake.
You've tried everything you know to do.  Still no change.
God's solution: wait on Him.  (Bet you're thrilled with that one!)
Waiting on the Lord means more than just putting up with the way things are until He changes them.  To wait on Him is to give Him your undivided attention.  To gaze on His beauty, to listen for His voice.  He promises that He will renew your strength with the power to soar like an eagle when you wait on Him.
Let me go out on a limb here.  Don't ask me how I know this.  But maybe, just maybe…
Somehow along the way, your life has drifted to a point where Jesus is no longer the issue.  You're waiting on change.  Waiting on people.  Waiting on money.  Waiting on marriage.  Waiting on bosses.  Waiting on children.  Waiting on healing.  Waiting on anything and everything but Jesus.
Time to get your gaze back.
To Praise is to Gaze
For years I heard it said that we praise God for who He is and we thank Him for what He has done.  A few years ago I was reminded of how elusive praise is.
We still tend to think of God in terms of how He functions or what He does.  On this particular day I sensed an invitation by the Holy Spirit to look beyond the works of God and gaze on the heart of the One who does those things.
He is more than Redeemer.  He has the heart of a Redeemer.  It's a part of his nature and His heart.
He has more than a provider of refuge.  He is a refuge.
I rediscovered praise that day.  To praise is to gaze.
Can I Get a Witness?
I know what you're thinking.
You're thinking, "Andy, this reminds me of Jehoshaphat!"
And I'm thinking, "I know, I know!  Me too!"
In case you forgot the details, Jehoshaphat – one of the rare godly kings of Judah – faced a terrible situation when the Ammonites and Moabites invaded.  It was looking ugly.  So the king called a solemn assembly and led them in an amazing prayer.  Here's how it concluded:
"O our God, will You not judge them?  For we are powerless bfore this great multitude who are coming against us; nor do we know what to do, but our eyes are on You" (2 Chronicles 20:12).
Did you see that?  I told you it was in the Bible!  Problem and solution all in one verse.  We don't know what to do.  So we're resetting our gaze.
Jehoshophat faced an impossible situation – one that left him powerless and clueless.  In the face of an overwhelming enemy, he wasn't focused on the enemy.  He was focused on God.
"I will instruct you and teach you in the way you should go; I will counsel you with My eye upon you.  Do not be as the horse or as the mule which have no understanding, whose trappings include bit and bridle to hold them in check, otherwise they will not come near to you" (Psalm 32:8-9).
God promises that He would guide us with His eye upon us.  I've always viewed that as the Lord looking from over our shoulder, looking ahead for us, opening and closing paths for us, and coaching and coaxing us along the way.
I think I have a better picture.  It's a picture of the Lord looking into our eyes – face to face with us.  And us developing the sensitivity to find our direction in the eyes of our Master.
Find your way through the maze when you learn how to gaze.
Of course, if you want to, you can be like the horse or the mule.  And God says He'll gladly put a bit into your mouth and lead you around that way.
When a horse or mule gets stressed, it goes into self defense mode.  It thrashes and kicks and runs to the nearest place where there is a sense of safety.  It looks at everything and anything that resembles a place of refuge. And sometimes we're like the horse.  Rather than looking to the Lord, we look for escape routes.  Circumstances.  Endless possibilities, or no possibilities.  Illusions of safety.  Promises of relief.
The good news is, we have a good and patient God.  He'll faithfully use the bit and the bridle if necessary.
But there is a better, more powerful and wonderful way.  We can get our cues from Him.  From looking to Him.  From following Him as He has His eye upon us.  As we do, we walk toward Him and He leads us.  Often ever-so-silently, with His gaze and His love, He draws us forward.  And shows us again and again that we can trust Him.
What do you do when you don't know what to do?  Be still.  And reset your gaze on the Lord.  He said He would lead you.  You can trust Him.