This post is part of a series of posts celebrating Father's Day titled, "That Time My Kids Hacked My Blog." To read more, click here.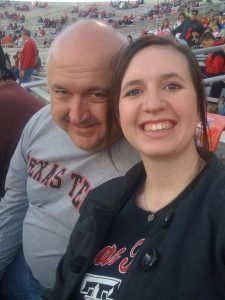 Daddy,
One of my favorite things about you is how you relate to people. You don't make other people fit in your box, rather you relate to them in a way that not only allows them the freedom to be themselves but you encourage it. You seek out the unique things about a person that make them, well, THEM. The way you have parented follows suit. I have watched you relate to Cassie and Joel at times and noticed how different it is from how you and I relate. I've never felt sad about that because I know this great quality about you. In fact, it makes me feel more special because I know that our relationship is one of a kind, even though you have three kids.
I like to think the way you and I relate is through "moments". These little snapshots of time that make up significant and meaningful times that we share. We've never really talked about it out loud before, but sometimes when we catch each other's eyes I feel like we are on the same page, having a moment. (If that's not what you are thinking will you just pretend that it is since this is a public letter??) Some of our moments are big and life changing and some of them are just small conversations that soften my heart. All of them I treasure.
Here are a few of my favorites: [click to continue…]
{ 1 comment }