This post is part of a series of posts celebrating Father's Day titled, "That Time My Kids Hacked My Blog." To read more, click here.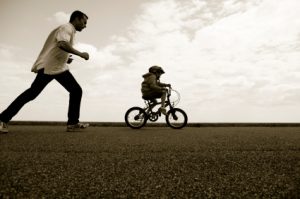 Dear Dad,
You may not remember the day that I learned to ride a bicycle, but I do. We were living in Fayette, Alabama and all of my friends had already figured out how to ride and graduated to ten speeds. After spending several weeks trying to figure out how, I had resigned to give up.
I am not sure how long it was, in my mind it seems like it was years but I am sure it was only a few weeks, that Mom brought up the topic at dinner. I remember telling her that I couldn't do it. While I am sure mom said something encouraging it was your response that made a lasting impact. You said, "Yes you can…let's go." Then you stood up and the two of was walked downstairs into the basement took the training wheels off my bike and went to the driveway. The next hour I fell several times but each time I did you picked me up, told me I was okay, and encouraged me to try again. It wasn't long before I figured out how to balance and pedal. Up to that point in my life I am not sure I had ever felt so accomplished and to this day I still love riding a bike.
That day you taught me how to ride, but what I didn't know at the time was that you were also teaching me how to live life. Time and time again I have seen you act in a similar manner. [click to continue…]
{ Comments on this entry are closed }