This post is part of a series of posts celebrating Father's Day titled, "That Time My Kids Hacked My Blog." To read more, click here.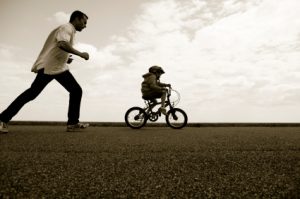 Dear Dad,
You may not remember the day that I learned to ride a bicycle, but I do. We were living in Fayette, Alabama and all of my friends had already figured out how to ride and graduated to ten speeds. After spending several weeks trying to figure out how, I had resigned to give up.
I am not sure how long it was, in my mind it seems like it was years but I am sure it was only a few weeks, that Mom brought up the topic at dinner. I remember telling her that I couldn't do it. While I am sure mom said something encouraging it was your response that made a lasting impact. You said, "Yes you can…let's go." Then you stood up and the two of was walked downstairs into the basement took the training wheels off my bike and went to the driveway. The next hour I fell several times but each time I did you picked me up, told me I was okay, and encouraged me to try again. It wasn't long before I figured out how to balance and pedal. Up to that point in my life I am not sure I had ever felt so accomplished and to this day I still love riding a bike.
That day you taught me how to ride, but what I didn't know at the time was that you were also teaching me how to live life. Time and time again I have seen you act in a similar manner.
In a culture where too many parents do work for their children instead of showing them how you did something bold and outrageous…you let me try to figure it out on my own. The importance of that is not lost on me. It is why I love to learn and why I always try to work hard. Many times I have had to figure out something the hard way, even though the task would have been accomplished faster if you'd have simply done it for me. I am better for it.
But the times that I have given up (and I have given up a lot) you have always been there to encourage me to try again. When quitting seems easier you are the one that often gives me the push I need. But you do more than just encourage me…you go with me. Whether it has been working out a theological problem, trying to find a job, or questions on parenting, you have always done what you could to help me figure it out on my own but point me in the right direction when I need it.
Then there are the times that I have failed. The times as a kid that I cried, screamed, and ranted. The times as an adult that I…cried, screamed, and ranted. In my lowest moments you have always picked me up and told me I would be okay, but you also made sure I knew it wasn't okay to quit. Sometimes life hurts, but it really does feel good when it quits hurting.
As a child I thought that I was the proudest the day I learned to ride my bike, but I know now I was wrong and it took me becoming a father to understand.  When I got to the end of the driveway on my bike for the first time and I looked back you were smiling with both arms in the air. You showed me to take pride in the accomplishments of others. Celebrate with them and enjoy being part of their journey.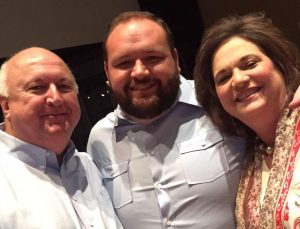 We have often talked about how much fun it is to be a Dad but what we don't talk about is how much fun it is to be the son of someone who loves being a Dad. I have loved the adventures, conversations, and stories. I have tried to duplicate your intelligence, joy in reading, and appreciation for culture. I have recognized the importance of apology, love, and faith.  I know that you are hurting and sad because you lost your Dad. Hold on to how much fun it was to be his son. His influence on you is evident in the type of father you are. It is to my benefit, and my sons benefit. Being your son has made me a better man. My sons will be better men because you were my father.
I love you Dad!
-Joel