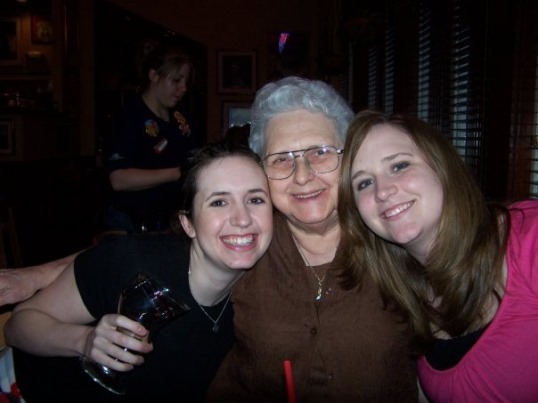 Today my mother would have turned 76 years old.  She passed away suddenly four years ago – a reminder to anybody who's paying attention that there are no guarantees in this life.
Like anybody whose life has touched another for that long, I have lived long enough myself to see Mama's mental, emotional, and moral DNA flowing throughout my own and my sister's life, as well as through the lives of her grandchildren and now seven (soon to be 9) great-grandchildren.
We had our points of disagreement, some of them quite loud.  We also had hours of conversation – some of them way past bedtime.  And like Abel in the Bible, I love the fact that long after her life here was over, she still speaks to me today.
Give her a chance, she'll speak to you, too.  Here, in no certain order, are the life lessons I learned from her.
1.  Work is virtuous, and there ain't no kinda work a man's too good to do.
My mother grew up in a boom town, due to the shipbuilding industry in World War II in Mobile.  People literally lived in tents and shelters here – gladly – to find work after years of living in the Great Depression.  Her parents themselves were extremely hard-working people, and Mama's rule was, "Boy, you ain't too good to dig ditches if that's what it takes."
If I wanted to set her off (you know, just for good clean fun), all I would have to do is say something like, "That's woman's work!"
There she'd go… "Boy…"
I'd just laugh and start washing the dishes or cooking supper or whatever the assignment was.
2.  Education is priceless and valuable.
One of her greatest regrets was never going to college.  One of her missions was to see to it that my sister and I did.  Practically, I never argued – I knew God's plan was for me to go to college, then seminary.  But philosophically we argued all the time. I would act as though college wasn't all it was cracked up to be with all those liberal professors and such.  Mama was relentless.  She saw education as the gateway to a better life.  She was right.  So much so that after vowing I'd seen school for the last time in my rear-view mirror, I went back at age 40.
3.  Hospitality is personal.
In her retirement years in particular, Mama became famous in the family for the way she would make sure to cook everybody's favorite meal, including all the grandchildren.  She would plan menus way in advance, and it was always based on what her guests liked the best.
I find myself thinking like that as I get older, to the point that I sometimes wonder if hospitality is something we've surrendered to the hotel industry.  Not so much in the kitchen, but in other ways, if somebody is coming, I try to think in terms of how I can adjust my schedule and time for them, based on their interests and needs.  I think Mama would be pleased.
4.  Learn to tell – and appreciate – a story.
Boy, what a storyteller she was.  We would often sit up late at night, listening to her tell or re-tell some of the adventures of life in the 40s and 50s. She had lived through some pretty horrendous things. Plus my Granddaddy Hendrix – her dad – had died before I was born, so the only image I ever had of him was through the stories she would tell.
For Mama, life was always better with a good book to read. And she always did best on the stories where she knew the ending.  She didn't linger long in cliffhanger mystery – in fact, she would jump to the end of a book and read the ending to see whether she wanted to keep reading the book.  She was that way in life, too.  And in death.  As Christians like to say, "She'd read to the end of the book."  She loved stories – especially the ones she was living.
5.  Turn impossibilities into possible milestones.
I don't know if she did this consciously or unconsciously.  But when Mama faced life challenges that seemed impossible to escape, she kept from giving up entirely by shortening her time horizon.  She would say things like, "If I can just get you kids raised," or "If we can just get through this next [whatever]."
I find myself doing the same thing.  And what Mama did instinctively, people are now calling "milestoning."  That is, setting up measurable points of progress – or survival.  Maybe you can't conceive of making it through the next year or decade.  Okay – try the next month.  Set up a marker for that, then reevaluate.  If that's too long, try the next 24 hours.  That's what Mama would do, and it served her well.
6.  Make it practical and real.
I referred to her once as having "a hopelessly concrete way of thinking that never seemed to get abstract-random me."  I'm finding out lately that I'm a lot more like her in the ways I think than I used to believe.  I am less and less patient with abstract conversations just for the sake of conversation.  I have absolutely no use for discussions of theology that require the mention of a theologian's name (starting with Spurgeon and going from there).  I find myself squirming with every mention of the latest buzzword, knowing it's just a buzzword.
I think I'll just blame it on Mama.  That's her DNA shouting from the grave – "Sounds like a bunch of bull to me!"  If it didn't somehow help with real problems, help pay the bills, or help people in their everyday lives, she didn't have much use for it.
I get it. Now more than ever.
7.  It's never too late to forgive.
To my knowledge, when she died, Mama carried no offenses with her to the grave.  And she had plenty this side of it to choose from if she wanted to.
The word "dysfunctional" wasn't available to describe family life when Mama was growing up.  She would have probably rolled her eyes and snorted about it if it had been.  But she lived through some angry years in the home of a man she used to describe as a "mean weekend drunk."  And though I never met him, and though I heard much later that he had stopped drinking and had given his life to Christ, I got to see the anger stains he left behind.  I still want to punch him when I get to heaven.
Over the years, however, I saw my Mama learn to let go and forgive – not only the offenses of her own family of origin, but others as well.  Time, reflection, and most importantly the Lord had given her the grace to see from other perspectives, and to let go.
That may be her greatest legacy.
Related articles across the web