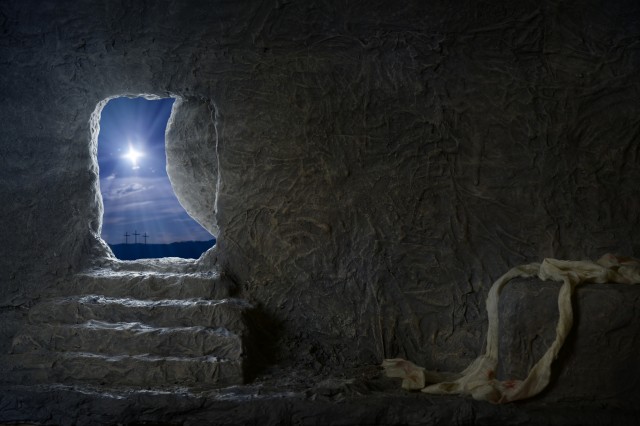 For the last 2,000 years people from all over the world have staked their futures around two events that, for them, represent the most transforming experience in history. I'm referring to the death and resurrection of Jesus Christ.
One of the most compelling proofs of the power of those two events is in the changed character of Jesus' followers.  Talk about Jekyll-and-Hyde! This ragtag group of crazies went from cowering wimps to a fearless army of witnesses with a single message:  Jesus lives.
These people didn't wait until the resurrection to believe in Christ.  But they experienced a profound change in their faith when they encountered a living, victorious Lord.
So will you.
Even today it's possible to know in your head that Jesus is alive, but live as though it's still Friday night. In other words to believe in Jesus as though He were dead.  So how can you tell the difference?  Here are five signs you're living on "Friday night" faith:
1. You're consumed with guilt.
The unquestioned leader of the disciples, Simon Peter, had boldly announced that even if everybody else abandoned Jesus, he wouldn't.  We know how that worked out.  Peter's passion was no substitute for spiritual power. He meant well, but as Jesus predicted, Peter denied knowing Christ – not once, but three times. Gospel writers report the painful result: hearing the accusing crow of the rooster, Peter went out and wept bitterly.
Something about the cross – about Friday night – points painfully and undeniably to our guilt. And let's be clear – the reason most people feel guilty is because they are.  But guilt was made to be resolved, and nothing resolves guilt more than having someone else bear the penalty of it all.
However trapped you may feel by your stupid choices and damnable actions, the message of the resurrection is that you can be forgiven of your past guilt.  That same Peter who wept bitterly on Friday night proclaimed boldly the resurrection of Jesus within a matter of days. You, too, can be free from the haunting shadows of a guilty life. But you'll have to choose a Sunday morning faith…
Jesus lives.
2. You're cynical about the future.
You don't see a lot of coverage of the life of Thomas, one of Jesus' disciples. But when he did speak, he always seemed to have a cynical tone.
"Let's all go with Him, so we can die with Him" (John 11:16). Yeah, Thomas said that. Maybe it was a statement of courage. Or maybe it was just in his DNA to see the worst-case scenarios first.  That's why he refused to believe that Jesus had risen, despite the unified testimony of his disciple buddies, until he could see the nail prints in Jesus' hands and touch the wounds in his side.  This man's disappointments had been too deep, his pain too heavy to take by faith – especially someone else's faith – a message so hopeful.
Can you relate?  Grief, disappointment, sorrow, and repeated blows to your confidence or expectancy can take their toll.  It's easy to live in Thomas' shadow, in a Friday night kind of way:
"I'll believe it when I see it. And I doubt I'll see it, so I'll just play it safe and assume that it's too good to be true."
You may think you're protecting yourself from future disappointment. But what you're really doing is hardening your soul one doubt at a time. Many people who sit in church pews on the weekends live in the seat of the scornful the rest of the time. And that's a pathetic way to live.
Thomas wound up truly believing by seeing. But tradition also tells us he traveled further than Paul – all the way to India – to tell the story to the world. On Sunday morning his cynicism was turned to faith. And that can be your story, too…
Jesus lives.
3. You're blinded to the truth right in front of you.
A few Jesus followers were returning to Emmaus after the crucifixion of Jesus, trying to make sense of it all. Joined by a stranger, that we know now was the risen Christ, they told Him they thought he was Israel's Messiah, but now just didn't know. After all, Messiahs weren't supposed to die.
"You guys are a bunch of idiots," the stranger said, "and you're slow in heart to believe." That's my paraphrase, anyway.
Then The Stranger began to point out line after line, verse after verse, showing how the Christ had to suffer for their sins, but then rise from the dead. And something happened in the hearts of those travelers.  Their hearts felt as though they were on fire. The truth of the scriptures began to come alive in them.
They went from Friday night to Sunday morning. And so can you. But first it will require a whole new approach to truth. It will mean taking that Bible and reading it as if a living Christ is speaking to you through it. Because He is. And your understanding of truth can take on a Sunday morning reality…
Jesus lives.
4. Your life is governed by your fears.
There in an upper room, the disciples who had all proclaimed their loyalty and all fled the scene when it got hard, were huddled together, terrified that they, too could be arrested and sentenced to a cruel Roman death. For those three agonizing days, they lived by the dictates of their fears.
I wish I could say we're liberated from all that today. But you and I both know better. The truth is, those who could and should be the most courageous instead build their lives around what they are trying to avoid. Every choice – every purchase, every vote, every relationship – reflects the anxieties of a culture who has swallowed the deceptive testimony of worry and fear.
But just as the disciples emerged from that upper room and boldly proclaimed a message of power, love, and clarity, you too can find the courage to take the next right step. To venture forth on boldness. To risk loving even in the most unlovely situations.  To speak truth to worldly power. To boldly proclaim, without apology…
Jesus lives.
5. You've given in to despair.
One man missed the celebration.  All he could see was his failure and shame. And using the same technique to deal with his guilt that he used to betray Christ – bargaining, manipulation, self-dependence – Judas came up short.  He asked a bunch of religious legalists to help him find forgiveness, and they had no answers for him.
Religious legalists won't have any answers for you either because they thrive on keeping you mired in shame and misery. Sadly, all Judas had left was a haunting, hopeless sense of despair. So he committed suicide.
To be sure, not all defeated believers are suicidal. But many of them live or grieve or argue or manipulate or protect themselves as if there is no hope otherwise. They're still living as if it is Friday night and there's nothing to look forward to.
Oh, but there is so much more! There is hope! There is life! There is peace! You don't have to stay mired in the dregs of despair. You can find a new sense of expectancy and fulfilment. You can know that despite the way the circumstances look, the end of the story is yet to be told. You can dream. You can anticipate! You can live as fully and abundantly as those who first experienced the hope-filled message…
Jesus lives.