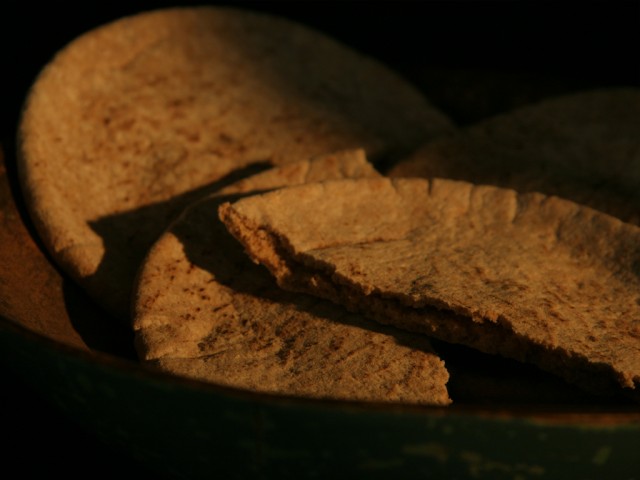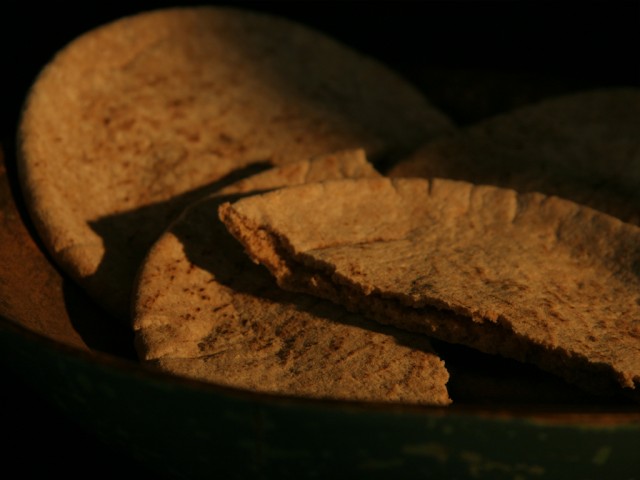 Imagine with me.
You're an actor, and your dream is to land a role on the Ultimate Stage – a place where your talent can be on display for the entire world to sit up and take notice. A role that can lead to even bigger and better things. You don't have to be the star. You just want to be able to show your star power.
The script: Interesting. It's a modern retelling of a famous scene from the Bible – the time when Jesus fed about 4,000 people with seven loaves of bread and a few fish.
You've been summoned to a callback audition and informed you have a spot in the play. That's all you know.
Can you imagine the excitement? The anticipation you're feeling? This is what you have dreamed for, wished for, prayed for, and endured a lot of questions and unhelpful go-be-a-teacher suggestions for.
You. Are. Going. To. Broadway.
Who will you call to celebrate with you? For that matter, who will you call to rub it in a little?
By the way… What part do you imagine they have for you?
Okay, maybe it's just an extra – part of the crowd of hungry people that Jesus felt such compassion for. Hey, whatever – it's a start. You can look famished and interested in Jesus at the same time. But who needs callbacks for that? No, this must be something more significant than that.
Oh! Maybe you're one of the twelve people who play the part of Jesus' disciples. That must be it. In the original story those were 12 burly Jewish men, but in this script girls and Gentiles, accountants and all sorts of ethnic groups are welcome. This could be interesting.
Of course, you could be reading for the Big Money, and you allow yourself a fleeting second to imagine that. But it's doubtful that a famous production company would cast an unknown in the lead role. But the message you received was that this role was crucial in the casting process. And they want you.
You can hardly sleep the night before. To practice getting into character, you re-read the original story.
In those days, when there was again a large crowd and they had nothing to eat, Jesus called His disciples and said to them,"I feel compassion for the people because they have remained with Me now three days and have nothing to eat. If I send them away hungry to their homes, they will faint on the way; and some of them have come from a great distance." And His disciples answered Him, "Where will anyone be able to find enough bread here in this desolate place to satisfy these people?" And He was asking them, "How many loaves do you have?" And they said, "Seven." And He directed the people to sit down on the ground; and taking the seven loaves, He gave thanks and broke them, and started giving them to His disciples to serve to them, and they served them to the people. They also had a few small fish; and after He had blessed them, He ordered these to be served as well. And they ate and were satisfied; and they picked up seven large baskets full of what was left over of the broken pieces.
Callback time arrives and you may have gotten a little sleep. But you're running on dream-fueled adrenaline and you have your game face on. It's January in New York, but you don't care – to get into character you're wearing your best leather sandals.
So imagine your surprise to learn…
that your gateway to glory…
is to be cast…
as a loaf of bread.
That hissing sound you just heard was all the air going out of your balloon. The flush in your face? That's you trying to figure out how you're going to explain this to the folks back home.
A loaf of bread.
Important? Yes. In fact, there is no story to be told without it.
But what could be more undignified? What could make you more of a laughingstock?
And please tell me you don't have to don some ridiculous costume. Remember the California Raisins?  They were cool. But they were animated! Remember the Fruit-of-the-Loom Guys? Not so cool.
And your job – your role on the Ultimate Stage?
To be multiplied. That's cool.
To be the cause for a lot of celebration. OK, well maybe this isn't so bad.
To be broken. Uh oh.
Art Imitates Life
Just to be sure, there really is an Ultimate Stage, but you don't have to fight New York traffic or weather to find it. You're living it. And in this drama you have the opportunity to assume more than one role.
You can be one of the consumers – the interested throngs who find great value in Jesus to feed their bellies and fill their minds.
You can be one of the disciples – the good-natured but clueless learners and servants who have another lesson added to their development process, and who one day will be in charge of this operation.
Miracle Maker? Sorry, that job is taken.
But you can assume the second most important role in the whole drama. You can be the one whose impact is profoundly multiplied. You can become a living demonstration – a dramatic parable – of what this Miracle Maker will soon do with His own body and blood.
Interested?
Are you ready to be an instrument in the hands of a Miracle Maker, to influence and impact far more lives than is humanly possible for one person to do? That really can be you…
…if you're willing to be broken.
Gateway to Wonder
Mark uses an interesting choice of words. Taking the seven loaves, Jesus gave thanks and broke them. Gratitude and brokenness. In order to feed 4,000 people, Jesus had to turn seven loaves into hundreds. And he did so with a breaking process. In the blessing and breaking, the bread was multiplied.
Interesting. Jesus performed many miracles but only gave thanks before two of them – the feeding of the 4,000 here and when Lazarus was raised from the dead. Why do the gospel writers make such a point of Jesus giving thanks before breaking the bread? Was this just a common pre-meal blessing?
Whatever else it was, it certainly was a statement of faith. Extraordinary faith for us, every-day faith for Jesus. He wasn't thanking the Father for seven loaves of bread and fish. He was thanking the Father for feeding 4,000 people that day – before the fish and bread multiplied.
I wonder.
I wonder if when Jesus looks at you and me He is giving thanks to the Father… like the bread, not for what you are today, but for what you will accomplish after He multiplies your impact.
I wonder where and how you may be God's solution to somebody's impossible situation.
I wonder where you may be somebody's gateway to wonder – just because you were willing to be placed into the hands of a Miracle Worker.
From Blessing to Brokenness and Back
I'm not sure in this retelling of the drama whether the bread would have any spoken lines. But I'm sure if the loaf could register an opinion, it would cry out for relief.
"What are you doing?
Breaking.
"Stop tearing me apart!"
More breaking.
"I can't take this anymore!"
Still more.
"I place my entire life in Your hands and this is the thanks I get?"
Relentless, ceaseless breaking and breaking and breaking.
"My God, when will this stop?"
But as the bread was "surrendered" to the hands of a Miracle-maker, it multiplied abundantly.
Gratefulness and brokenness.
Worship and willingness.
And as a result, thousands of lives were touched in the most basic of ways.
In breaking the bread, before there was multiplication, there was division. Jesus was willing to reduce the loaves – to limit their size for a season in order to multiply their reach in the long run. The symbolism of this act is stunning. He shows in tangible form what He Himself accomplished by allowing Himself to be broken in order for many to find eternal life. It also shows how, like the bread, His own followers are multiplied through their own brokenness – regardless of the cause or source.
Jesus didn't have to break the bread to multiply it. He could have commanded stones to become bread. He created the world out of nothing – I am quite certain he could have said, "Let there be bread," and the bread would have appeared.
Instead, He demonstrated a Kingdom principle of faith, vision, gratitude, and growth.
He still does today.
Only today, you – yes, you – are the bread.