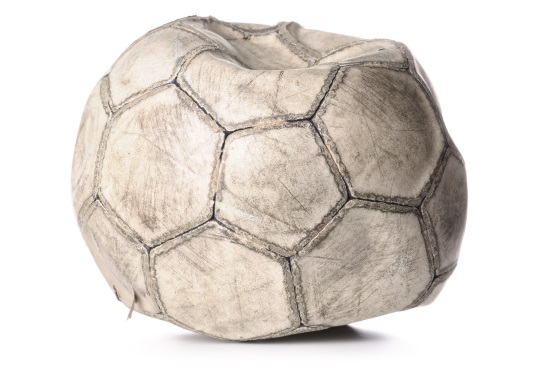 Somewhere near you there's a frustrated pastor whose tried-and-true methods for leadership or church growth he has spent much of a lifetime developing aren't working anymore.  He's too passionate to quit, but too tired to start over.
Somewhere down the road is an organization that once was the hallmark of success because of its ways of doing ministry or business.  The strategy it perfected was brilliant and worked when others failed.  Until it quit working as effectively.
Somewhere nearby a young man is giving up on everything he knew of the Faith as a boy.  Why? Because his boyhood faith doesn't give him answers to his adult realities and temptations.  The problem is, he doesn't yet have a man-sized faith to take its place.
In all three of these scenarios, as described in the previous post, somebody's system was breaking down… And God has them right where He wants them.
Rapid-fire Review
Systems are shortcuts or handles we develop to get a grip on the Christian life, biblical truth, or spiritual growth.  We were created with the capacity – and need – for ways to leverage such things, and God uses systems in our lives to help multiply our development.
That said, systems can also become sacred cows or substitutes for God. They can become thoughtless buttons to push to provide quick-and-easy answers to long and complex problems.
And at some point every system will fall in on itself.
Now you can howl about that all you want. You can live in denial if you dare. You can pretend your plan or method or theology is different because it has God's seal of approval on it. I have five words for you…
Blah… blah blah blah blah.
One day, maybe later, maybe sooner, your system will self-destruct.  And this is God's way of ensuring that your trust is in Him, not your system.
It's Fallen and Can't Get Up… Now What?
The simplest of all systems in the Bible goes like this:  Do good things and good things will happen; do bad things and bad things will happen.  Just one problem.  Sometimes even that simple system caves in. Just read the book of Job.
But there's a place where a wise old sage offers some advice to people who have stumbled over their systems, including that simple one. In Psalm 37, King David, who has seen the coming and going of many a system of his own, offers this advice:
Do not fret because of evildoers,
Be not envious toward wrongdoers.
For they will wither quickly like the grass
And fade like the green herb.
Trust in the Lord and do good;
 Dwell in the land and cultivate faithfulness.
Delight yourself in the Lord;
And He will give you the desires of your heart.
Commit your way to the Lord,
Trust also in Him, and He will do it.
He will bring forth your righteousness as the light
And your judgment as the noonday.
Rest in the Lord and wait patiently for Him;
 Do not fret because of him who prospers in his way,
Because of the man who carries out wicked schemes.
Cease from anger and forsake wrath;
Do not fret; it leads only to evildoing (Psalm 37:1-8).
Here are 8 bite-sized pieces of encouragement for all of us when our systems break down.
1.  Don't fret.
Like my old buddy Ed would say, "Put your stinger up."   The word literally means to grow or glow warm, and it speaks of getting hot with jealousy or anger.
When our systems stop working, it's easy to start comparing with others who seem to be getting everything they want. Life is going great for them and God's not being f-f-f-fair.
Careful.  The only true fair you're ever going to experience is the one that shows up at harvest time in your area.
When your system isn't working anymore just be still.  Get in listening mode.  One thing we learn from all those chapters in Job was that the man of God was free to hurl and shout at God, but he didn't get any answers until he shut up and listened.
2.  Make sure your confidence is in the Lord, not in the system.
Trust in the Lord, David says.  When methods and systems are working, we instinctively start trusting the methods and systems.
Guess who argues with that last statement the most?
Yeah, people who are trusting their methods and systems instead of the Lord.  When the system quits working, that's not the time to have arguments over the system.  It's time to re-anchor your trust in God.
3.  Keep on doing good.
If your prayer plan doesn't seem to be working, that's not a signal to stop praying. If your approach to evangelism isn't producing results, the solution isn't to stop sharing your faith.
Keep doing the good thing you know to do.
Look. This may be a time to reconsider the method, but not the ultimate intent.  If you're staring heart-deep into your theology and it offers no answers, the solution isn't to give up on searching for truth. If your approach to worship, private or corporate, doesn't seem to be reaching your heart anymore, the solution isn't to quit worshiping.  Keep doing the good you know to do.
4.  Make sure your delight is in the Lord.
David says that the Lord will give you the desires of your heart if you delight in him.  But how do you know if your delight is really in the Lord?  One way to find out is to take away the desires of your heart for a season and see if you still have your delight.
Care to guess what "delight" actually means?  It means to be soft or pliable.  To delight in the Lord is to be Charmin soft – to be clay-to-the-potter pliable – in your heart toward God.
Systems work, friends, but systems aren't made for softness. They're made for repetition and discipline.  God calls us to delight in Him to remind us, as my blog friend Martha says, that "He cannot be reduced to a magician or bell hop, there to serve our every imagined need."
5.  Commit your way to the Lord.
Systems have a way of giving us the map to our lives. When the system breaks down, that's a good time to hand the map back to God and admit you're lost and need some direction.
System breakdowns are also seasons of redirection.  Sometimes God uses situations like this to send us into a completely different arena or to a different type of service.  Peter had a vision of a system breakdown prior to witnessing the Holy Spirit fall on a (gasp!) Gentile. Paul whiffed three times in his approach to finding God's path before having the call to Macedonia.
How about you?  Is it okay with you if the Lord has a different path for you to follow?
6.  Spend some time resting in the Lord.
Sometimes the best thing to do is nothing.  System breakdowns are sometimes God's call to come back to the cave, or to return to the garden.  Sometimes it isn't the system itself that's breaking down – it's you. And in the tracks of Elijah, sometimes the most spiritual thing you can do is sleep and get something to eat.
7.  Learn to wait on the Lord.
The central theme of Psalm 37 is, "you haven't seen the end of the story yet."  Relax.  Be still.  Your day is coming.  In the meantime, wait patiently on the Lord.
The temptation during a system breakdown is to do anything but wait.  We try harder. Huff and puff longer. Holler louder.  We want results now.
Part of delighting in the Lord is being pliable enough to trust His timing.  That doesn't mean sitting and doing nothing.  It just means giving God time to satisfy the desire of your heart or to fulfill His promises to you.
8.  Avoid anger and revenge.
Nowhere does a Christian act more like a wild jackass than when he's disappointed in God.  Sometimes we're too religious to admit that, so we fuss all about the circumstances or some jerk.  But often that's just our way of pouting toward God.
David's advice (and he should know…) – if you act out of anger, you're acting as an idiot, and nothing good will come out of that.
When your system breaks down, your temptation will be to blame God, or the liberals or the fundamentalists or the Calvinists or the Arminians or the terrorists or the Presbyterians or the illegals or the Little Sisters of the Poor or somebody else.
Give. God. Time.
And in the meantime (and it is a mean time), turn your heart back to Him.  Pry open your desperate clutch of that wonderful system you've been clinging to and dare to let it go.  Who knows what might happen with a newfound trust and heart toward the Lord?
Related articles across the web