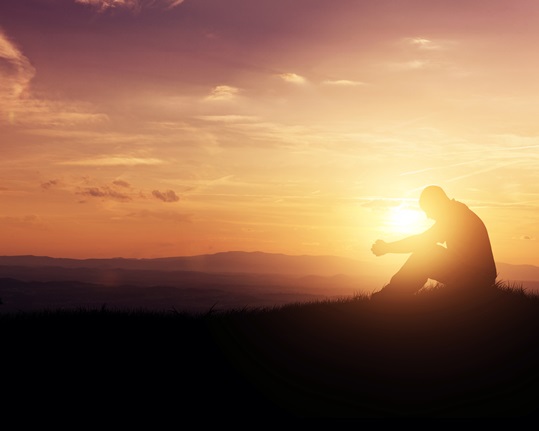 Cesar Malan was a famous minister from Geneva.  He showed genuine interest in the spiritual welfare of anyone he met. And get this!  He would actually ask them about it!
Once Malan asked a woman he had just met about her relationship with God.  Caught off guard, and somewhat annoyed by his question, she curtly said she didn't care to discuss the matter.
Apparently this wasn't the first time Cesar had faced such a response.  The minister kindly assured her that he would be praying for her salvation.
It wasn't long before circumstances brought the two together again.  As they talked, it became apparent to Pastor Malan that the Lord was responding to his prayers.  The once-antagonistic woman had recognized her spiritual need.  Now she was asking him what was required to become a follower of Christ.
The preacher replied, "Come to Him just as you are."
And that's what she did.
Realizing she could do nothing to save herself, and depending on the finished work of Christ on the cross to pay for her sins, she received Him by faith as her Savior.  That woman was Charlotte Elliott, who later wrote the classic hymn, "Just As I Am."
Just as I am – without one plea,
But that Thy blood was shed for me,
And that Thou bidst me come to Thee,
O Lamb of God, I come!

Just as I am – and waiting not

To rid my soul of one dark blot,
To Thee, whose blood can cleanse each spot,
O Lamb of God, I come!
What's interesting is that she wrote the song partly out of frustration over her usefulness as a Christian.
Just as I am – though toss'd about

With many a conflict, many a doubt,
Fightings and fears within, without,
O Lamb of God, I come!
Just as I am – poor, wretched, blind;
Sight, riches, healing of the mind,
Yea, all I need, in Thee to find,
O Lamb of God, I come!
For many years we've encouraged unbelievers to come to Jesus just as they are.  We have begged them not to try to clean themselves up, because it's impossible!  We have offered them the message that Jesus can clean up the dirtiest heart and bring healing and hope to the most desperate soul.  And thousands have been helped to Christ because of the message of His unconditional love.
Too bad.
Somehow that penetrating message has been lost on us ("us" being those who have already trusted their eternal destinies to Christ).
Many sincere Christians have somehow arrived at the conclusion that since Jesus has finished the hard part, the rest is up to us.
Now it's our job to clean up our lives.
It's our responsibility to purify our hearts.
Now it's up to us to make ourselves acceptable to God so that we can properly pray and serve Him.
And the result?
A generation of defeated, discouraged believers who wouldn't think of praying because God would never want to hear them!  Churches filled with frustrated people too ashamed of what they've done or how they're feeling to ever believe they just might be normal.  Pews filled with self-satisfied saints who have assumed they're O.K. because they've learned to hide their carnal side.
I'm convinced there is a host of things that God is waiting for us to bring Him that we haven't even considered – things we've convinced ourselves He doesn't even want.  For example, have you given Him your personality – the good, the bad, and the ugly of it?
Have you given Him your pain or abuses?
Have you given Him your successes and victories?
Have you given Him your rejection experiences?
You've given Him your godly desires – to pray, obey, be committed, and all that.  But have you come to Him with your ungodly desires, and actually talked to Him about it?  Have you offered up to Him the real feelings of your heart, not just those we fake before others?
"And you will seek Me, and find Me, when you search for Me with all your heart" (Jeremiah 29:13).
Maybe it's time for a new look at what that means.  If the last time you came to Jesus "Just As You Were" was the day you first met Him, you have some catching up to do.  God is not looking for your performance or your appearances.  He's not waiting for you to score cool points or to convince yourself that you're worthy.  He's the worthy one!  He just wants you…
Open-hearted.
Honest.
Teachable.
So sing it to Him like you never have before…  "Just as I am, Oh Lamb of God, I come!"
Related articles across the web