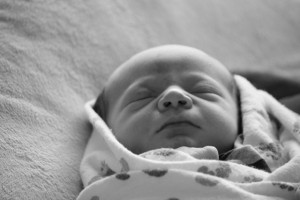 (Sort-of-random thoughts after two road trips and some new journeys to come…)
For all the delight I have in seeing family, especially grandbabies, the comfort found in my own bed is irreplaceable.
I've been blessed by delighted voices that call me "Papa" and wordless raised hands that see in me the solution to the primal angst of not being able to reach a Ritz cracker without help.  With that kind of adoration, what else in this life could be a more precious investment of time?
There was never a time I could remember when I didn't want to be a father.  But being a grandfather is like showing up at McAlister's Deli on Free Tea Day having forgotten it was free tea day but there you are and the tea is free!
Some of life's delights are limited to the moment – then they leave an emptiness that's sort of like the crash you get after eating a lot of sugar.  On the other hand, some of life's delights feel as if God has poured permanent joy in me, even when I'm tired and know the "Mickey Mouse Clubhouse" and "Elmo's Greatest Hits" lyrics by heart.
If ever I was imprisoned by the evil power of a world limited to tangible things I could see or measure, one morning of playing Doc McStuffins or "Sleeping Princess in the Castle" is a sure ticket to freedom.
Want to make a list of people who are worth their weight in gold?  Start with doctors and nurses who can take crisis situations and calmly proceed through solutions with one mind and heart.
The honest observation from a four-year-old that you're fat is a much more valuable touch than the flattery or "politeness" you get from insincere adults.
Watching my kids doing the exhausting work of being parents themselves has set me free from ever wanting to do that late-life adoption thing.  But seeing the ways they approach parenthood has sometimes made me want to turn back the clock and do some things differently with them.
Let the world stop turning for a few days because of the evil actions of one of its inhabitants… tiny fingers curled around yours will remind you to let the sun come up again tomorrow.  Hope and new beginnings really can stop the despair, even while you still mourn the losses.
I have this burning yearning.  Okay, maybe not so much burning, but definitely yearning to photograph wild horses somewhere like here or maybe on the Carolina coast.  If the Lord will let me, I also want to catch (as in with a camera) a whale jumping sorta like those Pacific Life commercials.  Every time I see them I say out loud, "I want to do that."
Tell me how you would pronounce "llano."  Here on the Llano Estacado where I live, it's prounounced "yah-noh."  In the little town in central Texas it's pronounced "lan-noh."  But if you try to settle the argument at the local drive-in about how to pronounce where you are, they just may pronounce it, "Dai-ry Queen."  Hahaha.  You've just heard the latest version of the 28th funniest joke in the world.  Or not.
Martina McBride once sang a song that says, "Love's the only house big enough for all the pain in the world."  The song did not mention, however, that Jesus is the only builder with a net worth capable of constructing that big of a house.  I'm thinking Martina would say "amen" to that, though.
If you're going through a big dose of new, and if it doesn't all feel like an endless honeymoon, please be gentle with yourself and even gentler with those who reach out to you.  It probably doesn't have to be completely perfect for at least 90 days or so.  You're welcome.
I didn't see any falls or any marble on our trip to Marble Falls.  But I did find the mother lode if you're mining for pie.  And if we're even farther apart from our son and his family, at least I will know they're with some good people in a good place, and elbow-deep in meringue.  My heart and appetite are blessed.
The only treasure worth digging for is the treasure that you can share with someone else.  The only dream worth sacrificing for is the one where it really mattered whether or not it had come true.  In all your ambitions, remember – this life is too short for isolation or mediocrity.
To have known I was loved like a champion Olympic runner by people who have seen me limp, crawl or fall is the crowning treasure of a lifetime.
You never know when you may be that kind of treasure for someone else.
Every opportunity to communicate God's truth is sort of like going to the top of a mountain, then sharing what I have witnessed after I climbed there.  Every opportunity to communicate God's truth is sort of like riding out a raging storm or swimming a really wide, slow river – mine or somebody else's – then hearing God's perspective on what I had just rode out or crossed.  This weekend I'll have the privilege of doing that here.   If you live on the Llano Estacado (that's YAHN-oh), it would be great to have you join us.
My dad, stepmother and I were driving back from McKinney to Lubbock the other day.  I was blessed to hear Dean admire the wide-open expanses and for all of us to enjoy the treasure of a signature west Texas sunset.  It was a nice reminder that every place has its beauty as well as its drudgery.  I'd do well to remember that… you too.  There's not a sad much sadder than the sad you feel when you find what you'd longed to find and hadn't prepared yourself for the drudgery or the grind.  Hmmm.  I think that's deep.  Or something.
Meanwhile, back here in the land of the two-year-old, we've discovered the word, "maybe."  Wow.  How'd we ever live without it?  "Maybe I want some milk."  "Maybe I'm [pretending to be] making the coffee."  "Maybe I want to play with your phone."  I love it!  "Maybe" is a powerful, possible, perspective-kind of word.  But you can't build your whole life or theology or perspective on it.  Without some clarity, some bedrock core certainties, I would be lost, and so would you.
But with that confidence, and with that hope, maybe we can dream of a world where kids of all ages can explore puttin' on the Ritz or hanging out with Mickey or performing live onstage with Elmo at Carnegie.
With that kind of love and support, maybe they can be a Doc or nurse themselves one day, or maybe live in a castle or be a parent or take their own pictures of sunsets or horses or whales or something.
With the kind of supernatural power that comes from knowing they are loved with an everlasting love, maybe they can build a house of love big enough for all the pain in the world.  Or their town or neighborhood anyway.
Confident and secure in the truth they can stand on, maybe they can mine for treasures you and I never even conceived of, or dreamed possible.
Maybe…
Well.  Thanks for mining some road-weary treasure with me today.  And for dreaming of treasures to come.  Keep the magic in your "maybes" and the mojo in your "know-so" and you'll be investing in the future – yours and somebody else's – for a long, long time.