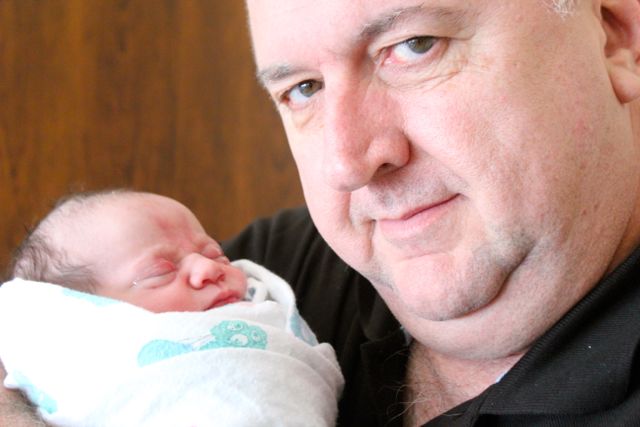 Well… THAT was an adventure!  Apparently when the doctor said, "Let's go," you decided you would prefer to stay, and that sure got everybody moving!
But we are so glad that today, July 23, 2012, we were able to welcome you into this world… healthy and with a strong pair of lungs, even if you weren't happy about having to use them yet.  Your Mama, Daddy, and big sister and big brother have been waiting with excitement for a long time for you to arrive, and you didn't disappoint.  And though I have only held you once, you have already established yourself as a one-of-a-kind.
The world that you were born into, as you already seem to instinctively know, can be a scary place.  There are a lot of very sad people in Colorado and Pennsylvania today because of the terrible actions of a couple of people.  Meanwhile, all over the country politicians and universities and philosophers and people with big degrees and microphones are trying to figure out what we can do to make the world a safer place for little boys and girls.  (Without changing any of our own habits, of course.)
The good news for you is that you were born into a home that already has the right idea – love God, love people, and know you were made for a purpose.  Your Daddy loves being a daddy about as much as I love being one.  He has an extraordinary way of teaching you how to grow up and still allowing you to be a kid.  And you'll never accuse him of not paying attention.  He is one of the most attentive fathers I know.
Your Mommy has been preparing a place for you for weeks.  You'll love your room!  More than that, you'll love her.  She is so patient and understanding, and takes such delight in children.  She's also very creative, as you will learn soon enough.
You already have a big sister who's 4 and a big brother who is just 16 months older than you.  They will light the way for you in more ways than one.
The most important thing I can say about your family is that they all love and serve Jesus Christ – not just as a religion, hobby or job, but as a grace-filled lifestyle.  You have been prayed for and loved long before you were born, and though every child is special and purposeful, everyone has the sense that you have a unique destiny or calling.
Your name is inspired by the first promise that Jesus ever made to someone when he said, "Follow me, and I will make you fishers of men."  We believe that no matter how desperate or dark this world, God created you to be a light in it, pointing people to the hope that is in Jesus.  Your middle name, Knox, is in honor of the famous Scottish pastor and reformer who passionately prayed, "Give me Scotland or I die!"
Live up to your name, little one, and you will change the world.
You have a rich family heritage that all seems to revolve around building – whether it's building buildings, building the Kingdom of God, or building lives.  Your life is built on a heritage that isn't content until we have touched the life of another, through teaching, counseling, pastoring, sharing the gospel, or serving others in some way.  We also love to make memories and share them – and guess what?  You're the latest!
Your cousins and their parents are also excited about meeting you.  You're the fifth grandson in our family – all two years old or less.  Sounds like a basketball team in the making to me.
Though you have yet to see the sun go down, you have already touched our hearts in more ways than you can imagine.
And though we dream great dreams for your lifetime, your presence in our lives is dream-come-true enough for ours.
And though we stand poised to hear of the exploits you will accomplish with your life, we will love you as though you had already conquered the hearts of the world – regardless of the measurable things you achieve or don't achieve.
You don't have to do anything to earn the love of our hearts.  That task has long since been satisfied.
So welcome, little fisher for hearts.  We're relieved and grateful to God that you are here.  Now let's have some fun.