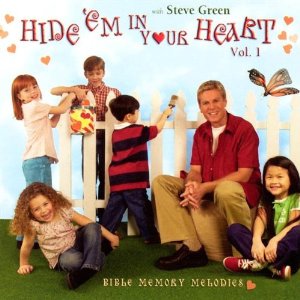 I grew up wishing I could sing like Steve Green.  From his early days in "Truth" to his days in the Gaither Vocal Band to his sterling solo career and ministry, Steve had the pipes.  He would melt my heart with "People Need the Lord"  and "Wounded Soldier."  He would inspire me with "The Mission" and "Carry On."  He would blow me away with "No Other Name but Jesus" and his Truth duet with Art Ortiz of "It is Well With My Soul."
I would buy his accompaniment tapes (if you have to ask what a tape is, never mind), grab a mic and belt his stuff out with gusto.
But Steve's biggest impact on my life took place after Robin made a run to the Baptist Book Store (now Lifeway) and came home with "Hide 'em In Your Heart, Vol. 1."  This was a scripture-memory-set-to-music collection that pretty much played continuously in our car whenever the kids were in it (and only when the kids were in it).
To this day, they can tell you the song, the verses they memorized, and about the time all three of them spontaneously decided to play Holy Spirit in the back seat by singing "Do Not Be Overcome by Evil" when I lost my cool in the car.
I wasn't a big fan of Steve Green that night.
Lo and behold, after all these years, Cassie discovered this album still available on CD from Amazon and surprised Carrie with it.  Made Carrie's day.
Then Carrie started playing it in the car whenever Laura Kate and Shepherd were riding along.
Now it's come full circle.
Thanks, Steve.  You're still investing in my life.
(This, my educator friends, is what you call "auditory learning.")
Enjoy the video.