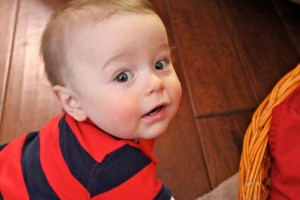 Cohen is an expert crawler. 
He can cross a room lickety-split on his hands and knees. 
He's an awful walker. 
He's learning.  But why risk injury when he can get there safely on all fours?
His parents don't treat his crawling ability as a special gift, however. 
It's just a skill that helps him until the greater abilities arrive.
Same goes for you and God. 
Mediocrity is not a spiritual gift or personality type. 
And today's weaknesses may contain the seeds of tomorrow's excellence. 
Use your strengths. 
But like crawling, never assume they're the last ones you'll ever possess.
Grow!