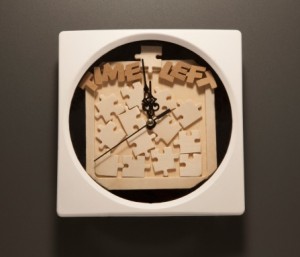 Quick question:  What would you do if you knew that you only had 30 days to live the life you now have?  After that, your will life will be completely redefined. 
You aren't dead – just relocated.
Every relationship:  history.
Every past accomplishment:  strictly a thing of the past.
Every possession:  soon to be somebody else's.
Maybe, for the sake of playing out the fantasy side of the question, it's a witness relocation effort or something.  But regardless, the clock is ticking, and life as you know it is drawing to a close.
What would you do?  Who would you do it with?  How would you approach the growing, grim reality?
The Brutal Truth
In his encouragement letter to believers who had faced unspeakable pain, Peter offered this cheery thought:
The end of all things is near (1 Peter 4:7).
Alrighty then!  I'm feeling better already.
But the truth is, on multiple levels, life is getting shorter.  Of course, there's the breathtaking hope that our Lord will return at a moment of His choosing, and that moment could well be today.
Then there's the less delightful, but just-as-real-ization that you and I are closer to death than ever before.
Moreover, even if your clock's still ticking, sometimes life has a way of bringing disrupting changes and life interruptions that you didn't ask for.  You didn't ask for the divorce, but there it is.  You didn't ask for your child to die, but your life now has a new identity because of it.  You didn't ask to get fired or downsized, or forced marched (transferred) to a different part of the country, but it happened nonetheless.
Pretend it'll all keep going as-is if you want.  But I'm here to tell you… whatever defines your life is headed for a sure end.
So what… will… you… do?
Peter Has a Plan
Fortunately, the early church's acknowledged leader did more than just stand on a street corner with a sign declaring the end is near.  He made some suggestions as to how you can I can manage the limited time we have.  Look a little closer:
The end of all things is near; therefore, be of sound judgment and sober spirit for the purpose of prayer. Above all, keep fervent in your love for one another, because love covers a multitude of sins. Be hospitable to one another without complaint. As each one has received a special gift, employ it in serving one another as good stewards of the manifold grace of God.  Whoever speaks, is to do so  as one who is speaking the utterances of God; whoever serves is to do so as one who is serving by the strength which God supplies; so that in all things God may be glorified through Jesus Christ, to whom belongs the glory and dominion forever and ever. Amen. -1 Peter 4:7-11
Here is what Peter says should frame the way we approach time:
1.  Start with the ultimate focus.
What do you do with the limitations of time?  Ultimately, believers are called to have one overarching focus – "that in all things God may be glorified through Jesus Christ" in your life (v. 11).  The word "glorified" means "to make beautiful."  The truth is, your life is a filter through which the world around you forms an image of God.  What can you do with the time you have to make the image of God beautiful in your life?  How can you reflect His glory, exhibit His strength, or manifest His love?
2.  Stay prayer-ready. 
Peter says that since the end of all things is near, we need to always be prayer-ready.  Think of prayer as a loaded weapon, always ready for use.  But like any weapon, it can fall into disrepair or fail to be "loaded" when it is most needed.  The key to being prayer-ready, he says, is through having sound judgment and a sober spirit – literally clear-headed and watchful.  Life is too short to shuffle through it, numb to the challenges or possibilities to manifest the life of God around us.  Keep your eyes open and your heart ready to call on Him.
3.  Love other believers fervently. 
You don't have forever to say, "I love you."  And if there was ever a time to really love somebody, it's when you recognize the shortness of time.  The love you show to others has a way of healing the damage caused by you, by them, or by others to them.  The word translated "fervent" means "stretched out."  You know what that's like, don't you?  Anybody can show love when it feels good or natural.  But God calls us to make loving others such a priority that we're willing to be stretched to make it happen.
4.  Open your life to others.
Does it always take a massive disaster to get people to open their hearts to others?  Peter says that we need to be ready to "show hospitality" to other believers without complaining.  That means more than just an hour or two.  But it also means more than just the limitations of a physical house.  The word literally means "a friend of those who are different."  How long has it been since you joyfully embraced being inconvenienced, interrupted, or detained by the needs of someone who was different? 
5.  Use your gifts in the power of the Holy Spirit.
Each of us has received a spiritual gift or set of gifts.  Employ it, Peter says.  You won't have forever to use it.  You don't have time to waste pursuing areas where you aren't gifted.  And you don't have the luxury of being a pretender by using spiritual gifts in carnal ways.  Just because you have the gift doesn't mean you're using it in the power of the Spirit.  It takes submission to the Lordship of Christ and faith in the power of the Holy Spirit to use you, regardless of the type of gift(s) you have.
The Ultimate Ticking Time Bomb
The end of all things is near – nearer than you think.  In less than 24 hours it will be over.  The truth is, you DO have a short time to live… it's called "today."  And it's the one area where you are on completely equal footing with everybody else on the planet.
What would happen if you ordered – not just your life as a whole – but your next 24 hours around these same five principles?  How's this for a way to plan your day…?
What if you started with your day with the explicit intent to bring glory to God?  How would you approach your schedule?  What would you plan to do tomorrow to move your life in that direction?
How and when will you pray?  Moreover, how will you stay prayer-ready?  What do you need to eliminate from or add to your life tomorrow in order to keep a clear head and wise thinking?
Who can you reach out to show love to – even to the point of being stretched by some of those EGR (extra grace required) people?  What specifically will you do, and to/for whom?
How can you open your life up to others – particularly those who are outside your "like me" circle?  How can you budget some of your time to invite people into your home, or your office, or your lunch schedule – expressly for the purpose of building relationships?
Finally, how can you specifically focus huge chunks of your time on those areas where you are most gifted?  And what do you need to do to ensure that in your speaking or serving or manifesting God's gifts, you are actually doing it in His power, not your own?
There is a way to life triumphantly and joyfully, even if this day were your last.  That's why the psalmist said, "so teach us to number our days, that we may gain a heart of wisdom" (Psalm 90:12).  The clock is ticking… maybe it's time to wise up.