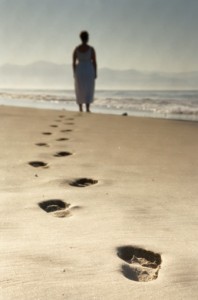 This is a season of Death-By-To-Do-List.  The quiet pause, lethargy, and feeding frenzy of the holidays are followed by the jump-started, resolution-driven frenzy of the New Year.  So this morning I started my journaling by listing one or two things I still haven't done this week.  And the one or two became six or seven.
"I swear, I'll die by checklist overload," I wrote.
Lately I've been thinking a lot about what's missing in our life planning.  It's so easy to get lost in the whirlwind of the frenetic or even the focus of the goal-directed that we neglect some of the most significant parts of the plan.
Like waiting.
I'm all about making mission statements that lead to goals lists that lead to action steps toward making those goals and mission a reality.  I get it.  I completely understand that if you aren't taking massive action in the direction of your dreams you are probably kissing some of them good-bye.
How do you respond, however, when the dream or passion is completely authentic, but there is literally nothing you can do about it today – at least in outward to-do-list fashion?  How do you keep the important, important, when it's not front-and-center in your appointment book?
Ever think of making a "To-Wait" list?
A To-Wait list is a collection of passions, people, issues or dreams that are front-and-center in your heart, even when you're consumed with other things.  If nothing else, these are things to pray for, or to hold before the Lord in a spirit of trust and expectancy.  Sometimes they're the sighs of a yearning heart that refuses to give up hope.  Sometimes they are a bold declaration of faith that what you see is not what you will get.
Regardless of your past disappointments, detours, or dead ends, what does your heart continue to hold onto?  What is the expectation you can't shake, or the belief you can't just walk away from?  Put that on your To-Wait list.  The very fact that your heart holds onto the dream may well be a sign that the expectation is valid – and the only thing missing for now is the waiting.
Your patience is a declaration of worth and an expression of love.  To wait on the Lord is to love Him.  To wait on a prodigal adult child to return is a declaration of his or her worth in your eyes.  Your endurance of the disappointments, setbacks, rejection, or days of no news at all – all of that makes a statement of the hopes and dreams, cases and causes that mean the most to you.
Opportunity waits for no one.  But some opportunities are only available to the one who gives God time to work, but remains ready.  Waiting is anything but passive.  It means attending and expecting, even when there is nothing else to do but attend and expect.  But what if today that very thing you have prayed for repeatedly were suddenly presented to you?  Would you be ready?  Would you be grateful?  Or would you be too busy nursing your wounds or giving up to even notice?
"Until" is a powerful word.
Sometimes it's a declaration of hope.  Sometimes it's a statement of frustration.  Sometimes it's an acknowledgement that life or work moves onward in anticipation.  But ultimately "until" is a statement of expectancy and importance.  And that's what goes on your To-Wait list.  What do you keep on asking the Lord for, until?  What vision do you keep in front of you for your life, your family, or your organization, until?
I'm not talking about random fantasies or isolated events it would be nice to see.  I'm talking about things or people or issues you won't give up on.  Jacob, of Bible fame, wrestled and connived and manipulated and prayed and limped and mourned – and waited and waited and waited – all for this thing he called "the Blessing."  The bad news: sometimes in the waiting seasons he didn't wait well, and made quite a few enemies.  The good news:  He died a blessed man.  The important lesson:  Even if it had taken forever, Jacob would have died waiting.
God reserves promises for those who don't toss away their confidence.  Who like Abraham, Isaac, Jacob and the rest "all died without receiving the promises, but having seen them and having welcomed them from a distance" (Hebrews 11:13).  Regardless of the apparent randomness of the wandering, irrespective of the ache of waiting, they rested in the faithfulness of a God who keeps His promises and fulfills His purposes.  That's what a To-Wait list is for.  It's a pen-and-paper way of holding on to the faithfulness of God.
"Hurry up and do" has it place.  But so does "hold on and wait."  And before you experience death-by-checklist, I thought it would be good to remind you… One day the baby will come.  One day the hurt will ease.  One day (maybe not until heaven, but nevertheless…) the reunion will happen.  One day the prayer will be heard.  And one day that sigh of longing will become a sigh of satisfaction.  Until then… we wait.  So make the list… and check it twice.  Some things are worth it.