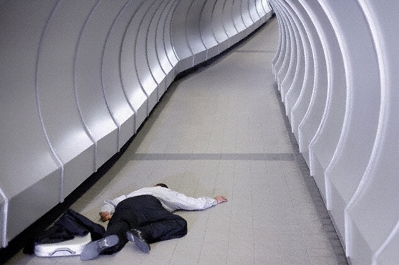 "I will recognize that this day is a gift to me.  Today and every day I will take the time to encourage the encourager.  I will recognize that my greatest gifts become available to others only when I offer them first to myself and to my God."  -from "The Encourager's Creed"
"Step out of the traffic! Take a long, loving look at me, your High God, above politics, above everything."  -Psalm 46:10, The Message
+++++++++++++++++++
His innovative, radical ministry shook and shaped the town where he lived.  He started a church from scratch and tossed tradition on its ear.  He insisted that worship services be seeker sensitive – events that people would actually enjoy attending.  His preaching was simple and plain, filled with word pictures, practical application, and charisma.
He led his people to reach out with God's love by establishing an innovative system of literature distribution and visitation.  In a matter of months his church went from mission to mega, with more than a thousand people attending his Thursday night Bible study.
He was a prayer warrior.  This guy spent an hour a day just praying for the Jews!  Another hour daily in general prayer and meditation.  An hour and a half in breakfast and family prayers.  Six hours in prayer and devotional reading on Sundays.
Oh, and then there was the revival.  Returning from the Middle East, he found the town turned upside down with a fresh invasion of the Spirit.  People came nightly to hear him preach the gospel.  Hundreds came to Christ.  Without question, he was one of the greatest Christian leaders any generation has ever witnessed.
He died in 1843.
Age – 29.
His name – Robert Murray McCheyne.  As he lay on his deathbed, he said to the friend by his side, "God gave me a horse to ride and message to deliver.  Alas, I have killed the horse, and now I cannot deliver the message!"
No use playing "What if…" for people like that.  Asking you the tough questions about your life, however, is another story.
"Physician, heal thyself," Jesus said, quoting the popular proverb (Luke 4:23).  Just another way of saying, Plumber, work on your own pipes.  Teacher, go back to school.
LifeVestor, invest in yourself.  A significant part of expecting a return in the future is seeing to it that you'll actually be around to see it.
Years ago a Detroit homeowner went to check on his five-bedroom house.  Wasn't there.  I don't mean the tenants had moved out.  I mean, the house had skipped town.  Completely baffled, he asked the Detroit Free Press to help him investigate.  A reporter learned that yes, the house indeed was gone.  (Nice to know the landlord wasn't that blind.)  But it gets better.  The deed to the empty lot was in someone else's name.  Several years had passed since the homeowner had left the city without providing a forwarding address.  He had also failed to arrange for someone to keep the property in repair.  The city declared the house an eyesore and ordered it torn down.  All because of negligence.
Bad enough when it's a building.  Devastating – devastating – when it's your body or your brain or your spirit.
You want to see an increase?  It's going to take some SelfVesting.   Encouraging the encourager.  Giving to the giver.  Preaching to the preacher (that one's for me).  Teaching the teacher.  Saving some for the saver.  Caring for the caregiver.
This is what keeps you from being a codependent workaholic.  This is what keeps you from gambling with your future.
This is what keeps you from being… well, dead!  Or… dead before your die.
[Sidebar:  Want to see a great movie expression of that?  Check out Love Happens.]