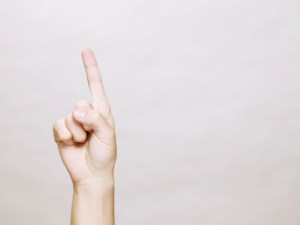 It's a famous scene in the movie "City Slickers."  Curley, the cowboy character played by Jack Palance, says to Billy Midlife-Crisis-Angst Crystal:
"You city folk, you worry about a lot of [stuff]…  You all come up here about the same age, same problems.  Spend about 50 weeks a year getting' knots in your rope and then you think two weeks up here will untie 'em for ya'.  And none of you get it.  Do you know what the secret of life is?"
"No, what?" says Crystal.
"This," Curley says, holding up one finger.
"Your finger?"
"One thing.  Just one thing.  You stick to that and everything else don't mean [nothing]."
"That's great, but… what's the one thing?"
"That's what you gotta figure out."
Tough times have a way of bringing out complicated questions.  Ever since Cain killed Abel, or Job's friends made a "sympathy" visit, people have responded to adversity by haggling and hand-wringing over the deep, often-unanswerable questions in life.  Questions like, "Why is this happening to me?" or "Who's responsible for that?"
During times like that, we all need somebody who can again bring us back to consciousness. [click to continue…]
{ Comments on this entry are closed }