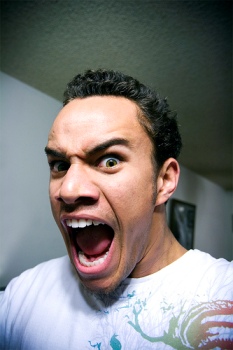 Bret* was a Sherman tank.  Didn't drive one; he was one.  He was ticked off – at me!  And he wasn't in a mood to pout or negotiate.  He came with a verbal Uzi, convinced I had done him wrong, and he was going to let me know about it.  (For the record, he was wrong about me doing him wrong, but he was in no mood to hear it.  Or hear anything, for that matter.)
Right in the middle of the tirade, as this hulk of a man was blowing me away, I had this surreal experience.  It was the Lord, I believe, speaking to me.  "Just let him finish.  With everything he has to say."  So I did.  I just sat there and took it.  I didn't like it.  I didn't like his attitude.  I didn't like his complete blindness to the facts.  But I took it.
"Is there anything else?"
"No, that's about it," he said very gruffly.
"Okay, well I'm very sorry you feel that way.  I'll see to it that you never feel that way because of me again."
That was 11:00 a.m.  At 2:00 p.m., the phone rang; it was Bret again.  Totally different story.
"Man, I just want you to know, I'm on your team.  I so appreciate you."
I quickly ruled out the possibility of demon possession, mental illness (that one took a bit longer), or bribe money.  No, Bret had just emptied himself of his poison.  And he meant it.  He was on my team.
{ Comments on this entry are closed }