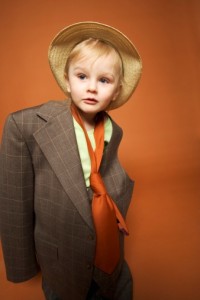 Frankford and 82nd.  Sitting at the light.  Laura Kate (age almost-3) and I have been on an adventure.  And she is about to ask me a very important question.  But first, a slight rewind…
"Laura Kate, first we'll go to the grocery store.  Then we'll go by Grammy's office and pick up some prizes she has for you."
"That's an awesome plan," she says.
In between, she learns six (count 'em) verses of an Easter song her uncle Joel and I wrote when he wasn't much older than she is now.  Which brings us to the traffic light near our house on the way home.
"Papa," says the voice in the back seat.  "Are you growed up?"
"What did you say?" I reply.  "Am I growed up?"
"Yes," she says, very seriously.
"Yeah," I mutter.  "I'm growed up."
"Yay, Papa!  You did it!"
Sometimes I wonder.
I wish it was that easy to claim maturity.  Sometimes I think I'm still a kid when it comes to such things.  And sometimes I feel, well, old.  But there's a difference between growing up and growing old.  Peter Pan and his Lost Boys were only half right.
It's OK to be a baby when you're still a baby.  But there comes a time when the word of God and the world of people come together to shout, "Grow up!" After addressing the Corinthians as a pack of carnal children, Paul writes to the Ephesians that "we are to grow up in all aspects into Him who is the head, even Christ" (Ephesians 4:15).
How do you measure your maturity?  How do you know when you're growing and when you're floundering?  Let me hasten to say that maturity isn't found in big words or fat bank accounts, or your ability to make babies or get a job (although keeping a job may impress a few people).
In gauging your maturity level, I have found five things that act as measuring rods for progress.  You are as mature as: [click to continue…]
{ Comments on this entry are closed }