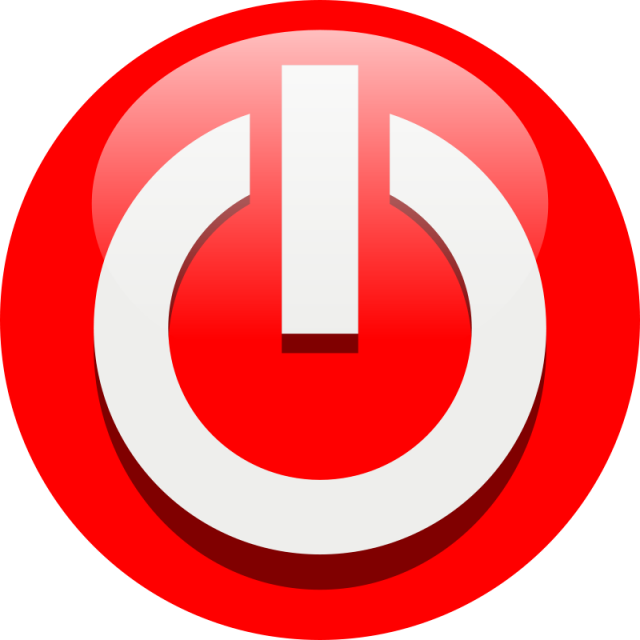 "Today I spent Christmas completely alone…"
(from my journal, December 25, 1995)
Quick quiz: What do Bluebell Ice Cream, Tylenol, Rolaids, SMU Football, and ancient Judah (Israel) all have in common?
Answer: They all experienced a drastic, though temporary shutdown.
Shutdown. The word was hardly used prior to 1950. Now it's a common part of our lexicon. It's typically used of the government when Congress can't seem to get together on a budget or debt ceiling limit (which in government terms is about the same as "budget"). A government shutdown, of course, is commonly believed to be a horrible thing.
Other than that, you often hear the term used to describe some sort of drastic action taken by a company. The whole state of Texas declared a state of emergency on April 4 when Blue Bell started closing its creameries – all of them – because of an incident of listeria contamination.
(If you aren't from Texas or have never observed that state's love affair with Blue Bell, picture shutting down football in Tuscaloosa, guns in Wyoming, or lobster rolls in Maine.)
I've been thinking about shutdowns lately for a couple of reasons, not the least of which was the heartburn I felt last night and the Rolaids I was gratefully chewing on (sorry Tums, you'll have to go back to being Plan B). I have also been remembering a personal shutdown period I went through myself exactly 20 years ago. I don't talk about it much anymore, but it still shapes a large part of who I am today.
What a Shutdown Is – and Isn't
When a store closes on Christmas Day and reopens on December 26, that's not a shutdown. When the Lay-Z-Boy store in Mobile had a STORE CLOSING sale, yet in fine print underneath the signs noted ("moving to new location next to Pier 1"), that wasn't a shutdown either.
When an individual takes a couple of days off for vacation or sickness and returns to work, that's not a shutdown.
All of those examples are just part of the normal routines and rhythms of life and business.
A shutdown is different. As a teenager I worked a shutdown of a local paper mill one summer for a week. In that case the mill completely stopped operations while the construction company I worked for came in and worked 24/7 to remove and replace a roof on one of its buildings. That is an example of a planned shutdown for maintenance. There was no paper being generated for a week. All employees were temporarily out of work (paid, I presume), and the plant stopped producing the materials that generated revenue.
Why? It needed a new roof on the building.
Even those events, though technically shutdowns because the plant stopped all operations, aren't the same thing as what I'm referring to.
When the NCAA levelled the so-called "death penalty" on SMU football in 1987, completely suspending operations for a year, that was a shutdown. It affected more than just the Mustangs and the university. Many people claim that such a drastic action led to the destruction of the old Southwest Conference.
When an individual is sentenced to prison for a specified period of time, that, too, is a shutdown. When USC football coach Steve Sarkisian sought treatment for alcohol-related issues mid-season in 2015, and was subsequently fired, that was a shutdown on a personal level.
Sometimes shutdowns are fatal. The names Enron, Arthur Andersen, and Ted Bundy are forever etched in the moral memory of Americans as examples of what can happen when lives or organizations are completely out of control and judged unredeemable.
And sometimes shutdowns take place on a national level. Biblically speaking, the split nation of Israel suffered a dual shutdown. The northern kingdom was obliterated forever by the Assyrians, and the southern kingdom was carried off to Babylon – then Persia – for 70 years. More recently, the nation of Germany was divided up after World War II; that lasted for 45 years.
Shutdowns Hurt
Shutdowns of that nature are an unfortunate potential reality of life, both for organizations and for individuals. They aren't always necessary and hindsight says they can be prevented.
But to be clear, this isn't a headache or a flat tire. This is a mess – one that can only be dealt with by a complete suspension of operations as we know them. And the very nature of a shutdown harms the innocent as well as the guilty.
Chances are, somewhere, somehow, in big or small ways, your life has been shaped by someone else's shutdown. And I don't just mean in your ice cream selections.
Families get hurt. So do employees. People who extend their trust are often devastated. Organizations like churches lose credibility, peers are often guilty-by-association, and dependents – financial and otherwise – often suffer greatly.
Today there is a flourishing cottage industry that makes a lot of money warning and preparing people for the next calamity of a shutdown nature. People are afraid of losing their sense of safety, freedom, or prosperity, and are willing to pay money to protect it.
Necessary, But Hopeful
A random thought hit me one day when I was visiting a shutdown victim.
In a hospital.
This person had been there for an extended period of time and was facing yet another surgery. The ordeal had been grueling, to say nothing of the expense involved. I was there to offer some sort of comfort or encouragement when both seemed fleeting.
"Just remember," I heard myself saying, "You aren't here to die. You're here to get better."
That simple statement changed everything in this person's disposition, and mine. Sure, he faced an uphill battle. But his was a battle in search of victory.
Such can be said of many an individual or organization in need of new life, new health, or complete redefining. Despite our best efforts to fix things ourselves, to keep the plates spinning, or to fall back on the excuses of how much people are depending on us, sometimes in the long run the best thing we can do is pull the plug.
Did I mention this was painful?
God knows, yes it is.
In fact, God, I believe, is the master of the shutdown. The Bible is filled with stories of personal, tribal, and national shutdowns – one right after another. And amazingly, they always seemed to work, at least for a season.
A Hope and a Future
Then there's Jeremiah 29:11 – everybody's favorite coffee-cup quotation:
"For I know the plans I have for you," declares the Lord, "plans to prosper you and not to harm you, plans to give you hope and a future.
It really is a lovely thought. But you can't understand the meaning of this verse without first understanding the context. The people of Judah were being hauled off for 70 years to captivity – a two-generation shutdown. And at the front end of this, God says,
"Build houses and settle down; plant gardens and eat what they produce. Marry and have sons and daughters; find wives for your sons and give your daughters in marriage, so that they too may have sons and daughters. Increase in number there; do not decrease.  Also, seek the peace and prosperity of the city to which I have carried you into exile. Pray to the Lord for it, because if it prospers, you too will prosper" (Jeremiah 29:5-7, NIV).
Get this: After decades of faking it and living off of spiritual fumes, the nation was beyond any fixes that a new potential righteous king could ever provide. So God tells them that the way out is the way through. The greatest pathway to prosperity, hope and a future was through a drastic, painful, but redeemable shutdown.
Painful? Yes. Unbearably so for some people. But necessary, and worth it.
The Ultimate Shutdown
Bigger than any individual recovery or restoration, bigger than any factory closure, even bigger than any national shutdown, God Himself entered into the greatest shutdown in history when He ultimately, finally judged the sin of the world. There, in accounting that only can be described as grace, God marshaled all the evil and failure of the human race and laid its guilt on the account of His Son. And when Jesus cried, "My God, my God, why have you forsaken me?" He suffered the ultimate shutdown.
And He did it in your place.
Three days later, His resurrection completely redefined the meaning of fatal – and the meaning of life.
There is life after shutdown, friends. I've lived it. There really is a future and a hope. Sure, the way out is the way through. But there is a way through – often in this world, always in the next.
You can bet your Blue Bell on that.