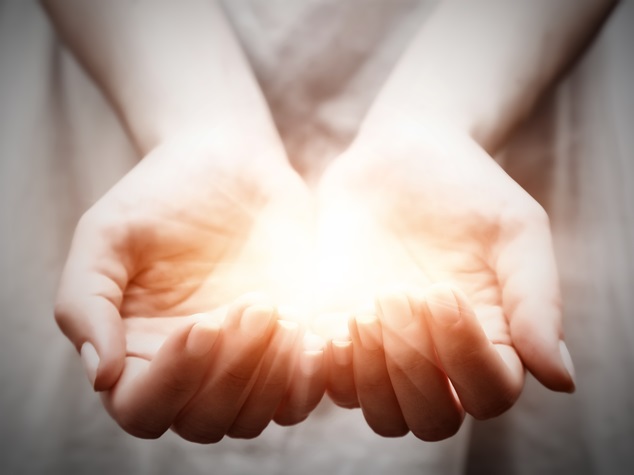 "I don't know how to describe this."
Ever have an experience like that?
Ever observe something so profound, so extraordinary, so loaded with meaning that words looked cheap next to it?
One of the finest wordsmiths of all time, and a major contributor to the Bible itself, had that very experience. And in the midst of his gritty, get-it-done work and demeanor, even he was at a loss to use words to describe what was taking place. All Paul could say was, "Thanks be to God for His indescribable gift!"
That's a profound thing to say, considering some of the things he did describe in his New Testament letters.
Know what makes it even more profound? This "indescribable gift" came disguised as something rather ordinary, that anyone, anywhere can enjoy. This isn't some secret sauce for super-saints. In fact, on a surface level it looks rather common and ordinary. And yet something behind the scenes turns the ordinary into a speechless wonder.
Know what makes it even better than that? You may have been participating in this indescribable gift and didn't even realize it. Or if you haven't, you can start today.
After 40-plus years of following Christ and 35-plus years of communicating truth based on the Bible, I keep asking myself, Why have I never seen this before? And why have I never heard anybody else talk about this before? (They probably did, and I just didn't have ears to hear it.) But if we can see the full implications of this Indescribable Gift, it may change the way we approach a lot of the choices we make.
Setting the Context
Lock your wallet up for a minute and let's talk. The Indescribable Gift is described in a passage of the Bible where Paul is asking for money. And truth be told, he's asking these people to dig deep. But the Indescribable Gift isn't money, and it isn't really about money.
Paul was in the middle of a massive undertaking. The Christian believers in Jerusalem were suffering greatly financially, and Paul was rallying the Gentile Christians throughout the Empire to help them. He tells the Corinthians that others have given sacrificially and he asks them to do the same, noting that "God loves a cheerful giver" (2 Corinthians 9:7). He tells them that God will provide for them both the means to give and the means to receive as a result of their willingness to participate.
He lists the benefits of generous giving, and it's an impressive list.
Now He who supplies seed to the sower and bread for food will supply and multiply your seed for sowing and increase the harvest of your righteousness; you will be enriched in everything for all liberality… (2 Corinthians 9:10-11).
Paul says that God will give them more "seed" for more sowing (i.e., more money back). Not bad.
He says generous giving will "increase their harvest of righteousness" – presumably reward in heaven. Who wouldn't want that?
He also says they will be enriched in everything, not just money. They will have other ways to give and invest in the Kingdom because of their faithful generosity. Man, it just keeps getting better and better!
But all of this is the warm-up act. The ultimate fruit, or reward, is what takes place beyond that.
What Could Be Greater?
…which through us is producing thanksgiving to God. For the ministry of this service is not only fully supplying the needs of the saints, but is also overflowing through many thanksgivings to God. Because of the proof given by this ministry, they will glorify God… 2 Corinthians 9:11b-13a).
Paul says that this work is producing thanksgiving to God.
Okay, but where's the really cool stuff? What's the Indescribable Gift?
He goes on to say that this massive project was doing more than supplying the needs of the saints. It is "overflowing through many thanksgivings to God."
This is the real blessing. Paul says that because the Corinthians have given, and will give, the hurting believers will have proof that God knows where they are and is meeting their needs. As a result, they will glorify God because of the Corinthians' obedience and generosity.
The greater benefit is in the gratitude.
Your silence is deafening. I'll assume your wheels are turning while you wonder, what's the big deal about that?
It's a big enough deal that Paul, immersed in the behind-the-scenes wonder of it all, stops and marvels.
Thanks be to God for His indescribable gift! (2 Corinthians 9:15)
There is something about gratitude I fear we have failed to grasp. In our love and excitement about all things praise-and-worship or faithful discipleship, we have overlooked the role of gratitude in the economy of God. But whenever believers anywhere, for any reason, give glory to God for their blessings of any kind, something takes place that is of greater value and importance than anything related to temporal blessings.
I don't know how to describe this.
But that's OK – neither did Paul!
What This Means to You
Whenever you give someone a reason to thank God because you acted in love, kindness and generosity, you are sowing eternal seed, not just meeting temporal needs.
Does that include money? Of course. You can take out your wallet now. But far more than that, it includes giving your time. It includes giving your spiritual gifts or talent. It includes your words or actions of encouragement. Anything, anywhere that causes someone to glorify God because of something you said or did is an expression of the Indescribable Gift.
Imagine the possibilities…
Somebody at their wits' end thanks God that you showed up with a little sanity and humor…
Somebody who was ready to quit thanks God that you gave them the courage to face another day…
Somebody glorifies God because you gave generously to help fund their ministry or charitable work…
Somebody thanks God for the wisdom you offered…
Somebody thanks God because you showed up to introduce them to the hope and life found only through Christ…
Somebody thanks God because you cared enough to get in their face and confront them about a stupid choice they were about to make…
Somebody thanks God because you showed them grace for the stupid choice they did make…
The possibilities, even for you (yes, you!) are endless.
Today and every day, give someone a reason to thank God. God will take care of thanking you.
Is it really that big a deal?
So big, it's indescribable.