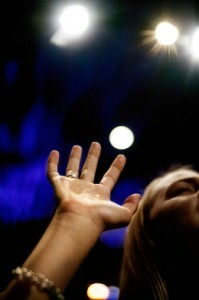 Raise your hand if you've ever stood in church and sung, "I surrender all."
Raise your other hand if you were invited to "come to the altar and surrender all to Jesus."
Both my hands are up. I'm typing with my toes.
Just two problems with that idea.  First, surrender isn't something you do in church.  Second, surrender isn't something you do at the end or the close of anything.
A few years ago I learned a new language – the language of surrender and freedom.  Inspired by someone's idea of absolute commitment to Jesus expressed as, "I don't have to survive," I began a mental and spiritual journey of surrender.  What else can I let go of? How else can I be free?  And I began to make the list…
I don't have to be successful…
I don't have to get angry…
I don't have to feel rejected…
I don't have to be right…
You get the point.
Lately I've been revisiting that idea, for an important reason.  Surrender is the means by which our lives are transformed into the image of Christ.  But in the process, I found something missing – something frustratingly incomplete about my acts of surrender to the Lord.
Have you ever experienced something like this? You have some point of guilt or conviction. You have something you feel like a complete failure about.  You've tried to fix things on your own. You've asked people to pray for you (you know… that famous "unspoken request" we love so much in Church World). And you've even done the ultimate.  You found yourself in church on Sunday and went to the altar to pray or confess or ask for help.  And you "gave it all to Jesus."
Only to find yourself swatted around by the devil and "unsurrendered" again a few days later.
Was there a sincerity problem back at the altar? Were you just playing games with yourself?
Honestly I don't think so.
Were you missing something that should have been on the list? Maybe.  But I don't think you were on purpose.
Know what I think is missing?
We do it in the wrong place.  And we do it with the wrong perspective.
If you don't remember anything else, remember this: Surrender takes place on battlefields, not altars.
Right Idea, Wrong Location
For years I was the one doing the altar-inviting. We would worship with passion and I would preach for conviction and I would encourage people to surrender their all to Jesus. As an expression of that surrender, I invited people to come to a meeting point – a surrender point. I would say something like, "Let's just make the steps of this worship center an altar – a meeting place with God."
Just one problem with that idea… altars aren't places where things get surrendered.  Altars are places where things come to die.
Still want to walk that sawdust trail? Still want to have that reckoning that leaves you dead to anything that reflects a life without God?
Let me hasten to say that there is nothing wrong with making an expression of submission to Christ in the church house. It sure beats the alternative!  But while there's nothing wrong with it, there is something missing. Care to guess what it is?
It's your jerk boss. He's not there on the altar with you.
Or how 'bout those idiot drivers? The telemarketer? That very attractive you-know-who?  They're missing the holy moment as well. How about your evil stepmother Discouragement?  Your ugly stepsisters Pride and Shame?  Ditto.
If you don't have a strategy for giving up control of your life when you're in the traffic jam and running late…
or when you're lonely and the wrong person is available…
or when you're tired of trying and ready to quit…
or when by hook or crook you want your own way…
…then you're setting yourself up for an epic, church-kissed fail.  By that I mean that you've jumped through the religious hoops. You've sung the songs, prayed the prayers, given the money, listened to the sermon, and "kissed the ring" for another week.
But that's like "surrendering" when you're taking a tour of the Pentagon on the family vacation.  No weapons are used in the raising of that white flag.
Why This Matters
Every blessing that is part of your birthright as a believer in Christ is contingent on you being in a place of submission to His authority and His will.  Before He taught us to pray, "Give us this day our daily bread," He taught us first to pray, "Your kingdom come, Your will be done on earth as it is in heaven."
Fair enough. But the problem with that is that most of us have been trained for years to push for what we want and to advance our little kingdoms…
Jesus is King of kings and Lord of lords, but I'm the boss of my money.
Jesus is the Lord of heaven and earth, but I'll hang on to my plans.
Many a frustrated, defeated Christian has insisted on having their own way until they found themselves broken, crushed beneath the weight of what our friends in Recovery call "self will run riot."
But this is not the act of an angry God, trying to get even. It's the expression of a loving God who wants you to live in the abundance that Jesus shed blood for you to experience.  He is for you, and wants you to experience all the implications of what that means. But you can't if you're holding on to your demands, expectations, or silly habits and comfort zones.
So.  When you're in a worship service, with a heart turned toward God, or even in your private prayer or devotional time, it's easy to get your head and heart straight.  That's a friendly, supportive environment (or at least it's supposed to be).  Too bad you can't call up the choir, however, when you're sitting with the gang from work and everybody's gossiping.  Too bad you can't haul that altar into Target or Walmart.
That's where you need a different strategy. If you don't mind me saying, you need a real strategy for reconnecting with the power of God.
You need a battlefield strategy for surrender.
How it Works
Here's what works for me. I've found it to be refreshing and encouraging, able to reset my spiritual clock and reengage His peace that passes all understanding.  As above, it's a simple affirmation that starts with, "I don't have to…"
Yesterday I'm headed for the Dollar Store. Grandkids coming to town and that had serious grandkid implications.  I got behind the granddaddy of all idiots, who zigged when I zigged and zagged when I zagged. When I finally got around him I noticed he was texting while driving.
Temptation:  Yell, rage, man the horn.
Surrender point:  I don't have to get angry.
Explanation: I could, of course, but the fruit of the Spirit is self-control. The only way to access that was to surrender my will to rage to the Holy Spirit, who wanted me to show self-control.
Make sense?  I'll give you one more illustration.
Yesterday I'm headed back to the Dollar Store. (If you haven't figured it out, discount stores are teeming with evil temptations.)  I had forgotten some stuff for the grandkids and was feeling pretty stupid.
Temptation:  Yell, rage, shame myself for being stupid.
Surrender point:  I don't have to look smart.
Explanation:  Shame is often a backwards version of pride. Pride demands that we look good and win the approval of all who know us or see us. By letting go of the desire for others to approve, I am free to receive and enjoy God's grace, in which I am already completely approved by God.
The beautiful thing about this strategy is that I don't have to have all the explanations right away. Those can come later (and did). All I need is a way to simply, clearly, turn it over to God.  To surrender.  I like using the language of "I don't have to…" because it directly confronts my demands that life accommodate my will and expectations.
I have one other insight I'm learning about surrender. I'm saving that for the next post.
But for now, let me encourage you… don't stop going to church (please!), and don't stop offering your joyful surrender to the Lord on Sundays.  Just have a Monday morning or Friday night plan as well.
After all… you don't have to survive.
I consider my life worth nothing to me; my only aim is to finish the race and complete the task the Lord Jesus has given me—the task of testifying to the good news of God's grace (Acts 20:24, NIV).
Related articles