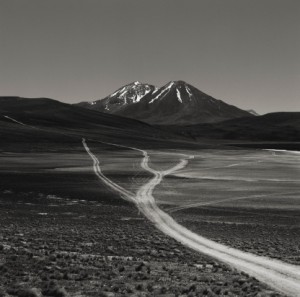 This may be a leap, but let's assume for a minute that you know what it is you want, and you're pursuing it.  I don't mean what you're conquering in your search for lunch.  I'm talking destiny, journey-of-desire stuff.  Maybe it's to influence or gain the approval of someone.  Maybe it's wisdom to make good choices or the ability to do something that's hard or impossible for you right now.
Regardless, have you ever noticed that sometimes getting there feels like an eight-lane highway?  And other times, the minute you start moving in that direction it feels like you just turned onto a muddy jungle trail?
Have you ever noticed that sometimes the journey launches like gangbusters, but then stalls or stagnates?
Chances are, you came to a fork in the road and made a wrong turn.
Robert Frost was right in his famous poem about the two roads and choosing the one less traveled by.  What he failed to mention was that life or any worthwhile pursuit is a series of forks in the road, not just one.  One road leads to a path that makes it easier to pursue your dreams; the other leads to mediocrity, failure, and defeat.
Appearances are Deceptive
Paths that lead to mediocrity and failure are well-worn and popular.  They require the least mental effort or "soul work."  But what starts off as the path of least resistance quickly turns to the path of resistance-beats-my-brains-out.
Other paths may appear to require a lot of work or may leave you feeling isolated and alone.  But somewhere in that spiritual, emotional, and mental work you activate forces that begin to carry your load, increase your speed, and move you in the direction of your truest desires.
The other tricky part about these forks in the road: Most of the time you come to them and make your choice without even knowing it. With hardly a second glance, just yesterday you made decisions that led you toward freedom or toward bondage.  Toward abundance or toward scarcity.  Toward exhilarating increase and growth or toward stagnating complacency.
What if you could recognize these forks in the road when you pass them?  What if you could make more conscious choices about whether you were making it harder or easier on yourself to achieve your dreams or desires?
I think you can.  Here are five forks in the road you deal with continually.
1.  Abundance vs. Scarcity
Whatever your desired destination, are you approaching it from a perspective of abundance or a perspective of scarcity?  I can give you a hundred reasons why it won't work.  Why whatever it is you want is impossible, that only a few "lucky" people actually get that, yada yada yada.
Scarcity thinking is hip these days, and maybe for what looks like good reasons.  Everywhere you turn, it's all you hear about.  We're out of money, out of planet, and – if you listen to the news long enough, you'll figure out – out of ideas.
Abundance thinking is rare these days.  But it's still grounded in truth.  We live in an abundant world, designed by an abundant God, who makes it possible and holds us accountable for living an abundant life.  And what looks impossible to us is easily solvable to Him.
God has given you more reasons to expect to succeed than the world has ever given you to expect to fail.  But it takes the eye of faith and a sense of expectancy to see it.  That is abundance thinking.
Abundance thinking asks:  How would I approach this if I knew I had God's limitless resources available to me?
2.  Legacy vs. Consumption
This road less travelled thinks ahead.  Really ahead.  As in, beyond your lifetime.
And yes, it's pretty lonely.  Despite the repeated messages about sustainability and green thinking related to the environment, we're still a world of consumers.  And I'm not just talking about money.
Consumer thinking is based on the idea that I should pursue whatever I want in the moment.  That may be a bag of Doritos or a lazy afternoon on the couch or an RV like my brother-in-law just bought or a government benefit.  It may be something less tangible, like pleasure in the moment or popularity.  Regardless, happiness to consumers is measured in terms of getting what I want right now.
But at what cost?
Sometimes it's little-to-nothing.  But sometimes it's at the expense of our influence, or our children's or grandchildren's happiness.
Legacy thinking is r-a-r-e.  It asks questions that require ugly words like discipline and sacrifice to answer.  (Generational note:  I'm a Baby Boomer.  We let others do our discipline and sacrificing for us.)  Legacy thinking considers the kind of things people will remember us for after we have died.  The kind of world tomorrow's child will inherit because of us.
Legacy thinking asks:  How will I approach this in a way that it will live well beyond my lifetime?
3.  Increase vs. Complacency
Here's a scene that I have seen repeated in dozens of different settings.  Somebody comes in for coaching or counseling and shares how they want their lives or marriages or careers or whatever to be different.
So we talk some, and eventually I ask, "What are you willing to go differently?"
And I get this deer-in-the-headlights look.
What?  Me?  Change?
(Sigh.)
Complacency thinking assumes that we can get what we want without changing or growing.  Somebody else may have to change or grow, but not us!
Increase thinking is based on a different assumption.  If my goal is more peace at home, then the assumption is that I need help in being more peaceful!  If the goal is to increase my income, the assumption is that I need to develop or grow or change or learn to position myself to receive more.  From a faith perspective, increase thinking knows God can make me a doctor, but will probably make me go to medical school anyway.
Increase thinking asks:  How can I approach this differently so that I grow and change?
4.  Freedom vs. Bondage
This is where the journey to your dreams gets ugly the quickest. You want to influence somebody else's behavior, but can't even influence your own.  You want to make a wise decision, but remain attached to pleasing someone else.  You want to feel good about yourself, but keep destroying yourself with shameful thinking.  You want to take that trip, but you're still paying for those Christmas presents.  From 2002.
Bondage thinking is driven by two surprisingly controlling words: "I must!"
I must do this perfectly.
I must be free of pain.
I must be in a relationship.
I must do what it takes to make him/her happy.
I must hang on to my money or possessions no matter what.
So we make decisions based on thoughts that seem right or feel good in the moment.  But what makes it bondage thinking is that later those decisions come back to collect more from us.  And more… and more.
Freedom thinking looks for ways to make decisions today that free us up to make even better decisions tomorrow.  Freedom thinking doesn't negotiate with giants – it looks for ways to kill them.  Freedom thinking says, "I'll do more than I have to today so that tomorrow I can be free to do nothing at all."
Freedom thinking asks:  How can I make choices today that will serve me later rather than me serving the choice?
5.  Eternity vs. Time
Not all expressions of abundance, influence, increase or freedom are manifested in this life.  Is that OK with you?
Would you be willing to wait 40-80 years and hear the Lord God say, "Well done!  Here's a reward that will last forever!"?
Surprisingly, the most popular answer to that is, "No.  I want what I want now."  This is what Jesus referred to as "storing up treasure on earth" (Matthew 6:19).  Time-bound thinking is sense-bound thinking.  I want to see my reward now.  I want to hear my praise now.  I want to feel good now.  That's what makes those other words from Jesus so haunting:  They have their reward in full (Matthew 6:2, 7).
Eternity thinking is willing to sacrifice the self-driven motives of the short term to lay up treasure in heaven.    It focuses on what I can give, how I can pray, how I can serve – and let's God take care of the benefits.
Eternity thinking asks:  How can I make an impact on my eternal good by the choices I make in this situation?
It's pretty easy to see why this is so rare.  But if you find yourself living with the same frustrations, seeing the same old results, or wishing for a change that never happens, don't you think it's time for a different approach?
There really is a more excellent way.