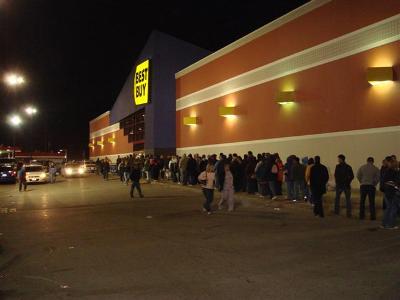 Q. – Dad, why do you wait until Christmas Eve to do your Christmas Shopping?
A. – Because the stores are closed on Christmas Day.
Christmas has its own unique mashup of truth and myths, and every year somebody ultimately brings up both.  I was asked on one occasion what my favorite Christmas myth was.  I'd like to share my reply with you.
My favorite Christmas myth has nothing to do with Nativity scenes, jolly little fat men, or reindeer with nuclear sinus infections.
It has to do with people.
Marketing people.
Gift-giving people.
Shopping people.
Did you know that not only do Christians, Muslims, Jews and atheists (April 1) have their own holidays – so also do chronically obsessive-compulsive people?  It's called Black Friday – the day when millions of people all over America get up before the chickens, dress for battle, and go to war with the millions of other shoppers in the name of conquering Christmas.
Shopping, that is.
I'll skip any references to frozen feet and butts as eager patrons await with bated breath the opening of a Target or Walmart store (filed under "Get a Life").  Or the fools who trampled a Walmart Employee to death in Long Island last year and kept on shopping.  The myth isn't about Black Friday.
It's about Christmas shopping in general.  It's the famous Law of Material Proportionate Love.  I'm sure you've heard of it – it goes something like this:  The earlier you shop, the more you love the people you buy for.
Horse-hooey!
I've made an adult career or sorts out of shopping as the sun sets on Christmas Eve.  It's delicious.  It's delightful.  It's delectable.  It's delirious.
I can't describe the sheer ecstasy of breezing through the mall or a Walmart store where the only crowd is the assembled masses trying to check out before the 5:00pm closing time.  Of selecting gifts that haven't cost someone their life or their week's pay in the name of saving a few bucks.
Now I know what you OCs are thinking.  "Gasp!  Double-gasp!  How can someone be SO uncaring, thoughtless, unloving?"
These are the same people who think that wandering for hours through stores where they never buy anything is actually time well spent.  Who equate "shopping" with entertainment or relationship-building.  (If it don't end in a sale, sister, then you're only out for a walk.)
My first Christmas Eve experience was during my first year of wedded bliss.  I'll never forget it.  We got married in June, and I took a course in Christian Finance Management a month later in grad school.  I was inspired and on a mission.  My new wife and I were on a budget.  And Christmas wasn't in it.  At least, not for each other.  We agreed that this Christmas we wouldn't get anything for each other.
I made that mistake once.  I'll never make it again.
On Christmas Eve, surrounded by my new extended family, I had two growing, nauseating, sinking feelings:
1.  My wife had broken the agreement.
2.  My extended family was about to lavish a bunch of presents on each other.
There was only one thing to do – one place to go in Brownfield, Texas, circa 1983 – make a mad dash to Walmart (not a Super-Center, mind you, but the old neighborhood-type store).  Robin's sister, Carol, had suggested that I find her dishes, or something for the kitchen.  "She'll love that," she offered, helpfully.
So about 30 minutes before the lights went out in Walmart, I walked out with a nice, Wedgewood Blue country-print set of plates and other dishes.
"Oh, honey," said Robin the next day.  "I love them!"
A couple of years later, they departed in a garage sale.
I thought they were lovely.
That squealing sound you hear?  It's the OCs congratulating each other at the demise of another procrastinator.
Not so fast, my Target-eyed friends.
Today Robin refers to them as "those ugly, grey-blue things… the most thoughtless, last-minute thing you've ever done."  Oh, but she forgets how delighted she was that morning.
Since then, three things have happened…
First, Robin has become quite the dish collector.  Since our first experience, she has amassed more than 3,148 plates, saucers, or serving dishes.  I'm sure I'm not exaggerating, much.
Coincidence?  I think not.  Every dish purchase is a reenactment of that first Christmas we shared together.  I'm just sure of it.  (Guess what I got her for our 20th anniversary?  She LOVED it.)
Second, I always (did I say always?) get my wife a present when it's customary.  Budget, schmudget.
Third?  I've gotten much more refined with my Christmas (Eve) shopping.  Practice makes perfect.  And one of the most time-honored traditions in our family is Dad's Christmas Eve stocking stuffer excursion.  It's spoken of in reverent terms, along with trips to the family farm.  It was a rite of passage when I would take one of the kids along with me.
Seasons change and things change and people change.  Last year, on our first empty-nesters Christmas, we went to the DFW area for Laura Kate's first Christmas.  So I did my shopping early.  Then Cassie called.
"Daddy," she said.  "When you get to town would you go shopping with me on Christmas Eve?"
Take that, OCs.