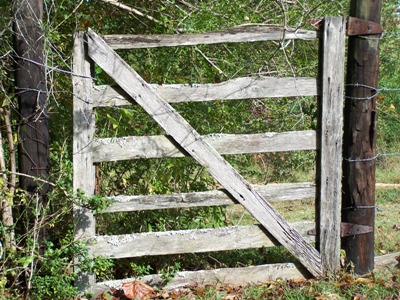 Nobody uses this gate any more.  But when I was a kid, it was a gateway to wonder.  Just north of my grandparents' house, across a small pasture, this gate opened the pathway to one of the most fascinating people I have ever known.
On the other side, just across the dirt road, there rested an old log cabin.  And inside that log cabin lived Bob and Pearl McLean.  It was years before I knew their last names.  To my sister and me, they were Cousin Bob and Miss Pearl.
Pearl McLean was the slowest-talking human I have ever known.  She lived with her husband, my granddaddy's first cousin, in a place with no running water until the day she died.  They would carry water from an iron spring, about 300 yards from the house, for cooking, bathing, drinking, watering over 100 chickens, 2 mules, and any plants they set out in the garden. 
CB and MP farmed; they grew about 5 acres of cotton, maybe 6 acres of corn, and a garden for personal consumption.  In her last 5-10 years, she finally got an electric stove.  Before then, she cooked on a wood stove.  And throughout her life, she cooked from scratch everything she made.
They never had a vehicle of any type.  During Bob's last 15 working years as a flagman for the highway crew, Miss Pearl would take a sack full of corn 2 miles through woods, clay, mud, or cold and feed cows in a distant pasture.
To my sister, cousins, and me, Miss Pearl and her husband were objects of wonder and curiosity.  They knew us and were always glad for us to come and just sit and visit.  To my knowledge, we never took that kind of liberty with any other adult we ever knew.
Miss Pearl was the chicken queen.  We routinely went on an errand from my grandmother to pick up a dozen eggs (she pronounced 'em "aigs").  One summer day, my grandmother gave me a little money and instructed me to tell Miss Pearl we needed a chicken.  It was about 2:00 in the afternoon, and I obviously had awakened her from her nap.  Not to worry.  She said to meet her behind the house.  Meandering back to one of the chicken houses (also hewn logs), she casually reached inside.  A few squawks later, I was hauling a dead chicken by the feet back up the hill to Grandmother's.
What made Miss Pearl and CB such a fixture in our imagination was that she was a delightful wonder to a child's heart.  She obviously loved us, and was completely unlike any other person in our lives.  She would carry on a conversation with us as if we were adults… telling us about her son Robert A. (she pronounced it Rahnt A.) or asking us about our school or our parents.
Time moves on relentlessly.  Miss Pearl died many years ago.  CB followed a few years later.  The log house remained empty until a brutal storm took it out in 1998.
Now nobody passes through this gate any more. 
But it doesn't mean that there are no gateways to wonder left.  And it certainly doesn't mean that wonder is the exclusive possession of children.  And just because my 18-month-old granddaughter is fascinated with the sight and sounds of cows for the first time doesn't mean there is no more novelty or anticipated surprises remaining for Papa.
Left to its own evil devices, there is something about adulthood that seeks to remove all mystery, and live life based on having everything figured out.
How boring.
So when we heard a report that at twilight you can go to the local cemetery and take pictures of a strange phenomenon, 51-year-old me was all over it, along with my adult children, their spouses, and my niece and nephew.  Sure enough – take a picture toward the cemetery and the last vestiges of daylight, and these strange orb-looking things appear in the pictures.  Take a picture in the opposite direction – you get nothing.  Sure, there's some scientific, rational explanation for all that – dust particles or whatever.
But just for a minute, I was living in a ghost or angel story again – filled with wonder and laughter and anticipation and adventure.
Wonder is about things becoming new again.  When was the last time you learned something, tried something, met someone completely new?
Wonder is about delighting in the strange or unusual.  When was the last time you allowed yourself to be immersed in mystery, with absolutely no way to predict how everything would turn out?
Wonder is about remembering that surprises are good things.  When was the last time you took your hands off the controls, or let somebody else make the decisions?
Wonder is about a steadfast belief that through that next gateway, something better – something worth expecting – is coming.  When was the last time you walked through a gateway like that?
Wonder is about hitching a ride with some astonishment-makers, and determining to enjoy where those relationships take you.  Who is that for you, and how connected are you to them?
Most of all, wonder is about connecting to the "God of wonders, beyond our galaxy."  When was the last time you were amazed by what He had done, or breathless with anticipation for what He was about to do?
Nobody passes through this gate any more.  But with expectant hearts, playful spirits, and the faith of a child, there will always be gateways to wonder.  The only question is, will we walk through them?