(The Twelve Ways of Christmas, Part 4:  The Way of Waiting)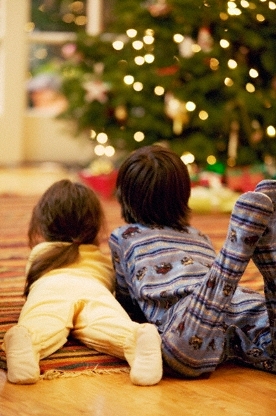 For Scotty Thomas, Christmas was cruel.  What other word can you use to describe living in a house where Dad enforced a hard-nosed rule: Christmas presents were for Christmas day?
"But can't I open just ONE?" Scotty would ask. 
"No," his dad would say, smiling.
"I think I know what this one is," Scotty would say, shaking a wrapped present under the tree. 
"Think all you want," Dad would reply.  "You may be right.  You may be wrong."  Inevitably for Scotty, it was a little of both.
Like any good 8-year-old, Scotty also had razor-sharp radar for any kid who seemed to get a better deal.  Jeremy Walker got to open the give from his sister a day early.  Jeff Dunaway opened family gifts the weekend before Christmas day.  But Scotty's appeals landed on stone.
As Scotty grew older and wiser (age 10 now), he became more sophisticated in his approach.  If he couldn't win by appeal, he would conquer by steal.  Scotty set out on a mission to find hidden "treasures."
Snooping through his dad's workshop and in the attic, Scotty hit the mother lode a full 10 days before Christmas.  A new bicycle, video games, a skateboard, some table games, a basketball, a couple of posters for his room, a wristwatch… this was going to be an amazing Christmas.
It turned into the worst 10 days of Scotty's young life.  He knew something he wasn't supposed to know, "had" something he did not yet have, felt more guilty than informed, and was terrified that if his parents found out, they would enforce their threat of taking it all back.  Knowing had robbed him of his sense of anticipation.  By the time the big day came, Christmas was old news.  He still received the gifts.  But 10-year-olds aren't supposed to know the word "tainted."
Christmas has Always Meant Waiting
If Christmas means anything, it means the Way of Waiting.  From the days Israel was promised a Redeemer, they waited – and longed for – the fulfillment of the promise.  But when the time actually came, the waiting got personal.
Mary, blessed with a miraculous pregnancy, had to wait, just like every other mother.  (Interesting… some things about the coming of Jesus were miraculous.  Others were ruthlessly ordinary.)
Joseph had to wait to return to Nazareth.
Then there was Simeon, who was "looking for the consolation of Israel."  The Holy Spirit had shown him he would not see death before he had seen the Messiah.  Here was a man of God, who was waiting on the ultimate revelation of the ultimate promise.
Then Anna, an 84-year-old prophetess and widow.  She was waiting, too, in a different sense.  She was attending to the Lord, serving night and day in the temple with fastings and prayers. 
What we read about in the Christmas stories is the fulfillment of the promise.  That, and a courtesy-mention of the promise itself.
In-between was the Way of Waiting.  For some, like Mary, the waiting had a deadline.  For others, like Simeon, it's more like "Christmas is coming, but I'm not putting it on your calendar."  You'll know it when you see it.  Until then, you live with unfulfilled desires, unfulfilled promises, and unmet needs.  All you have is a promise, and your confidence in the one who made it.
Can You Relate?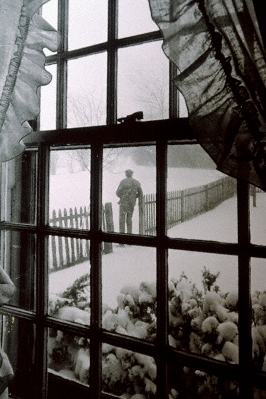 A mother believes with steadfast conviction that she will have a baby.  But she waits.
A man knows his life is to be spent in service to a cause greater than his own convenience.  He waits.
A lonely wife believes that her marriage is to be one of intimacy, companionship, and attentive communication.  She waits.
A broken prodigal returns home, armed with the conviction that his story can change somebody else's life, if only he could tell his story.  Instead, he waits.
A godly visionary dreams of a plan that can only come from God.  Now armed with a clear picture of what can be, he or she is left to wait… and wait… and wait.
Either God is a cruel manipulator, or Way of Waiting has its purposes.  I must confess, I've thought the former a few times.  But Christmas is a startling reminder that God completely understands timing.  Paul says in Galatians 4:4, "When the fullness of the time came, God sent forth His Son."  Why did He not do it sooner?  Historians tell us that God in His wisdom waited until the world had one primary language (Greek), and roadways by which to carry the gospel to the known world (Roman).
Coincidence?  I doubt it.  Nor do I believe that your delays are cruel or coincidental.
Sometimes We Get it Backwards
"I would have despaired unless I had believed that I would see the goodness of the Lord in the land of the living.  Wait for the Lord, be strong, and let your heart take courage; Yes, wait for the Lord" (Psalm 27:13).
He is a God worth waiting for!  And our faith in His ability to come through in His timing is what keeps us from despair.  But sometimes we get it backwards.  Instead of waiting on Him, we wait on the fulfillment.  Or the change.  We wait on the people, the money, the approval, the opportunity, the forgiveness, the love, or anything and everything but Jesus.
The Ishmael Syndrome
There is a certain order to experiencing God's provision and the fulfillment of our dreams.  It seems that somebody else will nearly always get what they want before we do.  (Can you relate?)  And that somebody else nearly always appears to be someone wicked.  That's why the psalmist counsels, "Don't fret. Trust in the Lord.  Do good.  Delight yourself in the Lord.  Commit your way to the Lord.  Be still before the Lord.  Wait patiently for him."
When we're caught in that tension and frustration, we face plenty of opportunities to short-circuit what God wants to do.  I wonder how many of the problems we encounter happen as a result of failing to wait on the Lord.  Think how free we could be free from financial bondage, anxiety, or a host of entangling choices if we just learned to wait on Him with trust, time, attention, and service.  I wonder how much sense Abraham really made before the Lord when he lamely said something along the lines of, "Well, Lord, I couldn't just sit there!"
Active Waiting
Hold on, Abe.  The Way of  Waiting means more than just putting up with the way things are until He changes them. To wait on the Lord means:
1.  Trust.  Waiting on the Lord involves confidently expecting Him to act in His timing.  Simeon completely trusted that the Lord would fulfill His promise.  And in the waiting, he learned to discern the Spirit's voice.  The temptation in waiting is to question the character of the One who made the promise.  God is far more concerned with you learning to trust His heart than He is in you receiving from His hand.
2.  Time.  Waiting gives God time to work without trying to help Him out or getting discouraged.  If anybody understood his life and times as being in God's hands, it was Simeon.  Once he saw Jesus, he knew he could die in peace.  I wonder if Simeon ever questioned that, or got discouraged.  As many people through the years have learned, God sees things you can't, and waits for situations you know nothing of.  Can you trust Him to understand there really is a "fullness of time" that He knows, and you don't?
3.  Attention.  In a restaurant, the "waiter" is the one who pays undivided attention (at least in theory) to the needs of the guests at the table.  To wait on the Lord is to do the same thing.  This is where worship becomes a key component of waiting on the Lord.  I find it encouraging that Simeon didn't have to be rounded up from somewhere to see the promise.  He was giving his undivided attention to the Lord.
4.  Service.  Simeon had learned a valuable lesson:  God waits on us to wait on Him!  To attend to Him before He "attends" to us.  That is what Simeon continued to do.  He saw the fulfillment of the promise as he was about the business of serving the Lord.  Here's a thought:  If you're missing the fulfillment of a promise, maybe-just-maybe the ball is not in God's court, but in yours.
 +++++++++++++++++
Scott Thomas now has two kids of his own – a boy and a girl – twins named (yes) Simeon and Anna.  His wife Shelby waits – with three months to go – for baby Joey.  And in the back seat, the twins plead:  "Pleeeeeease, Daddy!  Can't we open just one?"
"Noooooo," Scotty says in a teasing voice.  "You'll just have to wait.  Christmas presents are for Christmas day."  And thinking to himself, he adds, "And waiting is for a lifetime."  But in his heart, he knows it's worth it.