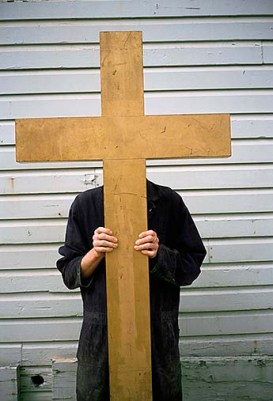 I've been noticing something in me that I don't like.  It's been around ever since somebody first said "no" to me and I ignored her or him.  But lately it's been strutting around with a vengeance, so I thought I'd expose the big puke for the world to see.  So take that, flesh.
I first noticed it in particular when I started reading Watchman Nee's classic, The Spiritual Man.  While I read some really good stuff, I find my mind racing with a torrent of thoughts.  Crazy thoughts.  Rebellious thoughts.  Ugly, fleshly thoughts.
I find it raging sometimes in church when I'm supposed to be the spiritual leader pointing toward Christ and instead I feel this compelling urge to point to me.
I notice it, strangely enough, when I'm with the people I love the most and I'm feeling a flood of emotions that are anything but loving.
I noticed it today when Chad, our youth pastor, was preaching and reminding us that the call of Christ to discipleship is a call to come and die.
"Amen," said my spirit.
"Hell, no!" said my flesh.
And so it goes.
My Own Strange Version of Halloween
That's been going on since I became a Christ follower.  The Spirit earnestly desires what my flesh stubbornly holds on to.  The flesh rages against what the Spirit cherishes. The result?  My own strange version of Halloween.  I'm caught in a crossfire between a life-giving Spirit (Holy Ghost?) and a corpse that refuses to pack it in.  Can I get a witness?
The flesh loves to negotiate.  It loves to calculate, to fantasize, to flirt.  In fact, the flesh will back down to all but two things:  simple recognition ("That's the flesh!") and death ("Reckon yourselves dead…").  It thrives on denial and rationalization.
Jesus said, "It is the Spirit who gives life; the flesh profits nothing. The words that I speak to you are spirit, and they are life" (John 6:63).  The source of life is the Word of Jesus, and the Spirit.  The flesh profits nothing because it can't give life.  And it's life that I am truly hungry for.  Someone once wrote, "The belief that spiritual hunger can be addressed on a physical, material, or financial level alone is its own special form of insanity."
Front-Page News
So I tell you this, and insist on it in the Lord, that you must no longer live as the Gentiles do, in the futility of their thinking. They are darkened in their understanding and separated from the life of God because of the ignorance that is in them due to the hardening of their hearts. Having lost all sensitivity, they have given themselves over to sensuality so as to indulge in every kind of impurity, with a continual lust for more.

You, however, did not come to know Christ that way. Surely you heard of him and were taught in him in accordance with the truth that is in Jesus. You were taught, with regard to your former way of life, to put off your old self, which is being corrupted by its deceitful desires; to be made new in the attitude of your minds; and to put on the new self, created to be like God in true righteousness and holiness (Ephesians 4:17-24).
These verses, written thousands of years ago, are like front-page news to my flesh.  They describe patterns of thinking and behaving that only know one solution – to count them as crucified by Christ.
The thinking is futile.  It produces cyclical behavior that is never satisfied.  It chases fantasies that never become reality.  And it leads to behavior that doesn't really produce the desired consequences.  That is why it is described as futile.
The understanding is darkened.  It's not that my flesh is stupid.  It understands – it just understands incorrectly.
It is alienated from the life of God.  It has a tendency to seek out spiritual death, either by licentious folly or by legalistic bondage to religion.
The heart is hardened.  When the flesh does hear the truth, it resists – it hardens its heart in order not to feel the guilt, the shame, and the spiritual loneliness that comes from a life alienated from God.
It is licentious beyond guilt.  It just practices what it wants, and is no longer sensitive to things which once brought conviction.
It is greedy, always craving more.  It may appear generous or loving, but the truth is, he wants what he wants and has no concern for anyone else.
Its desires are deceitful.  Whether it is physical pleasure, material comfort, or personal affirmation, the lusts of the flesh assume that "if I could just have _____, then I wouldn't want anything else."  That's what's deceitful about it.
(I guess I should pause here and mention that, while I'm calling down my own Big Ugly, these verses apply to yours as well.  Deal with it.)
Letting Go of the Corpse
Here's a familiar reminder, with fresh implications:
"I have been crucified with Christ; it is no longer I who live, but Christ lives in me; and the life which I now live in the flesh I live by faith in the Son of God, who loved me and gave Himself for me (Galatians 2:20).
In order to live victoriously in this life, I have received three things:  Christ's life, Christ's faith and Christ's self-giving love.  These are established possessions, not something I have to strive for, bargain for, pursue or perform.  There is no situation, no addiction, no frustration, no failure that the life, the love, and the faith of Jesus in me cannot respond to with power.  (Even when I'm in church.)
But I need to remember, I'm not just putting off the Old Man.  I must replace him with the New Man – the Lord Jesus.  And when that happens, everything that characterized the old man is reversed.  Thinking becomes hopeful.  Understanding is enlightened.  Life flows from the life of God.  The heart becomes sensitized.  Conviction replaces shame and licentiousness.  Greed gives way to loving generosity.  And lusts are recognized for what they are.
So while the flesh is screaming, "I want to live!" the Spirit is celebrating a victory already won.  The "Old Man" – my flesh – was crucified with Christ. Not only has the sin been covered, but the sinner has been judged and executed.
There is no way I can improve on what Jesus has already done.  Maybe that's why the Bible so often tells the "upright" (N.T. – saved) to rejoice.  I need to quit trying to do the work that has already been done, and make the choice to rejoice.  The old man who abused me is dead.
Thank you, Lord Jesus for doing more than just wiping my slate clean.  You crucified the energizing force behind my sins.  And now, because You live – I live!
Wow.  I guess it really is "Holy Week" – no matter when you read this.