(Fumes, Form and Fashion, Part 1)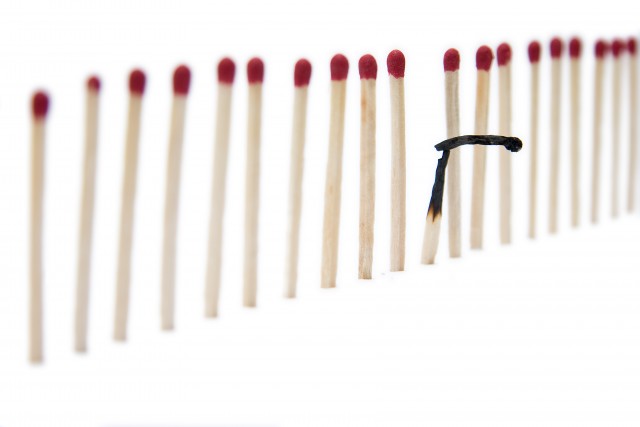 Thomas Watson Sr., founder of IBM, often said, "Everybody, from time to time, should take a step back and watch himself go by."
Good wisdom. But hardly lived.  It's reminiscent of the often-repeated story of the African (or Incan, depending on what you read) porters who carried the goods of an English (or American) type-A personality through the jungle with increasing pace for three days. Finally, on the fourth day, they matter-of-factly refused to go further, despite the pleas of the Western, time-bound explorers.  When asked for an explanation, they simply said, "We have been traveling so fast, we have to wait for our souls to catch up with us."
There's a simple word for that, often reserved for quaint memories of the good old days or emergency sessions of the Jesus Name Disaster Management Club.  It's called renewal.  And we were all born with a need for it and with built-in alarms that notify us – if we're paying attention – when we need it.
One of the common exchanges I have with people goes something like this:
"How's it going?"
"It's going."
Translation:  Things are going so fast, I'm too busy to stop and ask how.
We live in a culture where people feel guilty – or are made to feel guilty – for not being busy all the time. Or we feel a sense of urgency to fill all the waking (and some sleeping) minutes with something.  And the result:  People are just tired.  Physically. Emotionally. Spiritually.
Yes, that probably means you.
If you were battery-operated, your little red light would be blinking.
If you were a gas engine, you'd be running on fumes and wondering how you made it this far.
If you were a football game, you'd be fourth and ten and calling in the punter.
You're tired!
Compare That to This
Renewal is a common theme in the Bible.  Here are some examples.  How does this compare to your experience?
Yet those who wait for the Lord
Will gain new strength;
They will mount up with wings like eagles,
They will run and not get tired,
They will walk and not become weary (Isaiah 40:31).
Doesn't that just sound amazing?  Encouraging? Refreshing?  So how's that soaring like an eagle coming?  What's it like to run and not get tired?  Here's another one:
 Therefore we do not lose heart, but though our outer man is decaying, yet our inner man is being renewed day by day (2 Corinthians 4:16).
Paul describes as part of his normal, every-day experience an internal renewal process that keeps him going, even in the face of discouraging circumstances and an aging body.  Do you know what that's like?  In another place he encouraged believers:
And do not be conformed to this world, but be transformed by the renewing of your mind, so that you may prove what the will of God is, that which is good and acceptable and perfect. (Romans 12:2)
Interesting. Something about an intentional process of mentally renewing ourselves daily helps us demonstrate to the world what God's good will is.  Sort of a cloudy, dark implication there, too – that NOT renewing ourselves makes it hard, if not impossible, to live out God's will.
There are plenty more references to this, but I'll leave you with this one – a prayer David offered during one of his darkest seasons:
Create in me a clean heart, O God, And renew a steadfast spirit within me. (Psalm 51:10)
Did you notice Who actually does the renewing?  Yeah, God.  So what I gather just from these four little references is that God has created every believer with the capacity to leverage our relationship with Him in such a way that we are like recharging batteries. All we have to do is position ourselves to receive the recharge, and God does all the work.
I can't see anything that could possibly get in the way of that, can you?
Go Back to the Beginning
Okay, enough with the dripping sarcasm.  If you're running on fumes, or feeling emotionally, spiritually or even physically drained, how can you position yourself to receive new life from God?  Here's a thought:  Go back to the beginning.  Read again where God created life in the first place.
Oh… and here's another little thought… we know that God "rested" from his work on the seventh day.  But the Bible never says He quit, stopped, or died.  The same God who created the world is still creating or re-creating something in you today. And the same creative energy that brought whole galaxies into order can realign the stars and planets in your life as well.
In the Genesis story of creation, you will find three words that describe God's creative activity. In this post I'm just dealing with the first one.  And it's a doozie.
Then God said, "Let there be light"; and there was light. God saw that the light was good; and God separated the light from the darkness. God called the light day, and the darkness He called night. And there was evening and there was morning, one day (Genesis 1:3-5).
Then God said…  (Genesis 1:6)
Then God said… (Genesis 1:9)
Then God said… (Genesis 1:14)
Then God said… (Genesis 1:20)
Call me slow, but I'm noticing a pattern here.
Over and over again, God spoke, and when God speaks, truth happens.  And ever since something in our DNA has longed for a word from God.
Moses said it and Jesus quoted it for good measure: "Man shall not live by bread alone but by every word that proceeds from the mouth of God" (Matthew 4:4).
David told the Lord that if he couldn't hear God's voice, he may as well be dead (Psalm 28:1).
His word is life! And that starts for us with His written word. Not just a rote habit of "daily Bible readin's" as we like to say down South.  But cracking open that book to reveal the heart of One who is "alive, powerful, and sharper than any two-edged sword" (Hebrews 4:12).
Does the Lord speak in other ways?  Yes. But always consistently with His written word.  You can read more about that here and here.  And don't tell my wife, but you can read about the Holy Spirit Salad here and laugh along.
But the point is not whether or not God is still speaking.  It's whether you and I are taking the time to listen.  If you're spent and exhausted, wondering whether you'll have the energy to put one foot in front of the other, you should know the answer to that.
How long has it been since you took the time to listen – truly listen – for the voice of God as you read his word or listened for the still, small voice of the Holy Spirit?
There's eagle-soaring, strength-renewing, run-off-the-devil-empowering life there, friend.
But there is another key from our creation to finding renewed strength.  More on that next time.
For now, recognize the hunger every human has for a word from God. And take the time to slow down, shut up, and listen.