Why Chariots of Fire Remains One of My Favorite Movies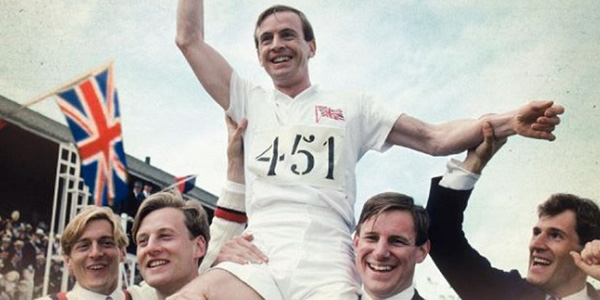 Bring me my Bow of burning gold:
Bring me my arrows of desire:
Bring me my Spear: O clouds unfold!
Bring me my Chariot of fire!
-William Blake, "Jerusalem"
I was a single seminary student in 1981 when I passed a bulletin board poster for the film Chariots of Fire. Rex Reed called it "A masterpiece." Vincent Canby described it as "an exceptional film. Unashamedly rousing, invigorating."
I figured it was on the seminary bulletin board for a reason, so I bit.
I've been smitten ever since. Through 32 years of marriage, three kids, 8 grandchildren, and various twists through life, that movie with its iconic 80s soundtrack and cast of young dreamers still captures my imagination. But only recently have I stopped to consider, at the urging of counselor and life coach Dwight Bain why this film still resonates nearly 35 years later.
I don't care whether you love it, hate it, or have never even seen it. Behind the partly-fictionalized story of Great Britain's 1924 Olympic team lies the epic question that challenges anybody who ever aspired to anything:
Why do you do it?
I won't rehash the details of the plot which you can easily find here or here. I'll just say that four characters in the film reflect four driving motivations. At any given time, any of these characters can represent my driving force for what I do, and each has its place. These motive checks allow me to consider whether my "why" is useful to my life purpose and goals.
In other words, I may be doing the right things, but for impotent reasons.
Why do you do what you do?
Running as Whimsy
Bring me by Bow of burning gold…
Inspired by Lord Burghley, who actually won the gold in the hurdles in 1928, Lord Andrew Lindsay was an English aristocrat and naturally gifted as a speedster. Lindsay ran for the same reason he did everything, it appears – for the sheer joy of it. It is he as an old man who opens the film with this eulogy:
Now there are just two of us – young Aubrey Montague and myself – who can close our eyes and remember those few young men with hope in our hearts and wings on our heels.
Never taking himself, his life, or even his nobility that seriously, the movie shows Lindsay training on his palatial grounds after smoking a cigarette and setting glasses of champagne on each hurdle.
Oh, if he had only been more ambitious!
Oh, if he had only been more disciplined!
In other words, oh, if he had stopped being who he was.
Lindsay is a reminder of great athletes like Don Meredith or Billy Sims, who cut short their careers because it just wasn't fun anymore. Life is not always measured by the feats to be accomplished, but sometimes by the fun to be experienced. Some people will spend a lifetime never understanding that.
And that's sad.
Running as Wanting
Bring me my arrows of desire:
Aubrey Montague's quiet, loyal perspective frames much of the film. He writes to his mother:
I'm sorry you and Pa are disappointed that I should be letting the Olympic Games interfere with my shorthand, but I'm going on with them just the same. If you were my age, with a chance to win the world championship in Paris, you'd be just as big a fool as I am.
Montague didn't have the natural athleticism or angry drive that his friend Harold Abrahams did. When the two meet in the film, Aubrey is loaded down with all sorts of athletic equipment. Harold asks him about being a sportsman, and Aubrey responds in his aw-shucks demeanor, "All show really, though I do enjoy it."
When Abrahams says he's a runner, Aubrey replies, "Really? So do I. Only trouble is, I can't stand getting beaten."
Make no mistake – Aubrey wanted to run and wanted to win. But not at the expense of his humanity or his other interests. His heartbreak at finishing sixth in the Steeplechase was truly heartbreak – until it soon wasn't.
"You, Aubrey, are my most complete man," Abrahams tells him afterward. "You're brave, compassionate, kind: a content man. That is your secret, contentment…"
Those arrows of desire drive an enormous part of our lives. We want to get that job or promotion, we want to succeed in that endeavor, we want to make that impression, we want to flourish in that relationship – and it's disappointing or heartbreaking when we don't get it. But we don't define our entire lives by it.
Frankly, that's why some desires remain unrealized. But sometimes the sacrifice required is too great. Or sometimes the other guy is smarter, faster, stronger or more determined than we are. So we feel the pain and (hopefully) move on.
OR we revel in the success… and move on.
Running as a Weapon
Bring me my Spear: O clouds unfold!
"Do you love it?" Sybil Gordon asks her eventual husband of running.
Harold Abrahams replies: "I'm more of an addict. It's a compulsion with me, a weapon I can use."
"Against what?" Sybil asks.
"Being Jewish I suppose."
To Harold, running was a weapon. He ran because he had something to prove – something to overcome – and the only way to prove it was not just to run, but to "run them off their feet."
Losing for Harold was not an option. Though never stooping to cheat (no steroids in this flick), Harold pressed every advantage he could because, by God, somebody was going to respect him as a man, despite their anti-Semitism. Interestingly, in order to become successful, Abrahams had to become teachable and ask for help. But that was a small price to pay.
The larger question for those for whom running is a spear is, what happens when you succeed? Can you lay your weapon down? Some people never know what that's like. They know how to win the fight, but not how to manage the peace.
In a poignant scene just before his 100 meter victory, Abrahams speaks to his friend Aubrey:
I'm 24 years old and I have never known [contentment]. I'm forever in pursuit and I don't even know what I am chasing…. And now in one hour's time I will be out there again. I will raise my eyes and look down that corridor; 4 feet wide, with 10 lonely seconds to justify my whole existence. But WILL I? Aubrey, I've known the fear of losing but now I am almost too frightened to win.
Win he did. But just as important, he laid his weapon down. In real life, Harold Abrahams discovered another "why."
Running as Worship
Bring me my Chariot of fire!
Eric Liddell's missionary father advises him:
You can praise God by peeling a spud if you peel it to perfection. Don't compromise. Compromise is a language of the devil. Run in God's name and let the world stand back and in wonder.
That's what Eric Liddell did. He used his gifts to declare the worth of his God – but not at the expense of compromising his convictions. His globally-famous stand against running on Sunday would remain a mystery to those elitists who could never understand what made him run. The Duke of Sutherland seemed to be the one exception:
The "lad," as you call him, is a true man of principles and a true athlete. His speed is a mere extension of his life, its force. We sought to sever his running from himself.
"I believe God made me for a purpose," Eric tells his sister Jenny, "but he also made me fast. And when I run I feel His pleasure."
In the wake of the movie's success, some people in Christian and non-Christian circles alike mistook the movie for a treatise on winning. They missed the point. Eric Liddell ran with excellence as an expression of worship. It was the running where he felt God's pleasure.
Some would call that an anointing.
What do you call yours? Where do you find the convergence of ease and excellence – even if it's just "peeling a spud?" What's your chariot of fire that carries you to blazing expressions of spiritual energy and power, from which you refuse to compromise? What do you have to offer in the midst of an otherwise ordinary life that overflows with gratitude and declares to the world the greatness of your God?
Regardless of the age or stage of life, lurking beneath the surface of our "what" (our accomplishments or actions) and our "who" (our identity) lies the driving force behind it – our "why."
Ignore the "why" and your dreams fizzle faster than the Saints' Super Bowl hopes. Ignore the "why" of those you lead, and you'll never understand their reluctance to buy into your new ideas or vision.
Get to the "why," or the "what" won't matter and the "who" is only window dressing.
Why do you run?