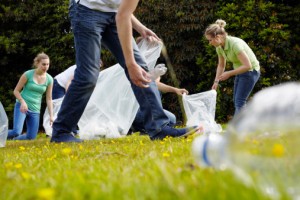 When they were filled, He said to His disciples, "Gather up the leftover fragments so that nothing will be lost" (John 6:12)
An interesting instruction from Jesus after the feeding of the 5,000.  And certainly an object lesson.  Jesus wanted his chosen Twelve to see something. To learn.
He returns to this theme a few verses later, when He says in verse 39, "This is the will of Him who sent Me, that of all that He has given Me I lose nothing, but raise it up on the last day."
Into the lives of these twelve men, Jesus was building the quality of being a gatherer.  And He was starting by showing them something He would actually do for them in the near future.  When Jesus was arrested, they all scattered.  They "forsook Him and fled."  Yet He gathered them up.
He also sent them to be gatherers of men.
Miraculously-produced fish and bread?  Useful, I suppose, but more of an object lesson.
To be a gatherer, they had to have a servant's heart.  I learned this when we owned three restaurants.  It's a pretty humbling thing to pick up after somebody else's meal.
To be a gatherer, they had to have attention to detail. "No crumb left behind" was the theme.
To be a gatherer, they had to have a sense of sanitation and cleanliness.
To be a gatherer, they had to have a sense of stewardship – that not even the miraculously-produced fish and bread was theirs to be wasted.
To be a gatherer, they each had to do their part.  Thomas didn't have to pick up Peter's basketful, but he was responsible for his own.
To be a gatherer, they had to be diligent, and not rest until the job was done.  And the job wasn't done when the bellies were full.
In a similar sense, today Jesus calls us to be gatherers, and there is definitely work left to be done.
Want to honor God?  Offer yourself to Him as a gatherer.  Present yourself as a human fragment collector… so that nothing – or no one – will be lost. It's often messy, ugly work, for which there is no human gratitude.
But Somebody's cheering. And when He says "Well done," I think He means it.
Related articles