(A Conversation…)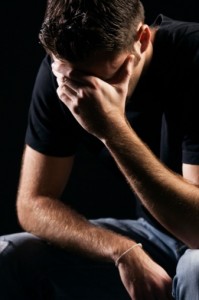 You can't do that.
What?
You can't disappoint God.
What do you mean I can't disappoint God?
Just what I said.
Well I don't think He's too pleased!
I didn't say you can't displease Him.  That's a different conversation.  I said you can't disappoint Him.
Okay, why do you say that?
Because to be able to disappoint Him, you'd have to be able to surprise Him.  And whatever else He is, He is not surprised.
He knew this would happen?
Yep.
He let this happen?
He gave you a choice.  And you made it happen.  But none of it caught Him by surprise.
(Silence… wheels turning…)
You can certainly disappoint people.  Frankly, I'm disappointed in you.  I'm sure you're disappointed in yourself.
(Nods… tears flowing now…)
But get this… God knew all this would happen before He saved you.  But He saved you anyway.  Can you explain that?
(Shaking head…)  Grace, I guess.
Yeah.  Grace.  But much more than that.  It's also purpose.
I don't know what you mean.
Before creation, God predestined you – pre-planned and laid out a path for you – to be conformed into the image of His Son.  He knew that to get there, He would encounter some stupid choices, careless action, and even rebellious resistance from your flesh.  But that didn't change His purpose or weaken His resolve.
What do you mean, "my flesh?"
The Bible calls it "the old man."  It's basically human nature – your old nature – apart from God's influence.
In other words, my sinful nature?  I mean, we're all sinners, right?
Yes.  But here's the thing.  What you call "your sinful nature" is dead.
It wasn't very dead last night!
Of course it was.
Well if my sinful nature or flesh is so dead, why was I able to lie, cheat, and hurt a lot of people?
Same way a headless chicken can if you don't get out of her way.
What?
Ever see a chicken get its head cut off?
Not live.  But I did on YouTube once.
Why am I not surprised?  Anyway.  Technically the chicken is dead the minute it's decapitated. But for a minute or so, it has incredible energy and power to do a lot of crazy things.
(Smiling through the tears for the first time…) So now I'm a decapitated chicken?
Much more than that.  Your flesh – your "old man" – was legally put to death when Jesus died, and you began to realize that the moment you trusted Christ.  But just as every fiber of the chicken's body tries to resist and, for lack of a better word, tries to "live," so also does your old nature – even though it's been put to death.
Sounds crazy.
Yeah?  How "crazy" was what you did last night?
Pretty crazy.  So what am I supposed to do now?  I feel like God's a million miles away.
How do you want to feel?
I want to go back to how it used to be, when I was growing and hearing His voice and He was so real to me.
Okay.  He gives you a road map there.  Listen to this:
"So remember the high point from which you have fallen. Change your hearts and lives and do the things you did at first" (Revelation 2:6, CEB).
Three things he says there – remember how it used to be, change your heart and life, and do what you used to do.
It's that simple?
Simple, yes.  Not always easy, because it takes time sometimes to see the kind of results you are wanting to see.  Plus you have some relationship mending you need to do.
That's for sure.
But right now we're focusing primarily on your relationship with God.
I just feel like He's given up on me.
That's because you're wanting to give up on yourself and that's a cop out.  But He's a lot smarter than you are.  And He sees what you can't see.
What's that?
He sees what you're becoming.  He sees the finished product.  And He won't relent until He's done with you.
You really believe that?
I know it.  And I have it on really good authority.
And I am convinced and sure of this very thing, that He Who began a good work in you will continue until the day of Jesus Christ [right up to the time of His return], developing [that good work] and perfecting and bringing it to full completion in you (Philippians 1:6, AMP).
Related articles