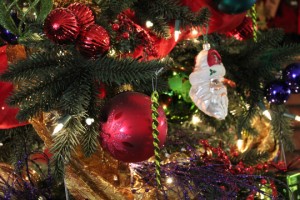 Many years ago the cartoon character Cathy expressed the anxiety many people feel this time of year.  She says to her boss:  "My left brain is making lists of people I haven't sent cards to yet.  My right brain is at the craft store, thinking up creative gifts I could make before Christmas.  My nerves are at the mall, worrying whether I should have gotten the other necktie for my Dad.  My stomach is still at last night's party begging for more Christmas cookies.  My heart is stuck in traffic somewhere between my mother's house, my boyfriend's house, and the adorable man I saw at the post office."
Her boss asks, "What is it you want, Cathy?"  Cathy replies:  "May what's left of me sneak home early and take a nap?"
For many people, Christmas has become something other than a celebration.  It's more like a mission. The holiday, instead of being a holy-day, has become a holocaust.  The celebration has become a sale, "Silent Night" has become replaced with "Walmart Fight."
And have you noticed how guilty you always seem to feel at Christmas?
You spent too much money, or didn't spend enough.
You didn't get everything your kids asked for, or the present wasn't the right size.
You didn't give enough to the church or the Salvation Army.
You "put Christ back into Christmas" and were "too spiritual," or you had too much Santa Claus and reindeer.
Do you ever wish you could just somehow go back and start over?  Football coaches have a good term for this:  they call it going back to the fundamentals.  Let's give that a try this year.  Let's make Christmas a celebration again… 100% guilt-free!
1.  Make relationships more important than circumstances.
In the original Christmas story, times were tough.  It seems that Christmas always has a way of calling attention to that.  Now you have a choice at that point.  You can dwell on how hard things are, or you can focus on relationships instead.  That's what you see happening around Bethlehem…
Mary and Joseph had it tough, but they had each other.
"Savior," "Christ" and "Lord" – the names given to Jesus by the angel to the shepherds, all emphasize relationships.
"Peace on earth, good will toward men?"  Relationships.
When the shepherds spread the news about the birth of Jesus, that has to do with relationships (v. 18).
Yes, things are tough all over, but let me tell you the difference between the person who enjoys Christmas and the one who just endures:  The one who enjoys his Christmas is the one who refuses to let hard times destroy his relationships.
Here's an idea. On a blank piece of paper, draw 5 concentric circles (that's one inside the other).  From the inside out, label them by putting names in each layer.
1. (center) – you.
2.  People you feel closest to.
3.  People who have been good to you.
4.  People you admire.
5.  People who may need you.
Now.  Sometime between now and the end of the year, reach out to those people somehow.  Say thank you or "Merry Christmas."  Express your respect or love to someone.  Make yourself available.
2.  Make a choice to rejoice.
Christmas is an invasion of joy into what were previously miserable lives.  We love to romanticize the shepherds in the Christmas story, but it's important to know, the shepherds were despised people, living in foreign occupation, when they were personally given some fantastic news.
For unto you is born this day in the city of David a Savior, who is Christ the Lord (Luke 2:14).
You want to make Christmas a celebration again?  Go back and find the "good news."  We're talking about the birth of a Savior!  Do you know what that says about you?  That you're worth saving!  And that's good news.
Christmas is the birth of a "Christ" – a Messiah.  That says you're worth leading!  And that's good news.
Christmas is the birth of a Lord – a King.  That says you're worth being included in the kingdom!  And that's good news.
You can choose to focus on how hard everything is or how you'll just be glad when it's all over.  Or you can choose to recognize what this fantastic news says about you and me.
3.  Take time for reverence
Lots of contrasts in the worship surrounding the first Christmas.  That's probably still a good idea.  The angels praised God loudly with shouts (not songs) in a multitude.  The shepherds had a glad fellowship.  And at the manger?  A holy hush.
If you want to make Christmas a celebration again, try doing all three.
Find a crowd somewhere and get rowdy.  Make some noise and whoop it up, or sing it out.
Enjoy the glad fellowship of your friends and family.
Take time to be still. Close your eyes, and pretend for a minute you're one of those shepherds.  Gazing at the Lord of heaven and earth in an animal trough.
4.  Repeat the story!
When the shepherds had seen the baby Jesus, they left and told what they had seen and heard and what it meant to them.
Did you get that?
Here's what I saw and heard.
Here's what it means to me.
Hey guess what?  You have a story, too.  So tell somebody!  Don't limit yourself to just formally reading the Bible text to somebody.  Try developing your own "Christmas testimony:"
My life used to be like ___________ (the shepherds, Mary, Joseph, wise men, Simeon and Anna, etc.)
Then I had a personal meeting with the baby who was born in Bethlehem (explain how it happened).
This is what that relationship means to me…
So.   Want to make Christmas a celebration again?  Go back to the fundamentals…
Relationships…
Rejoicing…
Reverence…
Repeating the story.
That's what made the first Christmas worth remembering and celebrating.  I think it'll work for yours, too.
Related articles