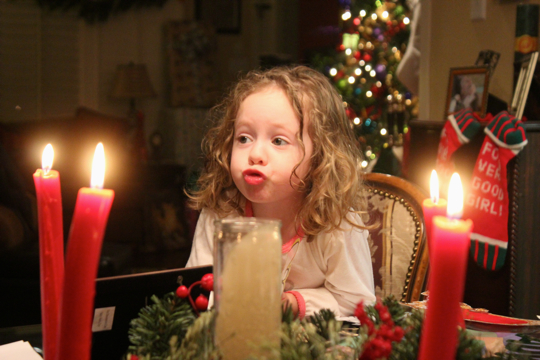 Remember what it was like as a kid to go to sleep on Christmas Eve?
Stockings hung with care, note and snack left near the tree…
Listening with both ears for any sound that resembled, well, anything…
Sneaking a peek out the window to see if you could see, you-know-who…
Trying to go to sleep cause you-know-who can't you-know-what until you're fast asleep.
[Cue the choir…]
Then came the morning!  Wow!  Where to start?  All that stuff!
And then…
Remember when that first toy broke?  The watch didn't work?  The clothes didn't fit?  The stuff wore out?
That's what stuff does.  Even the stuff of big boys and girls.  A little time and experience tell us that.  But here's the beautiful thing about Christmas.  At some point you figure out that things are temporary and don't satisfy, but that doesn't spoil the heart's ability to hope.  It just changes what you hope for.
Christmas creates the hunger and hope for something that lasts forever.
That strand of twinkling lights will someday be a tangled mess in the trash.  Those scented candles will eventually burn out or break.  That's the way of things.  But when lives are a tangled mess or hearts are burned out or broken, the message of Christmas is that your heart can take flight again, with something that lasts forever.
So fill out your wish lists, get that shopping done, and enjoy all the giving and receiving.  But know that the greatest gifts you can receive won't be dropped down a chimney or wrapped under a tree.  The greatest gifts you can give or receive are the ones that last forever.
You and I can never fully appreciate Christmas until we realize what a kiss of love it was that God Himself would come to a violent, hate-filled, repugnant world to save it.  It was love that sent Him here and love that sent Him to a cross.  All He asks in return is for you to fall in love with Him in return.  That's something that lasts forever.
We can never completely understand Christmas until we see what an act of faithfulness it was that God would fulfill those long-ago prophecies and redeem a fallen world.  Christmas is the ultimate declaration that God didn't forget to be faithful to you.  And what He asks in return for His faithfulness is your faith.  To trust Him, both for eternal life and for today's needs and challenges.  That's something that lasts forever.
We can never ultimately understand Christmas until we capture how completely lonely and hopeless the human race is – that's you and me, if left to our own devices.  And what makes Christmas such an Oh, Holy Night is that the God of heaven invaded our cosmic loneliness with hope.  And what He asks in return is for your hope – to build your future with steadfast confidence in Him and His promises.  That's something that lasts forever.
This Christmas, in the midst of the fresh fragrances, the laughter and joy of friends and family, the fireplaces and mistletoe and (of course) all that food, as you give and receive, look for the gifts that last forever.
Give them…
Receive them…
Faith.
Hope.
And the greatest…
Love.
Related articles