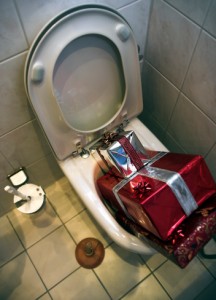 This just in, in case you missed it.  Christmas is less than a month away.
True confession:  Yesterday I snarled in my journal,  "I'll just be glad when it's over."
But today, in honor of the late Zig Ziglar, who passed away yesterday, I'm "doing a checkup from the neck up."
Every year, we have the same choice when it comes to the enchantment and the challenges of the holidays.  Do we hunker down, sit tight, and hope for the best?  Or do we seek to flourish?  To make the most of our relationships, our worship, and even our painful experiences?
Survive or Thrive?  It's up to you.  It's up to me.
When it comes to being a thriver, here are five suggestions, for how you can come out of the bunker and actually have a season of delight:
1.  Ask the Lord for a generous heart. 
This is a season of giving; we all get that.  But there is a huge difference between giving from the hand and giving from the heart.  While survivors focus on things like limitations and human ability, thrivers give from the heart, according to God's ability!  They are not shackled by their own limitations, but give out of amazement at the grace of God that has been poured out on them.
2.  Pursue your family again. 
Remember when you wanted those children?  When you welcomed those new in-laws at the wedding reception as another son/daughter/brother/sister or whatever?  Hey guess what?  Regardless of the water under the bridge, they still are worth pursuing – not just enduring.  Thrivers take the time to appreciate family, even if they don't always approve of what those family members are doing.
3.  Ask God for a new outpouring of His love. 
It's easy for the holidays to become a big, fat cliché.  Obligatory thank-you's, fake smiles, even excuses for why you can't make the party or the present was late.  But what about the gift that's timeless?  The one what serves as the whole foundation for what Christmas is about?  What if we asked the Lord to fill us up with a new love for the crowds at the mall or gas station?  Or for coworkers, or the homeless, or nursing home residents?  You can have love without Christmas. But you can't really have Christmas in its fullest sense without love.
4.  Worship in a variety of ways. 
Worship is built into a lot of Christmas celebrations.  But what makes the worship special, if we truly enter in to it, is the opportunities it offers for variety.  To really thrive this Christmas, you need to do something joyful, even boisterous, with friends or family.  Laugh a lot!  Sing old and new songs.  Do a little mashup with Andy Williams and Reliant K.  At the same time, get alone as much as you can.  Be still.  Know He is God.  He adores being adored.  Take that variety to Church with you.  I'll guarantee you, if you come with an adoring heart, you will be refreshed by the wonder that is Christmas – regardless of your age or musical taste.
5.  Go back behind the scenes. 
Behind the star, the shepherds, Mary and Joseph, and a tax-crazed government, God made a decision to become flesh and dwell among us (John 1:14). What would drive Him to do such a thing, for a world too busy to care?
Grace.
Love.
A desire for relationship.
When we say that "Jesus is the reason for the season," we're only getting it half right.  Yes, Jesus is the reason for the season – but we  were the reason for the decision.  He came to save sinners… born to die, so you and I could live.  When you can connect again with the fire that burned in God's heart that first Christmas morning, how can you help bur thrive?
If you can see beyond the obligations, express God's love as shown through giving and receiving, and celebrate the purpose that drove Him to become a man in the first place, Christmas won't have to be a game of survival.  You really can thrive.  And in doing so, you can help others thrive as well.