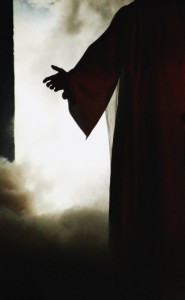 Jesus got himself in some pretty interesting predicaments.  Seems strange to me – He could walk on water and command the winds and rain, but He never could satisfy a bunch of legalists about why He performed miracles (miracles!) on the Sabbath.
"This can't be from God.  He didn't keep our rules."
Sigh… I just wish somehow… oh, never mind.
Anyway, on one occasion, Jesus healed a man who hadn't walked in 38 years.  It took place at the Pool of Bethesda and yes, it was on the Sabbath.
And yes, Jesus had to account for his tawdry behavior.  Here's what He said:

"Truly, truly, I say to you, the Son can do nothing of Himself, unless it is something He sees the Father doing; for whatever the Father does, these things the Son also does in like manner. For the Father loves the Son, and shows Him all things that He Himself is doing; and the Father will show Him greater works than these, so that you will marvel" (John 5:19-20)
How's that for accountability?  "All I did was what I saw the Father doing," He said.  "That's all I can do."
The Father, out of His love for the Son, shows Him all the things He is doing.  The Son, in faith, love, and obedience, imitated His Father.
Fast-forward to a promise of Jesus made about the likes of you and me:
"He who believes in Me, the works that I do, he will do also; and greater works than these he will do; because I go to the Father" (John 14:12). 
The significance of that promise is that the Holy Spirit would indwell every believer, and reveal the Son to us.
Same Father.  Same Son.  Same process – made possible by the indwelling Holy Spirit.
We serve a God who loves us so much, He inhabits every believer for the purpose of revealing Himself to us.  And the end result of that is that the works He did, we can do.
So why aren't we doing those things and more?  Because we are not seeing what He is doing.
And why aren't we seeing what He is doing?
Because, unlike Jesus, we don't believe that we can do nothing of ourselves.  Somewhere we still walk around with the conviction that we are adequate for the task.
Try this, if you dare.  Today and every day, offer the Lord your complete inadequacy to do anything of your own strength or initiative.  Then in faith begin looking to Him to see what He is doing.
Now.
In this moment and this situation with these people or situations.
Then by the power of the Spirit, be an imitator of your Heavenly Father.  But be prepared:  When God works through people like that, sometimes it leaves you with some 'spainin' to do.