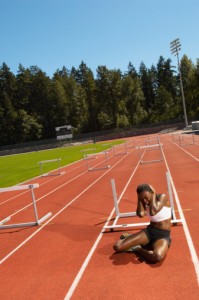 Christmas 2004.  I'm pretty sure it was the last time I made the trek to Deer Bluff.  Pictures were the thing this year, and one day Joel wanted to go to Deer Bluff to take some.  It was nice to be back there, this place near the family farm that has always captured my imagination.
At one point I was up on top of the bluff and Joel was down below taking pictures of the initials carved in the stone near the small cave.  Meandering through the volcanic rock and fallen branches, I tripped over a log and fell with a thud on my stomach and shoulder.  I also hit some sort of piece of wood, and cut a couple of plugs out of my fingers.
The fingers were the ugliest, but the shoulder was the greatest concern.  Lying there, I wondered if something had been broken.  Later, my biggest fear was that I had torn my rotator cuff.  Finally, a year later, the MRI showed I had shredded the tendons in my shoulder and yes, I would need surgery.
Awesome.  So that's what a stumbling block is.  And I was right in the middle of a stumbling zone.
In the same way that a fallen pine tree became a source of pain and frustration when I wasn't paying attention, you and I encounter stumbling zones in the spiritual realm as well.  What makes them so dangerous is our tendency to ignore them or be blind to them because, like the pine tree, they can blend into our environment so well.  Here are 8 snares to beware of:
Unbelief
"Why couldn't we cast him out?" the forlorn disciples asked Jesus.  "Because of your unbelief," He replied.  It was the one thing that both surprised and frustrated Jesus most about his disciples.
It's also the fundamental snare that most often turns our hearts away from God today.  When we become too lost in what we can see, or how smart we think we are, or what we assume about ourselves or God, we set ourselves up for a major crash.
Mediocrity
This shows up in several forms.  Sometimes it looks like apathy.  Sometimes it's compromise.  Sometimes it looks like a heart that just doesn't care enough to pay attention.  Until it's too late, that is.  Sometimes it takes the form of what Jesus called "the cares of this world and the deceitfulness of riches."
Whatever the form, when we lose our commitment to personal excellence, we leave ourselves vulnerable.
Ignorance
People have given their lives in a quest to own all or part of a Bible and understand what you and I sometimes tend to ignore or take for granted.  And ignorance alienates us from the life of God because it reflects a blind heart (Ephesians 4:18).  It's one thing to be ignorant because you're innocent; it's another to have truth at your disposal and not take advantage of it.
Self-will
Raise your hand if you like being told "no."  Nobody does, of course.  But when you stubbornly insist on getting your own way, you're as guilty as an idolator (1 Samuel 15:23).
The rawest forms of self-will are the pursuit of pleasure, materialism, and pride.  What makes it so dangerous is that we become so used to our own desires and ways of thinking, we confuse gain with godliness.
Discouragement
I still think discouragement is spiritual cancer.   When you reach the point in one area of your life where you give up, you are exposing other areas of your life to the same danger.  That's what makes it a snare.
Same goes for spending too much time with discouraging people.  The world is filled with "why bother" experts and if one latches onto you, their discouragement is contagious.
Dead Religion
Paul warned Timothy of the last days, when people would have a form of godliness but deny its power (2 Timothy 3:5).  I think we may be there.
Dead religion is dangerous because it's self-deceptive.  One of the deceptive things about it is that it can masquerade so well.  We are capable of talking the language without knowing the heart or meaning of the words.  It's all too easy to go through the motions without allowing our hearts to be transformed.
Strife
The devil is smart enough to know he doesn't have to trap you with bad morals or evil desires in order to trip you up.  He just needs somebody to get your parking space.  Or pew space.  He just surrounds you with insensitive jerks.  Then he says, "Here, hold this" as he hands you yet another offense.
I'm convinced that one of the first things we're going to notice about heaven is that nobody's fighting anymore.  Meanwhile, it's so normal here, the strife becomes a stumbling block we largely ignore.  That's why we call them stumbling blocks.
Fear
Fear is a snare because it comes out in so many different ways.  Anxiety.  Worry.  Avoidance.  Barking.  Yes, barking.  I finally figured out one day that the reason our dogs bark sometimes is that they're afraid.  So they use their bark to sound a warning – "Stay away!"
People do the same thing – we just use words or attitudes or grouchy dispositions to keep people at arm's length.    Why?  Because we're skeered.  We don't trust.  And why is this a snare?  Because you and I badly need courage to make wise choices and other people to build strong lives.  Fear robs us of both.
Stumble Insurance
Wouldn't it be great if we could "be in good hands," knowing that "like a good neighbor" our insurance policy would prevent us from stumbling?  Wouldn't it be awesome to know that our God has made a way to completely avoid the humiliation and frustration of being tripped up?
He has.  And it's all by grace (meaning, you can't purchase it).
Therefore, brethren, be all the more diligent to make certain about His calling and choosing you; for as long as you practice these things, you will never stumble (2 Peter 1:10).
It's a pretty audacious promise to guarantee somebody they will never stumble.  But that's exactly what Peter says here.  As long as you practice "these things" you will never stumble.
That sure makes me want to know what "these things" are, how 'bout you?  In their context, Peter said previously:
For this very reason, make every effort to add to your faith goodness; and to goodness, knowledge; and to knowledge, self-control; and to self-control, perseverance; and to perseverance, godliness; and to godliness, brotherly kindness; and to brotherly kindness, love. For if you possess these qualities in increasing measure, they will keep you from being ineffective and unproductive in your knowledge of our Lord Jesus Christ (2 Peter 1:5-7).
"These things" – faith, goodness, knowledge, self-control, perseverance, godliness, brotherly kindness, and love – are qualities that Peter says we can have in increasing measure.  And they do more than just produce personal growth – they also protect us from stumbling…
Faith is our protection against a heart that turns away from God in unbelief.
Goodness, or virtue or personal excellence is our protection against a heart that would stumble through apathy or compromise.
Knowledge – a desire to add to our spiritual understanding – is our protection against a heart that would stumble through spiritual blindness.
Self-control is our protection against a heart that would stubbornly insist on getting its own way.
Perseverance is our protection against a heart that would stumble by quitting.
Godliness is our protection against religious imitation that has the form of godliness, but not the power.
Brotherly kindness is our protection against a heart that holds onto offenses and strives against fellow believers.
Love – perfect love – is our protection against fear because "perfect love casts out fear" (1 John 4:8).
Come out of the stumbling zone.  Start with faith and build on it.  And know that as you grow in those graces you are more and more able to live and move with authentic power.