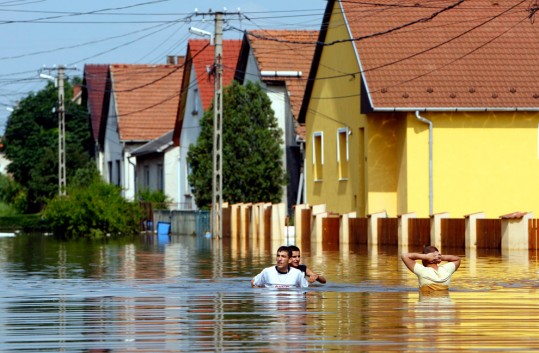 When the burdens overwhelm me
And the floods begin to rise
When I see the circumstances
Through lonely, helpless eyes,
There's a place to go for refuge
And a place to be restored.
And when the storm has passed away,
I'll be stronger than before.
It's a place called Higher Ground.  David referred to it as a "rock that is higher than I" (Psalm 61:1).  "Take me there when my heart is overwhelmed," he prayed.
Growing up on the Gulf Coast, it was fairly common to hear small craft advisories and warnings of approaching storms or hurricanes in which people in "low‑lying areas" are warned to move to higher ground.  The danger for them is that the storm can literally overwhelm them.
In Psalm 61, David finds himself in a situation in which he is under such pressure of heart that he doesn't think he can deal with it by himself.  He's in a "low-lying area" spiritually and circumstantially.  Can you relate?
Higher Ground.  To people in the wake of a hurricane, it may be a third-floor office in the city or an elevated highway or somewhere – anywhere – north.
To people at a gas pump, it may be the local Econocar dealership!
To people in a hospital waiting room, it may be the ancient, but living words of the 23rd psalm.
To people whose hearts have been gutted by rejection or abuse, it may be an authentic sense of peace that really does "pass all understanding."
But to anybody – anybody – who feels overwhelmed beyond their capacity to believe, behave, be happy or be strong, there is something more.  God offers to take you to Higher Ground.  He wants to use our circumstances to lift us to a stronger position in Christ.  He wants to take you to a place – spiritually or otherwise – where you could never go by yourself.  (And, frankly, never would try to go unless you had to.)
He shelters me when the storm is all around
His still, small voice of love is still the sweetest sound.
And when my broken heart is overwhelmed,
I look to Him to be my help
And Jesus lifts me up to higher ground.
What if the low spot is a hollowed-out bowl of your own making?  What if you've built your man-made defenses, and your fleshly strength wasn't good enough?  What if your own personal "levies" broke, and you're exposed as a looter, a liar, a loner, a loser?
He's your Higher Ground for that, too – your gracious place to run to freedom from the dregs of your own life.  His grace will cleanse you, carry you, correct you, caress you.  He's your Rock, and He's higher than you.
What if you're standing on the high place and you feel helpless to help when so many hurt so badly?  Then you have a calling and a message.  The calling – to help people find the way to the Safe Place.  The message – "You're safe here.  Jesus cares, and so do I."
I will choose to live forever
In communion with my King.
I will trust all my security
In the shelter of His wings.
And I'll keep my eyes upon Him
And learn to know His ways.
And if I live or if I die,
I'll lift my voice in praise.
This special relationship with God hinges on three commitments David made to the Lord in Psalm 61.  And get this – he didn't make these commitments when the storm had blown past, all was well, and the CNN trucks moved on to another story.  David made these commitments when the winds were blowing, the floods were rising, and his heart was overwhelmed.
The Commitment of Fellowship
"I will abide in Your tabernacle forever," he said (v. 4).  The tabernacle, and later the temple, represented the manifest presence of God in Old Testament times.  This was the place where people went to have their sins forgiven, to hear the voice of God, and to pray.
In New Testament terms, Jesus Christ Himself has become our meeting place, and He invites us to a life of ongoing communion with Him.  Before the storm.  During the storm.  After the storm.  "Come to me, all who are weary and heavy-laden, and I will give you rest," Jesus said (Matthew 11:28).
I love the graphic imagery of that King James phrase "heavy-laden."  The heavy load you carry is what makes it impossible for you to get to Higher Ground.  So Jesus offers you His friendship and fellowship – all your sins forgiven, ongoing communication in love.  And in the bargain of all bargains, He says to you, "Let me carry that for a while."
That's Higher Ground.  But it waits for your commitment of fellowship.
The Commitment of Faith
"I will trust in the shelter of Your wings" (v. 4).
Ever hear the story of the barn fire that destroyed everything, including livestock?  After the blaze someone found the charred remains of a hen.  When they gently moved the body, out scurried a half dozen or so baby chicks.  They had trusted in the wings of their mother to keep them safe, and she did so, with her own life.
I know, I know.  That's chickens in a barnyard.  It's silly to think that God would love people so much that He would offer shelter and peace at the cost of His… oh… wait a minute…
The question has never been whether God loves you enough to shelter you during your darkest days.  The cross of Jesus has forever settled that question.  The question is, will you trust His heart, even when you can't trace His hand?  Will you believe Him, even when your world is dark and your heart is broken and you don't have answers?
The Commitment of Praise
"So I will sing praise to Your name forever…" (v. 8).
When David prays this, he's still in the storm and the water's still rising.  He's not gushing in gratitude because everything worked out A-OK.  He is fixing his heart and his gaze on God, come hell or you-know-what.
Praise is not an overflow of emotion back to God.  It is a commitment to keep your eyes on Jesus, no matter what happens.  Sometimes praise is an eruption of joy and gratitude, to be sure. But sometimes praise is a sacrifice.  And when David said he would sing praise to God's name forever, I think he meant it.  He understood that his dark days didn't make the Lord any less worthy of praise than his days of glory.
Forever means forever.  And that's how long God is worthy of your praise.
You feeling overwhelmed lately?  Are you laboring under a burden you just can't carry anymore?  Do you feel as though you need help getting to a safe place you can't seem to find on your own?  Do you feel beat down and exposed, and need a place of shelter and peace?
I know Someone you can trust.  Someone you can cling to.  Someone who's worthy of your praise, even when you don't feel like praising.  Someone who loves it when you call on His name.
He shelters me when the storm is all around
His still, small voice of love is still the sweetest sound.
And when my broken heart is overwhelmed,
I look to Him to be my help
And Jesus lifts me up to higher ground.
(Photo Credit:  REUTERS/Karoly Arvai)
(More photos here.)