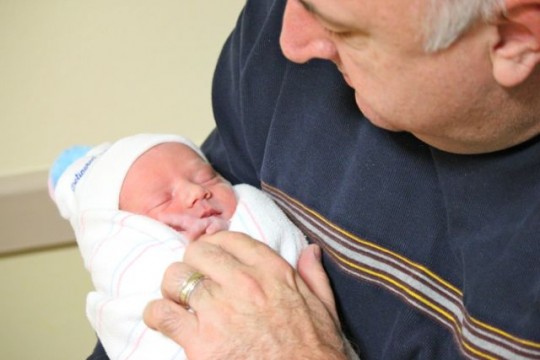 You entered our world today – January 5, 2012 – a little early, but with no shortage of anticipation, excitement and joy.  We have known for some time that your big brother Cohen would be sharing playing time with a little brother.  But that's not the same as being able to see you, hold you, delight in you, and brag on you to the world.
Game on.
Let the seeing-holding-delighting-bragging begin!
The world you have been born into is a strange and beautiful place.  Right now in places like New Hampshire and South Carolina, Republican presidential candidates are courting actual votes of real people in primaries, after spending a year courting poll results and press attention.  All of that for the privilege of challenging President Barak Obama in this November's election.
Meanwhile, it looks like another guy named Kennedy is running for Congress, another Arab former leader is headed for a hanging trial, and another proud University of Alabama football team is playing for a national championship in a rematch of this year's version of the Game of the Century.  I know all this is new to you, but these things happen a lot.  You'll get used to it.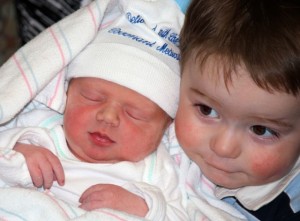 If ever there was someone born to be a big brother, it's yours.  I know it takes years to make the man, but Cohen is off to a great start.  He's a wonderful combination of strong and tenderhearted.  He will soon show you all the tricks of the trade – like Nerf Gun fights, throwing balls of any type, handling animals, and tiptoeing around sleeping parents.
Your Daddy is quite a guy – one of the most patient, relaxed, yet caring men I have ever known.  As a man, you will look back and wonder how someone could be so patient and kind.
Your Mommy is one of the smartest people you will ever know, and it's probably a good idea if you remember that when you're tempted to argue.  She also happens to believe that the whole world would be a better place if everybody would just sleep a little more.  Master that and you'll make her day.
Both of your parents decided long ago that following and serving Jesus was not some token thing, but a lifetime passionate pursuit.  You will see that in their work, their worship, their leadership, and their love and care of you and your brother.  Both of them have set out to change the world in their own unique ways, and only eternity will record the differences they have made in people's lives.  You will do well to follow their example.
We need to talk about your Grammy.  Hmmm.  I would say her reputation precedes her, but when it comes to grandchildren, she's always a mile ahead of her reputation, and pulling away.  She will spoil you, play with you, make lots of racket with you, fill the house with pictures of you, feed you, and anything else you may need or want.  She will also pray for you more than you will ever know.
Soon enough you will meet cousins, aunts, uncles, other grandparents and great-grandparents.  You're going to discover soon enough that you have a remarkable heritage and a great family.  You'll hear stories, discover trails blazed by those who have gone before you, and have opportunities to grow that will span a lifetime.
Somewhere in all that you'll meet someone amazing named Laura Kate.  That's all I know to say to prepare you for that.
Your name means "Shining on mankind."  Mission accomplished already.  You are already lighting the world of every life you touch, and there is no reason to expect anything different anytime soon.
Another variation means "Brave, vigilent."  You'll spend a lifetime learning what that means.  But my prayer for you on this day is that already the Lord would begin building in you the perception to be a watcher, and the courage to take action wherever it is needed.  I also pray for you that you that you will become one of those men who knows how to give courage away to others.  God knows, we need it.
Your middle name – James – is one I have carried all my life, and one that has been part of my family for generations – including your great grandfather (Cohen calls him Pipaw).  James was the name of one of the first disciples of Jesus and the first Christian martyr.  It was also the name of the half-brother of Jesus, who was known for his diligent prayer life.  That is a great heritage – both family and biblical – to stand on and a great example to follow.
In the meantime, there's a lot of learning and growing and playing and laughing and crying and sleeping (don't forget the sleeping) and oohs and aaahs and something called birthdays and Christmas.
Over time you will do many things to delight us or please us or disappoint us or even break our hearts.  But you will do nothing to make us love you more or love you less.  Already we have set our love upon you, and regardless of your performance, there is nothing you can do to change that.
So welcome, little Shining Brave.  We're beyond joyous that you're finally here.  Now let's have some fun.