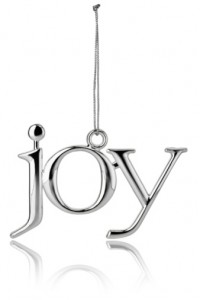 Joy.  It's probably the most common word associated with Christmas.  You see it on the faces of every witness and every participant.  Though it was expressed very differently, every single character in the drama that was the birth of Jesus experienced profound joy.
Maybe that's why we try to go back and relive the story every year.  Maybe that's why we do the children's pageants, exchange the gifts, and pull families (best we can) back together for Christmas.  Maybe we're in search of the joy that can be so elusive.
The details of the coming of Jesus – and those who experienced it – point the way to how you can I can experience a joy that's timeless, and doesn't depend on the circumstances or the calendar.  Here's a sampling of the 12 Joys of Christmas that are yours to experience year-round.
1.  The Joy of Expectancy
Something about anticipation of a better day – of a work of God or the fulfillment of a promise – allows us to borrow the joy before the day ever gets here.  That's what Mary experienced when she had an encounter with the angel Gabriel.  That's what John the Baptist experienced long before he started baptizing – and even before he was born!
When you feel defeated by your circumstances and tempted to whine or become bitter, it's time for a joy infusion.  You may not like what you're seeing with your eyes, but that doesn't have to rob you of what you can anticipate by faith.
2.  The Joy of Presence
"They will call His name Immanuel, meaning 'God with us'" (Matthew 1:24).   Something about being aware of the presence of the God invites us to enter into His joy.  David said in Psalm 16:11, "In your presence is fullness of joy; at your right hand there are pleasures forevermore."
Sometimes we interpret this to mean that to experience joy we have to stop what we're doing – you know, the important things – and pray or go to church or something.  But that's not what the promise says.  Joy comes when you are aware of the presence of God as you pay your taxes, face the stress or boredom of work, or take care of the kids.  Christmas is a joyful reminder that the God of heaven is actually interested in hanging out with the likes of you.
3.  The Joy of Salvation
You can't read the Christmas story and avoid this.  Christmas is the birth of a savior.  Mary rejoiced in "God my Savior."  Call his name Jesus, Joseph, for he shall save His people from their sins.  Simeon prayed, "My eyes have seen your salvation."
Hey, guess what?  We need a savior!  We're a lost, sinful mess.
Hey, guess what else?  We have one!  And Christmas is a delirious reminder that in matters of life, death, and eternity, God is playing for keeps.
4.  The Joy of Peace
"Peace on earth," the angel armies declared.  And I think we've pretty much been at war ever since.  But what the cynics don't recognize is that peace on earth begins with peace in the heart – a peace that passes all understanding.  And peace in the heart begins with peace with God.  And peace with God is what Christmas is all about.
The birth, death, and resurrection of Jesus is God's final offer of terms for peace.  What more could He offer? But here's the beautiful thing… once we experience peace with God, we can then know the peace of God.  And joy comes from knowing you never – ever – have to be anxious again.
5.  The Joy of Sharing
"I bring you good news of great joy, which shall be for all people," the angel said.  The joy was in the news and sharing it.  It still is.
I know of nothing that will bring joy and fulfillment to the life of a believer like that of drawing people to Christ through their lives and witness. Obviously that includes sharing the gospel with nonbelievers.  But it also includes sharing the encouragement and hope of Christ with struggling or hurting believers as well.  Be a reason somebody chooses to rejoice today.  You'll find your own version of joy in the process.
6.  The Joy of Wonder
Mary was Wonder Woman, for more reasons than you expect.  She was a ponderer.  She knew that events full of surprise and bigger than life were taking place both in her body and all around her, and that she was a part of something eternally amazing.  Yes, she had questions.  But she didn't allow her lack of understanding to rob her of the joy of witnessing all that God was doing before her eyes.
When was the last time you looked up from that pile of whatever it is that you're nose-deep in and found the "wow!" of something to wonder at?  When was the last time you quit demanding to have everything figured out?  God's magic and the miracles are everywhere to behold.   And there you'll find the joy also.
7.  The Joy of Glory
"Glory to God in the highest!" the angel armies shouted.  "We beheld His glory," John said in retrospect.  "Glory of the only begotten of the Father…" Christmas was the invasion of the beauty and worship-filled majesty of the Lord God into a world made ugly by our brokenness.  No wonder the first instinct of people everywhere when Jesus was on earth was to fall at his feet and worship.  That's where joy comes from – seeing His glory, in spite of the lack of our own.
The word for that is "worship."
8.  The Joy of Fulfillment
Joy comes from the satisfaction of seeing or experiencing what you have been waiting for.  Simeon had experienced the joy of expectancy, and so had Mary.  But something completely different takes place when waiting turns to witnessing and promises are fulfilled.  This is the joy of sight.  And there's a little secret here if you're still in waiting mode for something to be fulfilled…
Just.  Look.  Around.
How many other things do you already have that were the fulfillment of a waiting season (try starting with those kids)? The joy of fulfillment isn't limited to the immediate good news.  God's gifts continue to give joy long after the waiting is over.
9.  The Joy of Discovery
"Wise men still seek Him," right?  Yeah, they also find Him.  They rejoiced – whooped it up – when they saw the star over the place where the child was.  Why was Jesus called "Wonderful Counselor" in the prophecy of His birth (Isaiah 9:6)?  Because God knew we are a desperately seeking race.  And all our searching is ultimately for Him.
Here's the fun thing about the joy of discovery.  Sometimes the joy is in finding exactly what we are looking for.  Sometimes it's in finding something completely unexpected.  Either way, there remains a universe of discovery awaiting us – and behind it all is a God who created all we have and have yet to discover.
10.  The Joy of Giving
The wise men brought Him gifts.  Each had special significance.  Each was an extension of the one doing the giving.  And each contained its own experience of joy.
There is no joy in obligation, and precious little in duty.  But gifts given freely, willingly, thoughtfully to those who are in need or in relationship bring more joy to the giver than the receiver.  And God loves cheerful givers.  How?  By giving them breathtaking joy in the process of giving.  And here's the really good part… It doesn't have to be Christmas to do that!
11.  The Joy of Sonship
"As many as received Him, to them He gave the right to be called the sons (and daughters) of God" (John 1:12).  Isaiah prophesied that this baby would be called "Everlasting Father."  And in the process we would have the joy of a new name – a new identity – written on our hearts forever.
When the Bible refers to being God's child, it carries with it more than just a name.  It means you are his heir.  Being formed in His likeness.  Object of His delight and pleasure.  Being a child of God means He has set His love – and joy – on knowing you.
12.  The Joy of Covenant Love
"Full of grace and truth."  That's how John described the glory He witnessed in the coming of Jesus.  Those two companions are always linked to what we experience when we are in covenant love with God.  It's the Old Testament word often translated "lovingkindness."   It's the goodness of God being expressed toward us because of His grace and faithfulness to His promises.
Joy isn't found in discovering how awesome you are.  It's found in realizing how awful you are, but how artful the Lord is in extending a new name and new hope and new life to you… in grace.