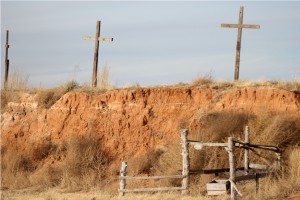 Our family came back to the pick-a-name zone recently.  And that always comes with a reminder.  Despite our best intentions and denials, we here in the West look at names for the most part as that – names.  Something to holler to pick your kid out in a crowd. Something of a heritage to carry along to the next generation.  Something to give meaning when we want it to.
Otherwise, it's pretty much just a name.
Not so in the place where Jesus was born.  A person's name was a reflection of his or her character, calling, and destiny.  And when their character, calling and destiny changed, so did their name.
That brings me to the first Christmas.  When the coming of Jesus was prophesied and announced, God was doing more than sending heavenly birth announcements.  He was declaring identity and revealing character.  And what Jesus was born to be, He still is.
In twelve different ways before and during the birth of that baby, God was saying to the world, "I love you." And this Christmas, He's still declaring it.
What did you say was that Baby's name?
Immanuel
"The virgin will be with child and will give birth to a son, and they will call him Immanuel"-which means, "God with us" (Matthew 1:23).
For centuries as God revealed Himself to His people, He was many things.  He was God over us. Commanding us.  Apart from us.  Against us. Calling us. Delivering us. Judging us.
Jesus changed everything.  He's now God with us.  He ate with us, taught, healed and hugged us, laughed with us, and loved us with His presence.
He knew our religion would never overcome the divide caused by sin.  So He reached out to hang out with the likes of you and me.
He still does. Your loneliness, longing, and feelings of isolation or guilt haven't changed the fact that He is and always will be Immanuel.
Wonderful Counselor
For a child will be born to us, a son will be given to us; And the government will rest on His shoulders; And His name will be called Wonderful Counselor…(Isaiah 9:6).
The phrase literally means "Wonder‑counselor."  "Counselor" speaks of His ability to understand. "Wonderful" speaks of the amazing quality of His understanding.
And Jesus was as-advertised.  No one understands the things of God or human nature like He does.  He knows you better than you know yourself.  No one understands your feelings, or how to guide you like Jesus.
For all the good that kindhearted, wise people can do for you, no one is a wonder-counselor like Him.
Mighty God
The word "mighty" literally means "Hero."  Jesus was "God my hero."  The contrast between this Child and other rulers is that the kings of the world rise to power on the basis of human power, and Jesus overcomes with the power of God.
Jesus overcame the power of the devil (Colossians 2:15).  He still does.
Jesus overcame the power of the world (John 16:33).  Ditto.
Jesus overcame the power of sin (Romans 8:2).  The same is true today.
Whatever Jesus does, He does with limitless power.  With us.  To us.  In us.  Through us.
Everlasting Father
As easily as we rattle off the phrase "Heavenly Father," it's easy to forget what a radical concept this was when Jesus arrived.  He was the one through whom God first revealed His father's heart.
The primary role of a father is to provide security.  The word "everlasting" emphasizes that while many times our earthly fathers may fail us or disappoint us, Jesus never will.
As our Everlasting Father, Jesus provides all the security we need.  He gives us the security of our needs being met.  The security of feeling special and important.  The security of His protection.
Prince of Peace
Most earthly rulers established their greatness on the basis of winning a war.  This king is different.  He establishes His kingdom on the basis of peace.  But because He is eternal, this title means more than just the end of war.  He also brings an end to the conflict between God and Man ‑ and the only way to do that is to end human sin.
So why don't we see more peace on earth?
Because Jesus brings peace only when He becomes the prince.  You can't have the peace without the prince.
The Word
In the beginning was the Word, and the Word was with God, and the Word was God… The Word became flesh and made his dwelling among us. (John 1:1-2, 14)
The idea of "the Word" is that Jesus was God's revealed logic, wisdom, creativity and truth – all made accessible in a person.
He's still the one who makes sense out of the senseless.  He still is source of all creativity and imagination, beauty and splendor.  He still is the source of all wisdom – not through a series of factoids or maxims, but through a relationship.  He is still the way, truth, and life who shines in the dark places of your world.
Son of the Most High
He will be great and will be called the Son of the Most High (Luke 1:32).
The phrase "son of" meant more than just a physical descendent in scripture.  It also means "likeness of."  To say that Jesus was the "son of" the Most High meant that He was ultimately like the Most High.
Want to know what God is like?  Even to this day, look to Jesus.  Look at what He stops for, and what spurs Him on.  Notice what moves Him to tears or stirs Him to anger.  What He teaches and who He reaches out to.  All of that and more is still true of Him today as the Son of the Most High.
Son of David
the Lord God will give Him the throne of His father David (Luke 1:32).
What's such a big deal about being a descendent of David?
The fact that He was born to reign. The fact that He was not just the Son of God, but also the "son of man" – and in this case, the image bearer of one described as "a man after God's own heart."
The fact that He knew His Father intimately, overcame enemies powerfully, loved others deeply, led his people justly, worshipped his God beautifully.  All of this and more, which described David's life, points most gloriously to the life and reign of Jesus.
Savior
Today in the town of David a Savior has been born to you… (Luke 2:11).
Christmas means the birth of a Savior.  And that has massive implications.  Every other baby in history was born to live.  Jesus is the only baby born for the express purpose of dying as a substitute for your sin.
You can't have a cradle without a cross.  And you don't have a Savior without the inconvenient truth that in all our awesomeness, we are completely lost and undone without one.
That is why Christmas is so glorious.  It announced the birth of the One we most desperately needed.
Christ
This was not Jesus' last name.  Christ is the Greek translation of the Hebrew, "Messiah."
He was the promised Messiah, whom the prophets said be from Abraham's lineage, of the tribe of Judah, directly through the throne-lineage of King David.
He would be born in Bethlehem, but his first spiritual work would be in Galilee.  As he stood silently before His accusers, the Messiah would be ridiculed and mocked, rejected and killed.  He would be our intercessor, establishing a new and lasting covenant between God and man.
Every Messianic prophecy in the Old Testament was fulfilled in the person of Jesus Christ.  All you need for eternal hope and life is found in Him, and only Him.
Lord
Another name we casually toss around.
"Lord" means absolute, undisputed authority.  Master.  Boss.  Despot.
Not Good-ole'-Boy in the Sky, or a nickname for deity.
Authority.
From the beginning, He was declared to be Lord.  And God makes it clear:  Every knee will bow and every tongue will confess that He is Lord.
You are not your own boss.  And you can decide whether that's a happy discovery or the terror of your life.  Either way, Jesus – and only Jesus – is Lord.
That's why Herod wanted him killed.  That's why religious hypocrites wanted him crucified.  That's why the Romans put to death anyone who wouldn't confess that Caesar was lord – and why Christians would gladly die proclaiming that Jesus is Lord.  His Lordship has become either a cornerstone or a stumbling block for everyone who has ever lived since.
Jesus
"Call His name Jesus," the angels would say repeatedly to His parents.  Why?  "For He shall save His people from their sins.
Names meant something.  And Jesus – the Greek version of the Hebrew, "Joshua" – means deliverer, or savior.  Literally, "Jehovah saves."  Even His very name – the very root identifier of who He was – pointed to His mission and who was behind it.
Mission accomplished.
Message received.