(The Further Adventures of Eugene Davis, Sophomore Christian)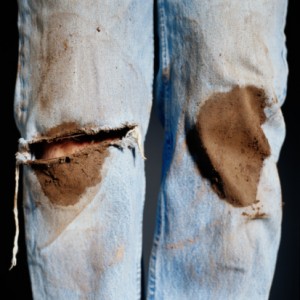 "I've found it!"
I looked up from my desk to see the beaming face of Eugene Davis, my favorite sophomore Christian.  Eugene had been following Christ less than two years, but had shown considerable growth during that period.
Trouble was, he knew it.
His zeal for new knowledge was refreshing.  But his impatience with others and the seriousness with which he took himself could be annoying.
"Must be another evangelism gimmick," I thought to myself as I asked politely, "Found what?"
"I've found THE sign of a good parent."
Now I had learned not to be surprised at anything that came from Eugene's mind, and since I had recently started teaching a class in effective parenting, he succeeded in getting my attention.  I thought I had heard them all – unconditional love, "I messages," eye contact, firm discipline, etc. – but no conference or seminary class had ever prepared me for this.
"Dirty knees," he said with enthusiasm.
The expression on my face must have questioned whether Eugene had just fallen off the turnip truck.
"No, I'm serious!" he continued.  "You can tell a good parent from a mediocre one by the amount of time he spends on his knees."
"Well, I'd certainly go along with that," I said in my best pastoral voice.  "Like I've said many times, there is no higher calling than the call to pray."
"Yes, but there's more to it than that.  When you take the time to get on your knees, you see the world from a whole new perspective – that of your child."
"That's pretty good," I thought aloud.  "What you're saying is that a good parent is one who can see things from his or her child's point of view."
"That's right.  And I'll tell you another thing.  Show me a mom or dad with dirty knees, and I'll show you one who has been playing with their kids.  My kids have decided that if I'm on my knees, for whatever reason, it's time to play.  Yesterday I was on the floor looking under the bed for a shoe I had lost.  Next thing I know, my three-year-old is jumping on my back."
By this time, I was writing all this down.  Eugene went on.
"Kneeling is also a sign of humility.  If there's one thing I think I can do that my dad couldn't, it's apologize.  My parents' generation must have thought they couldn't make mistakes, and that if they did, that they shouldn't admit it."
"It doesn't warp your kids for them to know that you are human," I added.  "This is good stuff, Eugene."
"There's one more thing.  Have you ever tried to walk on your knees?"
"Well, I don't make a habit of it.  I make better time on my feet."
"Exactly," he said, proud of himself. "Maybe if we spent more time on our knees, we wouldn't always be hurrying our kids along and wishing they were older.  We would then have the time to enjoy them at every age."
"I hope you don't mind if I share this with my Parenting class this  week," I said, actually impressed.  But honestly, what captured my attention the most was the way those simple concepts applied to me, then as a parent and now as a grandparent.  What my children and grandchildren need is very different than some of the things I tend to focus on.  And now that our kids are all parents or parents-to-be, even now as adults they need adult-sized versions of the same thing.
They need to see my knees are dirty.
My children and grandchildren need my faithful prayer.  My understanding.  My time.  They need to know that I'm human, and that I know what to do when I fail.  And whatever their age, they need a Daddy or Papa they can laugh and play with.
I stayed seated until Eugene had gone.  I didn't want him to see how clean my knees were!
I smiled to myself as the door closed behind him.  Who knows?  Maybe it's time for ol' Eugene to move up to the junior class.