(Tense Truth:  Every believer occupies a position of victory and authority because of the finished work of Christ. But we can position ourselves to fall victim to Satan – an already-defeated foe.)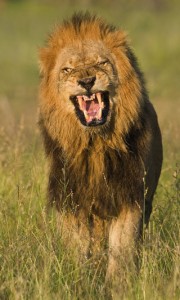 He's the player to be named later.  The unwelcome guest at any crisis, the unspoken stalker behind every fear.  He's the artful author of your doubtful thoughts about God and the persistent reminder that you should just go ahead and quit. 
And before a wise apostle concludes his note of encouragement to suffering believers, he puts in a plug to remind you and me…
This lion doesn't sleep tonight.  Or any night.
Pull back the Curtain of the Seen in the Land of the Obvious, and you will find that behind every frustration, accompanying every conflict, and beside every expression of trust in God, a battle is being waged.  And you're in it.
Be of sober spirit, be on the alert. Your adversary, the devil, prowls around like a roaring lion, seeking someone to devour (1 Peter 5:8).
Like a lion, your adversary is incredibly efficient.  Why should he waste energy on a new temptation when the old ones work just fine?  Why should he work hard to attack you head-on when it's a lot easier to draw you to a place – a battlefield – where you weren't equipped to survive?
Paul once wrote that "we are not ignorant of his schemes" (2 Corinthians 10:11).  If you don't take anything else away from this article, take this:  Satan's greatest power is his power to deceive.  And 99% of the spiritual warfare you will ever do is in your mind.  His goal is not to fight you – it's to get you into a fight you can't win – with God.
Here are seven "battlegrounds" he lures you to, where the battle is practically over before it starts:
1.  Your Points of Conflict
You younger men, likewise, be subject to your elders; and all of you, clothe yourselves with humility toward one another (1 Peter 5:5).
"Divide and conquer" is something of a cliché.  But only because it works.  Why should the lion fight you when you're busy fighting somebody at the church?  Or your family?  Or your workplace?   He'll just prowl until you're wounded or bitter.  He knows then you're dead before you die.
2.  Your Points of Pride
God is opposed to the proud, but gives grace to the humble (1 Peter 5:5).
I don't care who you are, there is something about yourself you feel good about.  Maybe it's your personality or people skills. Maybe it's your work-related talent.  Whatever it is, as long as you keep a healthy dose of humility about it, you're OK.  But that will be tested.
A few years ago I learned a valuable, but hard lesson.  Call me ugly, and oh, whatever.  Call me lazy, I may feel bad.  But call me or make me feel stupid, and you'll hit a nerve.  And if I'm not careful, I'll wind up on opposite sides of the table from God because of my pride.
What puts you there?
3.  Your Anxieties.
…casting all your anxiety on Him, because He cares for you (1 Peter 5:7).
The word for "anxieties" literally means to be pulled in different directions.  Fear is an expression of faith, and when you choose to believe your fears, they leave you paralyzed and defenseless.
Everybody has anxieties.  The problem is not having them – it's holding on to them when you were never equipped to handle them.
4.  Your Understanding of God's Care or Love for You.
This one's as old as the first temptation.  "You can't trust Him!  He's playing you.  He's depriving you of something good."
Peter is writing to people who were dealing with unspeakable pain – more on that in a minute.  And in those circumstances, it's easy to wonder about how much God really cares.  But Peter knew – and the lion knows – the minute you begin questioning God's love for you, you are mentally discounting the greatest expression of love the world can ever see – the cross of Jesus Christ.  And when you stop trusting God to care for you, it's like braving the arctic cold with no protection.  You're exposing yourself to your own doom.
5.  Your Confidence in God
Resist him, firm in your faith… (1 Peter 5:9).
I've seen a lot of people do a lot of verbal gyrations when it comes to dealing with the devil.  Lots of sending back to the pit, rebuking, or spiritual trash-talking.  Peter doesn't mention any of that.  He just said to stand firm in your faith and resist him.  Why?  Because it's your faith in Jesus that wins the victory.
Which is why it's constantly under attack.
He questions your confidence in God's heart.  In His word.  In His faithfulness.  In His power.  And when you begin to question, too, you cut yourself off from your only source of resistance.
6.  Your Pain.
knowing that the same experiences of suffering are being accomplished by your brethren who are in the world (1 Peter 5:9).
Interesting that in the same verse that Peter talks about resisting the devil, he talks about suffering.  Why?  Because there is something about pain that wears down your resistance.
Physical pain is the most obvious.  I don't know what it's like to live in chronic pain, like my wife.  When I get a headache, I want it gone, now.  But I do know what it's like to live in extended emotional pain.  I'll bet you do, too.
The good news is that Jesus Christ came as "a man of sorrows, acquainted with grief."  He bore your griefs and carried your sorrows (Isaiah 53:4).
But when your only desire is to escape the pain, no matter what it takes, you are accepting the lion's invitation to a fight you've already lost.
7.  Your Impatience
After you have suffered for a little while, the God of all grace, who called you to His eternal glory in Christ, will Himself perfect, confirm, strengthen and establish you (1 Peter 5:10).
One day, Peter promises, the hurting will cease.  One day all the promises will be realized.  One day the God of all grace will personally finish what He started in you.
The implication?  Don't lose heart!  Discouragement is spiritual cancer, and when you give up, you don't just signal defeat over that one area of resignation.  You've invited the lion to a feast, and you – all of you – are on the menu.
A Lion with No Teeth
My friend Willard used to say that for a believer, Satan was like a lion with no teeth.  He can roar all he wants, but he has no authority to do anything else… unless we give it to him.
So what does Peter say to do?  Give God your anxieties.  Trust God as you resist.  Give God time as you finish the course laid out for you.  Spiritual warfare isn't so much about the devil as it is about the Lord… to Him be dominion forever and ever.  Amen.