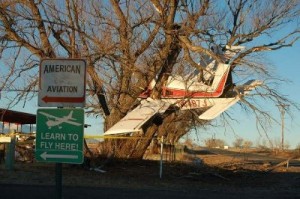 Raise those tray tables, buckle that seat belt (that you wouldn't have known how to do without that handy demonstration), and turn off that portable electronic device!  Hanukkah Hams is taking off again. 
In case you missed any of the previous editions, a Hannukah Ham is an episode of brilliance in the blooper reel of life – leaving us all to ask… "What were they thinking?"
In celebration of the fact that tomorrow I'll be enjoying that living enema called commercial airline travel (flying to 'Bama for a week), this edition of Hanukkah Hams takes you past the ticket agents, through security, by the food court, and into the pressurized metal tube.
The problem, friends, is NOT a shortage of material.
At the Counter
Last May Stephanie Pearl-McPhee was flying from Toronto to Florida.   She walked up to the counter to check in, and was told she wasn't booked on the flight. Stephanie gave the agent the confirmation number.  She found the reservation, asked for Stephanie's passport, and found the problem.
It was that pesky hyphenated last name.  The computer (all on its own, apparently) had decided that "Pearl" was her middle name, and "McPhee" her last name.  This created the airport impasse where the name on the ticket didn't match the name on the photo ID.
Apparently this has happened before, and Stephanie has learned to take it in stride.  After showing agents where the problem is, they laugh about that silly hyphen, and all is well.
Not on this day.
Even after checking with the supervisor, unless the name was corrected, she wasn't getting on that plane.
So change the name on the ticket, Stephanie says.
Can't do that.  It's a security risk to allow people to change the names on their tickets.
Not change, Stephanie says.  Just move.  They're still in the same order, for cryin' out loud.
No. That's a name change. They can't change it. Only the agent who booked it can change it.
Stephanie calls the original agent (who entered the name correctly).  They point out the problem.  But the airline says it doesn't matter, since the last name on the ticket is McPhee, and McPhee is not her last name.
Only one solution left.  Cancel the reservation and start over.  "I'd like to buy a ticket to Florida, please."
"Sorry. There are no seats available on that flight. "
"Of course there are!  I am cancelling that McPhee lady's ticket."
"Yes, but that flight is oversold.  As soon as I cancel this ticket, somebody at the gate will get the spot, because…Those people have been waiting and hoping to get a ticket.
At Security
A couple of weeks ago, my daughter Cassie, husband Curtis, and baby Cohen (his maiden voyage) were flying out of Lubbock.  In the security line, the TSA agent held up her diaper bag and asked if it was hers.
Yes.
He then he asked if he could please take a look inside the diaper bag, and had her stand to the side.  Then he asked if she had any liquids inside the diaper bag; she pulled out the bag of Cohen's medicine and handed it to him.  He then proceeded to search the rest of the bag.
Out came the giant yellow tube of Butt Paste – that ubiquitous diaper rash crème.  The agent informed her that the tube was too large to carry onto the plane.
Cassie informed him that this was the only size that Butt Paste comes in.  His look of annoyed disdain suggested he was not amused. 
He then proceeded to swab the BP tube.  He put the swab in a contraption that posted alarming news – literally.
Seems the Butt Paste is made of explosive material.  I'll leave you to meditate on the significance of that.
Cassie appealed, "It's just diaper rash cream."
At this point Curtis walks up to inquire what was going on.
"Is this your family?" he asked.
"Yes." 
"What do you do for a living?"
"I'm a youth minister."
"Then I shouldn't have to ask you the second question."
"And what is that?"
"Have you handled any explosive devices lately?"
"Yeah, that's what we do on Wednesday nights."
He then thought for a second, hesitated, then said, "Well, since it set off the alarm, I'm going to have to have you patted down."
BP users, consider yourselves warned.
"You'll probably have trouble at your next check-in," he said.
At the Food Court
My last airport excursion nearly cost me my really expensive (not) leather jacket.  I was pretty distressed and left it in the men's room.  Though I eventually got that one back, I did lose a really nice overcoat one day in Houston – just up and left without it, and it up and walked away.
Little did I know I could sue.
That's what William Ogletree, a Houston attorney, threatened to do.  Seems when he left the food court at Terminal C at Bush Intercontinental in late December last year, he left his $800 Polo black leather coat.  Surprise, surprise – the coat disappeared.
So Ogletree wrote a letter in January, threatening to sue the City of Houston, Continental Airlines, and the food court's management company for failing to have "collected the coat, kept it in a secure place and held it for a reasonable time" until he could retrieve it.  All this could go away if they simply paid him the cost of the coat.  You can see his original letter here. 
Hmmm.  If Continental actually did that, I wonder if American Eagle would have reimbursed me the $80 for my leather jacket.
Handling Those Bags
Everybody knows that lost or damaged bags happen.  It's how the airlines actually handle the problem that earns Hanukkah Ham status.
Like the time United placed Shannon Tadel's bag too close to an exhaust port on a belt loader.  It was so hot it ignited the bags.  No joke, the pilot explained to Shannon, as he pointed out the window to the tarmac crew taking a fire hose to her clothing.
Oh… then the airline wouldn't allow Shannon's smoldering, water-logged luggage on the flight. 
"But we'll be happy to upgrade you to first class."
Surprise, surprise… they didn't respond to Shannon's reimbursement claim – although they did dry-clean her destroyed clothing for her in hopes of lowering the claim.
Funny how an article in the Chicago Tribune changed everything.
+++++++
Speaking of United… just in case you haven't seen this incredibly well-done song and video, based on the true experience of Dave Caroll, you simply must watch it. 
Dave and his band were travelling to Nebraska, through Chicago, when to his horror, he saw baggage handlers severely damaging his $3,500 Taylor guitar.  United stalled and refused to reimburse him the $1,200 it took to fix it.  So Dave promised the last person he spoke to that he would write not one, but three songs about the experience.  It became United's worst PR nightmare, and cost them immeasurable amounts of credibility and money.  Here's the video that took the world by storm.  You can find the other two here and here.
In the Cockpit
Palo Duro Canyon Park near Amarillo was the scene of a crash involving a Cessna Skywagon, four deceased passengers (including the pilot), four shotguns, 70 spent shells, and 14 empty cans of beer. 
Blood alcohol level – .178 percent.
What were they doing?  Bird hunting, of course.  And where better to do it than in a state park?  And why wait for birds to come to you when you can go to them?
All four occupants, including the pilot(!), took part in the hunt.
Finding birds – easy.
Getting close enough to bag them (How?  Land the plane in the canyon??) – now that took precision flying and shooting.
Maybe the fact that the pilot didn't have a valid license and was pickled on beer was a sign of things to come.  But that didn't stop this gang from trying.  They shot at everything that moved and didn't hit a thing.
Finally they went after a hawk which, at that point, veered skyward.  The pilot and rear passenger fired in unison.  The buckshot hit the left wing, left a gaping hole, and tore off the wingtip.
Which led to loss of control.
Which led to impact.
The NTSB's conclusion:  Unauthorized low flight and buzzing. Poor judgment. Impairment due to alcohol. Failure to maintain flying speed. And (my favorite) Pilot error. (Source)
+++++++
Well, hopefully tomorrow's trip will be uneventful.  But just in case, I'm carrying my bags on.  And leaving my leather jacket, guitar, and highly-explosive Butt Paste at home.  I mean, you never know.